Entertainment Magazine: Film: Cartoons: Popeye
Popeye the Sailor Man
By Fred M. Grandinetti
Entertainment Magazine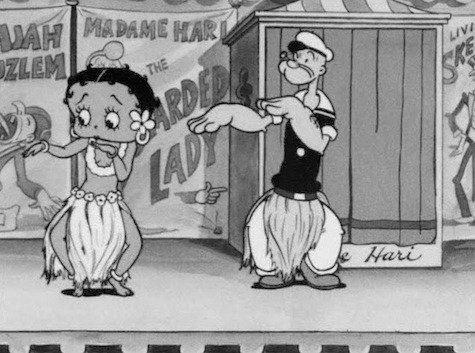 Popeye the Sailor, 1933
Popeye the Sailor Man has become world famous. Whether it be from his addiction to spinach or the lyrics to his song, people of all ages imitate, collect, and aspire to be like Popeye.
This muscle man was not even originally in the comic strip created by Elzie Segar. Elzie Segar, the cartoonist wrote Thimble Theatre in the late teens and early twenties. The first strip consisted of the characters Olive Oyl, Ham Gravy (Olive's first boyfriend), Cole and Nana Oyl (Olive's parents), and Castor Oyl.
Read several exclusive articles about Popeye by Fred Grandinetti.
Blow Me Down! Ninety Years of Popeye!
Popeye the Sailor turned 90 on January 17, 2019. He was originally created by E.C. Segar for his Thimble Theatre comic strip. Segar was born on December 8, 1894 and raised in Chester, Illinois. At the age of 18 he decided to become a cartoonist and took a correspondence course from W.L. Evans from Cleveland, Ohio. Continue reading about Popeye's 90th Birthday.
Popeye's Bumblebee (Bela Zaboly)!
On January 17, 2014 Popeye the Sailor turned 85 years old. The sailor man with a passion for spinach and Olive Oyl made his debut in the Thimble Theatre comic strip created by E.C. Segar. For decades Segar's work, including his successors Bud Sagendorf and Bobby London, have been reprinted for new generations to discover. Although reprinted in comic book format during the 1940's and 1950's the work of one Popeye's greatest cartoonists has been slighted: Bela "Bill" Zaboly. Continue reading about Bela Zaboly.
Strong to the 'Finich'… Highlights of Popeye's Spinach!
Generations of children have been told by their parents, "Eat your spinach and you'll be strong like Popeye the Sailor Man". It may come as a surprise to learn Popeye's original source of strength was not the green vegetable. Popeye first appeared in the Thimble Theatre comic strip on January 17, 1929 created by E.C. Segar. During his first adventure Popeye is shot multiple times by crime boss, Jack Snork. The sailor then rubbed the feathers of the Whiffle Hen to bring him luck. The hen's powers healed the sailor's injuries and he knocked out Snork with a blow from his fist! Continue reading.
Popeye: Over 85 years old and still goin'
For 85 years, generations have viewed the comedic actions of a unique figure in film history, Popeye the Sailor man. The spinach-eating swab was created for the "Thimble Theatre" comic strip in 1929 by E.C. Segar. Despite his success in the funnies, more people know of the character from his appearances in over 500 animated cartoons produced for both motion pictures and television. Continued reading
---
Popeye Books By Fred Grandinetti
This comprehensive and lavishly illustrated history is a thoroughly updated and revised edition of the highly acclaimed 1994 work. Animated series and films are examined, noting the different directions each studio took and the changing character designs of the Popeye family. Popeye in other media—comics, books, radio, and a stage play—is thoroughly covered, as are Robert Altman's 1980 live-action film, and Popeye memorabilia.
Paperback: 337 pages
Publisher: Mcfarland & Co Inc Pub; 2 Sub edition (July 2004)
The definitive biography of voice actor Jack Mercer. Voice of Popeye, Felix the Cat, and a thousand others. Completely illustrated with A - Z character list, discography, and massive credit list. A must for any cartoon lover!
---
Popeye DVDs, Soundtracks, Games, Costumes, Toys and more collectibles
---
© 2019. EntertainmentMagazine / EMOL.org. All rights reserved.