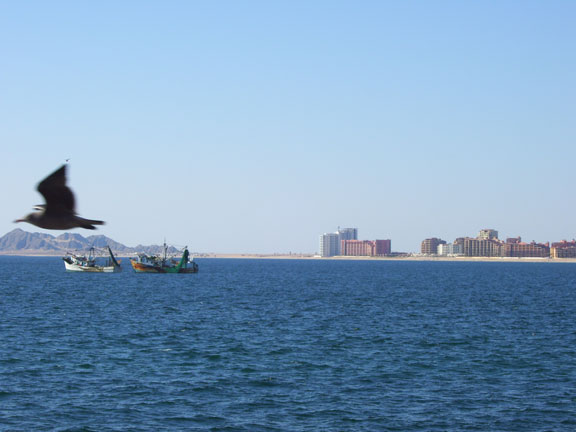 Photo: Looking towards Sandy Beach resorts, hotels and homes from downtown Puerto Peñasco.
Sandy Beach is Rocky Point

Sandy Beach is just north of the town and port of Puerto Peñasco. These gated and security patrolled areas, contain the major high rise hotels and condos. See Rocky Point Hotels and Rocky Point Eeal Estate for more information.
Some real estate property developments in Sandy Beach include:
Laguna Del Mar, nine holes of an 18-hole Jack Nicklaus course, recently opened. Homes near the golf course are planned. Laguna Shores is a master-planned community of homes and condominimums.
The Rocky Point Master Plan has mapped out new homes and condos for the entire area.
Cholla Bay Real Estate
Cholla Bay is just a few miles from Sandy Beach with a collection of spacious homes, available lots and condos. See a list of available Cholla Bay properties.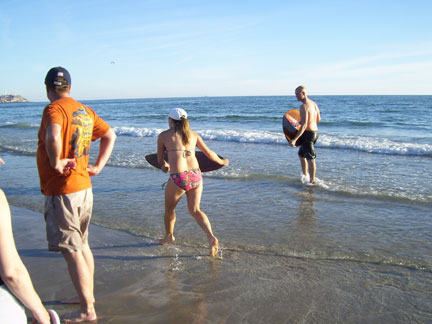 Photo left: Another form of torture - or pleasure - waterboarding. Skate the incoming wave on a modified surf board at Sandy Beach, Mexico.
Satellite Map of Sandy Beach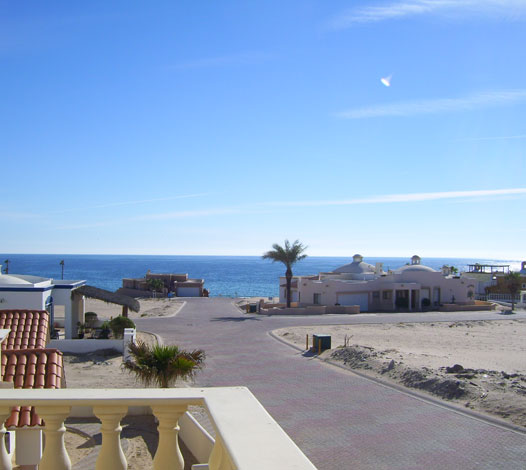 Sandy Beach Real Estate
Sandy Beach, Mexico is the prime investment property for Rocky Point. The U.S. economic slowdown is a brighter spot for Sandy Beach real estate invesments- especially for Canadians where the value against the U.S. dollar has declined.
Vacation home rentals on the beach are an alternative choice to renting a hotel room. When there are more the 3 or 4 in a family, the overall cost can be considerably less. Some houses, valued between $600-1,000,000, will rent out betwen $250-350 a day.
Many of the luxury homes and lots are for sale. These Rocky Point homes for sale are going to be priced at bargains as many American owners want to quickly sell their properties.