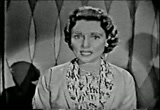 Betty White's illustrious career has revived with her recent telvision shows and appearances on SNL and others. Betty White first starred in a short-lived prime-time variety television series in 1958.
Some of these classic TV episodes were recently uncovered and are in the public domain. When marked as public domain, the files can be owned and downloaded for free.
Betty White turned 90 in January 2012 and she is still one of the funniest and busiest actresses in Hollywood today.
White's first comedy series, "Life with Elizabeth," brought her first Emmy Award in 1952, followed by a daily NBC talk/variety show called "The Betty White Show."
Betty White was a recurring regular with more than 70 appearances on "The Tonight Show with Jack Paar," and appeared on "The Merv Griffin Show" and "The Tonight Show with Johnny Carson." She also subbed as host on all three talk shows. White was a regular with Vicki Lawrence on "Mama's Family" as sister Ellen, a role she created with the rest of the company on "The Carol Burnett Show."
---
---
Watch and Download Free Betty White TV Shows
These movies are in the public domain. Since the U.S. copyright has expired, this movie can be watched online and downloaded free. There are no charges or registration required. Read more how to watch free movies online.
To download free movies: On the movie pages, select the Download link to connect to the web site that stores the movie files and images. A new window will open with a list of movies (.mpg, mp4, etc.), image files (.jpg) and other available files. Select the file to start playing, then save the file when completed. These movies can also be transfered to mobile devices like iPads and smartphones. Find out more how to download movies.
PromaxBDA, the leading global association for promotion, marketing and design professionals in the entertainment industry, announced that renowned actress and comedienne Betty White will be the recipient of its prestigious PromaxBDA Lifetime Achievement Award at The Conference 2012, June 12-14 in Los Angeles. With a career that has spanned more than 60 years, the seven-time Emmy Award winner has created unforgettable roles in television and film, authored seven books and won numerous awards, including those for her lifelong work for animal welfare.

Her recurring role as "Happy Homemaker" Sue Ann Nivens in the classic series "The Mary Tyler Moore Show" brought two Emmys for Best Supporting Actress in 1974-75 and 1975-76. She received her fourth Emmy for Best Daytime Game Show Host for "Just Men." Nominated seven times for Best Actress in a Comedy Series for her role as Rose Nylund in "The Golden Girls," White won the Emmy the first season in 1985, and later appeared in the spin-off "The Golden Palace" for one season. She earned her next Emmy Award as Best Guest Actress in a Comedy Series on "The John Larroquette Show."

White was nominated for an Emmy in 2011 for her portrayal of "Elka," the snarky but lovable caretaker on the TV Land series "Hot in Cleveland," in which she stars alongside Valerie Bertinelli, Jane Leeves and Wendie Malick. White also won back-to-back Screen Actors Guild Awards for Outstanding Performance by a Female in a Comedy Series in 2011 and 2012. When she hosted NBC's "Saturday Night Live" in 2010, it was one of the highest-rated episodes in the show's history, and earned her an Emmy Award for Guest Actress in a Comedy Series, bringing White's Emmy total to seven awards. White is also executive producer and host of the new NBC series "Off Their Rockers."

In addition to charming sports fans with her role in the popular Snickers commercial shown during the 2010 Super Bowl, White has guest-starred on "Ally McBeal," "That '70s Show," "Boston Legal," and received Emmy nominations for guesting on both NBC's "Community" and "The Middle."
Betty White was also nominated for an Emmy as a guest actress on "Suddenly Susan." Her numerous television movies include "Chance of a Lifetime," "Stealing Christmas," "Annie's Point" and "The Lost Valentine," for which she received yet another Emmy nomination. White also hosted the New Year's Day Tournament of Roses Parade for 20 years, and the Macy's Thanksgiving Day Parade for 10 years. Her big-screen credits include the Warner Brothers hit "The Proposal," with Sandra Bullock and Ryan Reynolds, as well as "You Again," "Bringing Down the House," "The Story of Us," "Lake Placid" and "Hard Rain."

One of her seven books "If You Ask Me (And of Course You Won't)," released in May, 2011, earned White a Grammy Award for Best Spoken Word Album for the audio edition.