Find all of Entertainment Magazine's music articles sorted by year for easy reference. Search EMOL.org or the Internet for more music headlines and topics.
Cirque Du Soleil Latest Extravaganza – Viva Elvis.
Viva Elvis is a stage show performed by the astounding acrobats of Cirque Du Soleil who inundate you with amazing acrobatic routines, and are joined from time to time by individual singers, guitarists and even a rock band. Read about Viva Elvis
27th National Cowboy Poetry Gathering in Nevada January 24-29, 2011. Among the blues programs at the Gathering, legendary folk singer Ramblin' Jack Elliott will perform music from his GRAMMY Award-winning album, A Stranger Here. After last year's Gathering, Jack headed to Los Angeles to receive the GRAMMY Award for Best Traditional Blues Recording for A Stranger Here.
Country music rising star Lee Brice tops the Hot Country Songs chart with Gold-certified selling single "Love Like Crazy," as the most heard song in America by Billboard. His debut album LOVE LIKE CRAZY was released June 8th on Curb Records.
Larry Carlton's collaboration album with Tak Matsumoto, "Take Your Pick" (released by 335 Records), received a Grammy Awards nomination for the Best Pop Instrumental Album. This nomination marks Larry's nineteenth (which included his three previous Grammy wins), and it is Tak's first.
Michael Feinstein continues to keep the flame alive and The Great American Songbook
His whole stage persona is vibrant and he does it in a way no other artist has achieved. He puts his own spin on classics that are such a significant piece of American culture. These classics deserve strong singers, such as Michael Feinstein, to breathe new life into them and keep them alive for another generation to enjoy, beyond CDs. Continue reading about Micheal Feinstein's Great American Songbook.
The Temptations return with The Unforgettable Story Of One Of Motown's Hottest Acts Sings On DVD January 11, 2011
Black Music From the Forties, From Race Records To Jazz, Found On Margie Baker Album.
Garth Brooks has performed to sold-out crowds and rave reviews at the intimate Encore Theater at Wynn Las Vegas. Tickets for the next series of highly anticipated concerts. Read more about Garth Brooks concert schedule.
Grammy Award-winning blues harmonica master James "Mr. Superharp" Cotton returns to Alligator Records with the new CD, Giant, set for a September 28, 2010 release. Giant is a ferocious blast of brash power blues from Cotton, one of the few bluesmen to have harmonicas literally explode from the pure force of his playing.
To celebrate their 30th year together, Underworld return triumphantly with their first new album in almost 3 years and a European concert tour.
Long Island, NY's MISERY are on tour with metal greats DEVILDRIVER, and supporting acts KITTIE and KATAKLYSM. The tour starts next Wednesday, August 25th in Jermyn, PA, and comes to a halt in West Hollywood, CA on September 16th, 2010. See below for all current tour dates, and make sure to head to the MISERY MySpace now to learn more about the tour!
San Francisco Bay Area thrash kings TESTAMENT start their 2010 American Carnage Tour on August 19 through September 4, 2010. They will tour the U.S. before heading into the studio to record the follow up to their Golden Gods "Album of the Year", The Formation of Damnation!
Columbia Records releases Metallic Spheres CD by The Orb featuring David Gilmour. The Orb, the visionary UK 'ambient/house' collective, came to collaborate with David Gilmour after working together on a version of Graham Nash's "Chicago" for a charity project. Youth (aka Martin Glover), a frequent Orb accomplice, was invited to create a remix, and he and Alex Paterson, as The Orb, were so energized by the task that they continued working until it was an album-length entity. Having asked Gilmour to bring his guitars to Youth's studio in South London to prolong and enrich their new creation, the trio worked up a sonic mixture in a range of styles. Thus, the Metallic Spheres project was born.
Nowhere Boy- the story of Lennon
This is the story of John Lennon's life before and during his creation of The Quarrymen. It's moving and compelling and tells us what John might have seen when he was dreaming of the past and, when he waxed lyrical, why he always managed to say so much with so little. The person behind the personality has finally been smoked out. John is 15, smokes, drinks, bunks off school, likes reading Playboy and listening to music. Continue reading about the movie "Nowhere Boy."
The John Lennon Box Of Vision® Limited Edition Collection Commemorates the 70th Anniversary of Lennon's Birth
Collection Due This Fall Includes First LP Size Book Of Complete Album Artwork And Storage For The Entire John Lennon, and John Lennon and Yoko Ono, CD Catalog. Read more about The John Lennon Box Of Vision.
Moscow Ballet, producers and presenter's of the Great Russian Nutcracker the largest and longest annually touring Nutcracker ballet, is expanding its interests to include the visual art world. Moscow Ballet is selecting visual artists who represent the contemporary sensibilities practiced in Russian visual art to create limited edition paintings in honor of the 100th anniversary of the "Father of Russian Ballet" Marius Petipa's life and legacy. Moscow Ballet is commissioning artwork by some of Russia's finest contemporary painters and announces the first to be contracted: Tatyana Kalin(also Kalyn) and Alexandra Nedzvetckaya.
Dreamgirls in Dallas keeps Motown alive.
Interview with Courtney Meloche country music artist by Christian Lamitschka.
Richmond, VA natives and GOOD FIGHT MUSIC recording artists CONDITIONS are pleased to announce the addition of select VANS WARPED TOUR dates to their summer touring season! See below for all of the VANS WARPED TOUR dates. CONDITIONS are also pleased to announce the release of their brand new digital single 'Better Life', on July 20th, 2010, along with additional track 'The End of Progression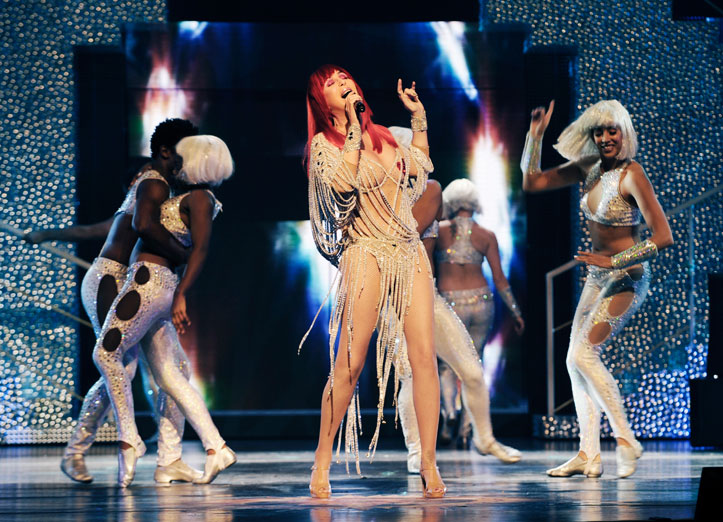 Sizzle, glitz and glam- Cher's Las Vegas show has it all and more. Cher's 2010 Las Vegas show.
Solo pianist Lisa Downing believes all of life is A Delicate Balance, also the title of her third album (currently one of the top instrumental airplay recordings in the world). "It's a fragile existence that we lead," states Downing. "It is a challenge to balance your job with your personal life, your outer-persona with your inner feelings, working versus having fun, helping your children or doing too much for them, day-dreams versus accomplishments. The list is endless and it touches every aspect of our lives."
Chimaira's new CD "Coming Alive" and 2010 Concert Tour. Chimaira will release her new CD, "Coming Alive" on Ferret Music on July 20th, 2010. This unprecedented release includes a four-part documentary filmed over the course of a year and a half while the entire package includes over 7 hours of exclusive content.
Singer Margie Baker and pianist Shota Osabe have been mainstays of the San Francisco jazz scene for the past 40 years, and now they have finally recorded a duo album, A Bit of Jazz and More..., featuring some of their favorite and most-fan-requested tunes encompassing jazz and popular music classics, Broadway and film themes, a little Brazilian and blues, and one original.
The 2010 Country Music Association Awards (CMA Awards 2010) is scheduled for November 2010. Read more about the 2010 CMA Awards.
FANS CROWN CARRIE UNDERWOOD THE BIG WINNER AT THE "2010 CMT MUSIC AWARDS"
The night belonged to first-time winners and fan-favorite Carrie Underwood, who took home two wins at this year's CMT MUSIC AWARDS. Underwood took top honors for VIDEO OF THE YEAR ("Cowboy Casanova") and CMT PERFORMANCE OF THE YEAR ("Temporary Home" from INVITATION ONLY: CARRIE UNDERWOOD); while Keith Urban took home the buckle in a first-time category win for MALE VIDEO OF THE YEAR ("'Til Summer Comes Around," and Miranda Lambert scored her first CMT Music Award for FEMALE VIDEO OF THE YEAR ("White Liar"). Continue reading about the 2010 CMT Music Awards and list of winners.
Doug Adkins, The Whiskey Salesman, New CD: Waltz Across Montana
Interview with country music artist Sharmian.
New Dates Added for Jackson Browne With David Lindley Tour of U.S. and Europe.
Jazz bassist Christian Fabian uses recordings with his Fabian Zone Trio (sometimes augmented with horn players) as an opportunity to bring together different musicians on each project and to give them full improvisational freedom while pushing for the spirit of positive energy throughout the session. The result, as evidenced on his new Keys in Ascension album, is some of the best modern mainstream jazz, rooted in be-bop traditions, and also displaying elements of progressive soloing and rhythms. Continue reading about the new cd from the Fabian Zone Trio.On national airplay charts, Keys in Ascension has already reached #1 on Music Choice, Top 10 on Jazz Radio for Canada and Top 20 on Jazz Week.