Entertainment Magazine: Music: Elvis Presley
Cirque Du Soleil Latest Extravaganza – Viva Elvis
BY: Lynn Marie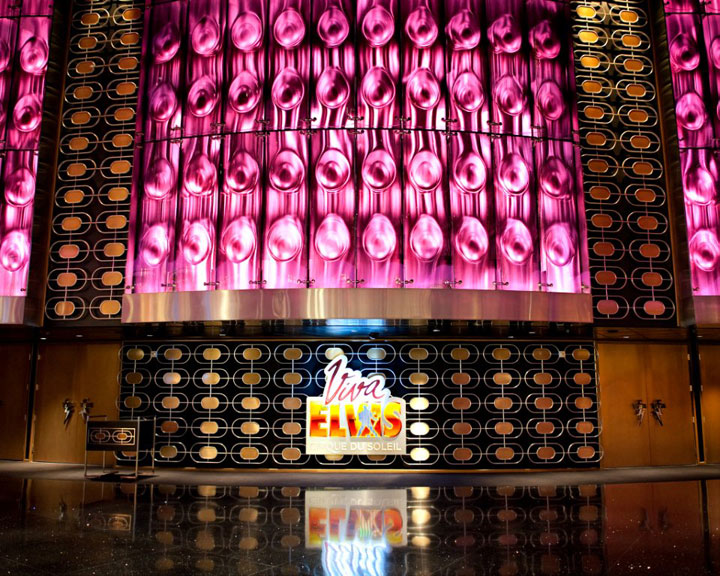 Cirque Du Soleil has created an explosion across the Las Vegas strip for years, and Viva Elvis is no exception. The show has razor sharp coordination and it's not surprising it's one of the most popular shows on the Las Vegas strip today.
Viva Elvis is a stage show performed by the astounding acrobats of Cirque Du Soleil who inundate you with amazing acrobatic routines, and are joined from time to time by individual singers, guitarists and even a rock band.
The 90 minute show pays tribute to "The King," and is meant to follow the life of Elvis Presley. You can't compare Viva Elvis to other Cirque Du Soleil shows in Las Vegas.
Elvis is like a prop, with the most tenuous part of his life used as a hook around which each section is hung.
For example, the "Got a Lot of Livin' To Do," set features a series of ten or so acrobats jumping around different platforms, all dressed as super heroes. Why? Elvis loved to read comic books. This is the tie-in with Elvis's life.
Of course there are graceful aerial acts that take tremendous strength and skill that are featured throughout the show; but there is so much more going on as the performers unravel and display images and stories of "The King." The vibrant sets also center around the musical hits and the life of Elvis.
Viva Elvis is a show that encompasses the life and events of a true American Icon. Elvis was more than just a musician, he was a huge part of history and rock 'n' roll. This performance was able to capture not only that history but the emotions that came along with those events. I felt as though I was actually able to ride along this journey right from my seat. From the sets, to the singing, to the acrobatic acts this show is a real delight.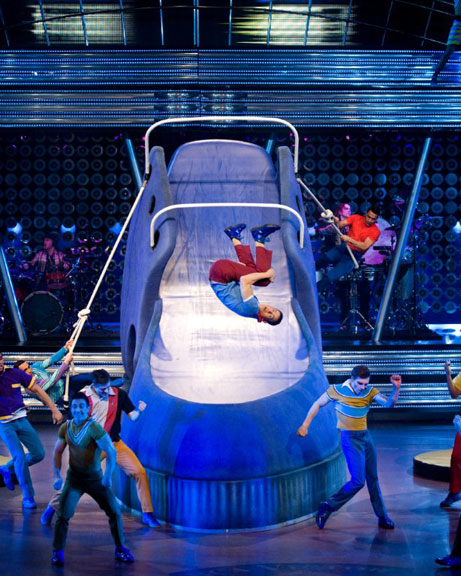 Viva Elvis focuses on the essential humanity of the one superstar whose name will forever be linked with the history of Las Vegas: Elvis Presley. Significant moments in his life – intimate, playful and grandlose – blend with timeless songs that remain as relevant today as when they first hit the top of the charts.
Viva Elvis a harmonious fusion of dance, acrobatics and live music, it is a tribute to the life and music of Elvis Presley. Nostalgia, modernity and raw emotion provide the backdrop for his immortal voice and the exhilaration and beauty of his music.
Created in the image of The King of Rock 'n' Roll – powerful, sexy, whimsical, truly unique and larger than life – the show highlights an American icon who transformed popular music and whose image embodies the freedom, excitement and turbulence of his era.
The performance unquestionably has a strong connection with "Sin City." It feels like an old school Las Vegas show. Oh the good old days!
Viva ELVIS is presented exclusively in the custom-built Elvis Theater at ARIA Resort & Casino at CityCenter in Las Vegas. The international cast of 76 artists is comprised of dancers, musicians, singers, acrobats as well as lasso artists and an actor.
Viva ELVIS ticket prices are $175, $150, $125 and $99. Please consult the most current show schedule at www.cirquedusoleil.com/vivaelvis.