Entertainment Magazine: Music: Elvis Presley
Remembering the King: 75th Anniversary of Elvis Presley's Birth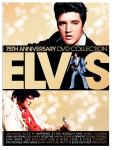 Whitney Duncan is young, blonde and beautiful. She's also among the never-ending line of contemporary Country artists who acknowledge the influence of Elvis Presley.
"Elvis was the whole reason I even started singing at all," she said, noting that her appreciation for Presley stemmed in large part from her grandfather's music and video collection. "He sang with so much emotion. That's what I would like to bring to my music. I hope I can. I think he meant every word he sang. It was coming from his heart."
For many of today's performers, Presley's stage presentation made as much of an impact as his music. "Listen to me sing, listen to me talk: It's obvious I owe more to Hank Williams and George Jones than to Elvis," said Randy Travis. Continue reading about Elvis Presley's 75th anniversary.
Cirque Du Soleil Latest Extravaganza – Viva Elvis
Viva Elvis is a stage show performed by the astounding acrobats of Cirque Du Soleil who inundate you with amazing acrobatic routines, and are joined from time to time by individual singers, guitarists and even a rock band.
75th Birthday of Elvis Presley Celebrated With New 'ELVIS 75' CD
In commemoration of the 75th anniversary of Elvis Presley's birth (January 8, 1935) comes a new 25-track collection of his most well-known songs.
ELVIS 75 follows the December release of the career-spanning 4CD box set, ELVIS 75: GOOD ROCKIN' TONIGHT. ELVIS 75 was released to all physical and digital retail outlets this past Tuesday, January 5, through RCA/Legacy, a division of SONY MUSIC ENTERTAINMENT. As the year continues, RCA/Legacy will unveil a full slate of Elvis Presley catalog titles.
The release of ELVIS 75 coincides with a 4-day celebration of his 75th birthday, January 7-10th, centered at Graceland in Memphis. Events will include a birthday proclamation on the front lawn of Graceland, parties, dances, and panel discussions. For further information, please go to www.elvis.com.
In February, 'Viva ELVIS' by Cirque du Soleil® opens exclusively in a custom-built theatre at ARIA Resort & Casino at CityCenter, Las Vegas. This lavish stage spectacular was created in partnership with Elvis Presley Enterprises and CKX, Inc. 'Viva ELVIS' is a harmonious fusion of dance, acrobatics and live music, and a tribute to the life and music of Elvis Presley.
Nostalgia, modernity and raw emotion provide the backdrop for his immortal voice and the exhilaration and beauty of his music. Created in the image of The King of Rock 'n' Roll - powerful, sexy, whimsical, truly unique and larger than life - the show highlights an American icon who transformed popular music and whose image embodies the freedom, excitement and turbulence of his era. Significant moments in the artist's life - intimate, playful and grandiose - blend with the timeless songs that remain as relevant today as when they first hit the top of the charts.
'Viva ELVIS' focuses on the essential humanity of the one superstar whose name will forever be linked with the history of Las Vegas and the entire world of entertainment: Elvis Presley. Ticket and show information is available now at www.cirquedusoleil.com/vivaelvis or by phone at 877.253.5847 or 702.531.2031.
From the moment in early 1956 when Elvis' first string of hits on RCA Victor proclaimed his arrival on the old 'Top 100' - "Heartbreak Hotel," "Blue Suede Shoes," "Hound Dog," "Don't Be Cruel," "Love Me Tender" - there were 17 chart titles in 1956 alone - his hammerlock on rock and roll was unquestioned, his influence on the destiny of all popular music about to be engraved in stone. Even after the Beatles' conquest started in 1964, and the revolution of Bob Dylan in 1965, Elvis continued his reign on the charts, slotting nearly four dozen songs on the Hot 100 from 1964 to 1969.
As compiled by Joel Whitburn, Elvis is the top-ranked Hot 100 male artist (by far!) of the 1950s and '60s - and the only act (male, female, or group) ever to be top-ranked #1 for two separate decades. Elvis holds unassailable records for the Most Chart Hits (151), Most Top 40 Hits (104), Most RIAA Platinum Hits (28), Most RIAA Gold Hits (24), and Most Weeks Charted (1,598).
Source: Legacy Recordings
NEW YORK, Jan. 8, 2010 /PRNewswire/ --
Elvis the "King of Rock"
Elvis Aaron Presley was born on January 8, 1935 in Memphis, Tennessee and died on August 16, 1977 in Memphis.
Elvis was an American singer, musician and movie actor. As a cultural icon, Elvis was often called "The King of Rock 'n' Roll", or "The King." Presley was one of the first performers of rockabilly, an uptempo fusion of country and rhythm and blues.
In the 1960s, Elvis filmed the most of his 33 movies— mainly musicals. In 1968 he returned to live music, performed in Las Vegas and across the U.S.
His stressful tour schedule and addiction to prescription medication led to his premature death at age 42. (wikipedia: Elvis).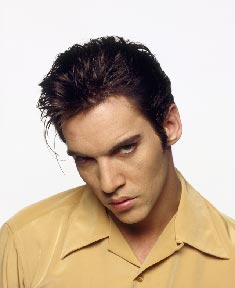 "ELVIS," a four-hour CBS-TV movie event, with movie clips, synopsis and interview
ELVIS by THE PRESLEYS: Random House Announce Acquisition of the Unique and Revealing Book on Elvis Presley, as Told by His Ex Wife and Daughter
Graceland 'All Shook Up' Over Elvis Presley's Last Remaining Song Now Available on eBay