Entertainment Magazine: Music: Elvis Presley
Remembering the King: Legacy Endures on the 75th Anniversary of Elvis Presley's Birth
By Tim Ghianni
Whitney Duncan is young, blonde and beautiful. She's also among the never-ending line of contemporary Country artists who acknowledge the influence of Elvis Presley.
"Elvis was the whole reason I even started singing at all," she said, noting that her appreciation for Presley stemmed in large part from her grandfather's music and video collection. "He sang with so much emotion. That's what I would like to bring to my music. I hope I can. I think he meant every word he sang. It was coming from his heart."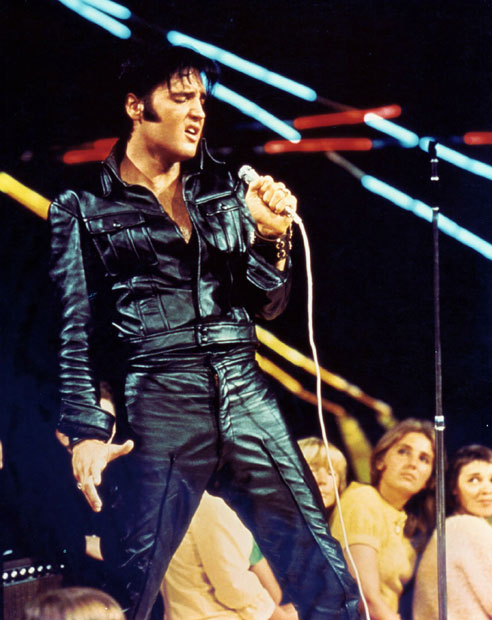 (Photo: Elvis on the 1968 comeback TV special, "Elvis." Photo courtesy of Russ Howe)
For many of today's performers, Presley's stage presentation made as much of an impact as his music. "Listen to me sing, listen to me talk: It's obvious I owe more to Hank Williams and George Jones than to Elvis," said Randy Travis.
"But there are acts that I have watched, the way they attack a performance, you just have to assume they are drawing from Elvis. The influence is huge because those in our age group who work in the music business grew up hearing him. He's been there our whole life. I'm guessing that will continue for generations to come. Once musicians and singers hear him, you have to have an appreciation for what you are hearing."
These are compelling tributes, considering that 33 years have passed since Presley's death and that 2010 marked the 75th anniversary of his birth – an occasion celebrated at the Country Music Hall of Fame and Museum with a special exhibit, "Loving You: Collecting Elvis Presley," that will run through January 2011.
The milestone was observed well by Sony Legacy through release of Elvis 75: Good Rockin' Tonight a four-disc set with 100 digitally remastered tracks ranging from hits to rarities; The Complete Elvis Presley Masters a limited edition of 1,000 numbered copies, each containing 30 CDs featuring more than 800 tracks including all of his originally released master recordings and a 240-page exclusive hardcover book; and Viva Elvis, offering a dozen classic Presley vocals in dramatic new settings. Other commemorative products included the DVD collection Elvis on Tour and a compilation of 17 of Presley's films.
But to those who knew him personally and professionally, Presley's legacy on modern Country Music is understandable. And for Scotty Moore, it might be traced back to one specific event. He should know, being both a witness and participant.
The humble 78-year-old guitarist is the last man left from the quartet (bassist Bill Black, producer Sam Phillips and Presley) that gathered on July 5, 1954, at Sun Studio, 706 Union Avenue, in Memphis, where they changed popular music with their recording of Arthur Crudup's "That's All Right."
Drawing from equal parts Country, gospel and blues, the music they pioneered that night had little in common with the music Moore had been making as leader of a Country outfit called The Starlight Wranglers. The group also included Black, whose wild clowning with his standup bass remained a showstopper even when Presley, also known as The Hillbilly Cat, was wiggling his hips down to his fingertips.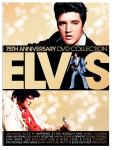 "We just played music," Moore remembered, speaking from his home in a quiet stretch of countryside outside Nashville. "I played what I could. It wasn't a planned thing. It was all accidental, anyway. The first thing we done with Elvis was a fluke. There was no planning. And then it took off like a skyrocket."
James Burton rode that rocket years later, when he played guitar with Presley's TCB Band during its long runs in Las Vegas. "Country Music wouldn't be what it is without Elvis Presley's influence and The Louisiana Hayride," he insisted. "What came from Elvis is still a part of Country Music, particularly the performances from The Louisiana Hayride."
Burton wasn't at the Hayride on Oct. 14, 1954, the night Presley debuted on that historic Country Music radio program broadcast on KWKH from Shreveport, La. "I was on the Hayride before Elvis," he said. "I played behind guys like George Jones, Billy Walker, Leon Payne – all those wonderful singers – since I was, like, 14 years old."
Still, Burton recognized even then that Presley's impact was unprecedented. "It changed a lot of things because the younger generation went crazy," he remembered. "The older generation wasn't quite sure what was going on because of all the leg movement. They couldn't seem to pin him down onstage. The audience went nuts. They'd never seen anything like it. It was different. They were used to guys like Bill Monroe. They never saw a guy like that or a guy like Scotty Moore. He couldn't stand still. It showed how much he felt his music."
Those gyrations set into motion a change in what would be accepted in popular music, including Country. "He broke the barrier for what became acceptable showbiz behavior," noted Bill Lloyd, who mixed rock and Country with his partner Radney Foster in the groundbreaking 1980s group Foster and Lloyd and was a member of The Sky Kings in the '90s. "He took flak for pulling out all the stripper moves and letting loose the sexual side of his appeal, but it changed everything. Anytime someone did it after him, no matter what format of music – Tom Jones, Eddie Rabbitt – you can trace it back to Elvis."
But Presley's influence runs deeper than that, according to Lloyd. "I see modern Country fans as looking at Elvis as a Country artist in many ways, no matter what chart his record was on," he said. "The way he blurred the musical lines between Country, R&B, gospel, folk and pop and just made it his own is a very influential thing, even if today's artists don't consciously realize it. His records became bigger than any musical restrictions between genres."
Burton, who went on to play with Ricky Nelson and became a fixture on the famous "Wrecking Crew" of L.A. studio musicians, insisted that Presley, at his heart, "was absolutely Country and we cut some great Country records. I know Elvis would love the music they're into," he added, referencing Vince Gill, Brad Paisley, Keith Urban and other artists who put the guitar out front and keep the tempo generally on high. "Country Music was definitely one of Elvis' first loves, and being able to take all these different songs and put the Elvis Presley touch on them was a wonderful thing. It was very complex."
Gill admits his debt to his fellow Country Music Hall of Fame member. But as much a guitarist as a singer, he adds that Presley's sidemen were at least as much a part of what impressed him as the twisting, turning front man.
"Being a musician, I was always drawn to a different slant on things than most people," he said. "I was drawn to Scotty Moore and James Burton as I was to Elvis. That's what made me really dig Elvis, because I knew how much Elvis dug them. Scotty Moore is the reason why that music felt the way it felt, rocked the way it rocked and swung the way it swung. It was remaking our music."
That same appeal has filtered to the emerging generation of Country performers, though enhanced by the work of others previously affected by Presley's contributions. "Elvis influenced me indirectly because I really liked John Lennon and I really liked Johnny Cash," said Lukas Nelson, son of Country Music Hall of Fame member Willie Nelson and a touring artist with his band Promise of the Real. "I really got into those guys and they worshiped Elvis."
Specifically, Nelson admitted that he "borrows" from the fact that "Elvis always wiggled around a little bit and that was good for the ladies. I try to put on a show too, when I'm playing. The main thing how Elvis influenced me was stage presence."
He is less concerned, though, with discussing Presley in terms of his relations to musical genre. "Blues was blue and Country was yellow," Nelson observed. "Mixed together, we got rock 'n' roll, which was green."
For Duncan, the color was black, as in the leather Presley wore in her favorite Presley performance, the in-the-round section of his 1968 television comeback special, titled "Elvis" and broadcast nationally Dec. 3, 1968, on NBC.
"I guess that's why I still like leather so much," she said. "I used to tell my friends in kindergarten that he lived in my attic. I was sure I was going to meet him one day, but I guess it was when I was 8 and I was at Graceland, when I stood by the grave, I started bawling. I grew out of the obsession – but I still really do love him."
Moore confesses to being pleased by the enduring affection and respect harbored for his late friend and colleague. Still, he characteristically said, "I don't see that we changed anything particularly, other than that music."
Moore is too modest to acknowledge the evident point: Yes, all they changed was the music. But that music changed everything.
CMA created the Country Music Hall of Fame in 1961 to recognize individuals for their outstanding contributions to the format with Country Music's highest honor. Inductees are chosen by CMA's Hall of Fame Panels of Electors, which consist of anonymous voters appointed by the CMA Board of Directors.