Cirque du Soleil's: Michael Jackson Immortal World Tour
Terrance Harrison, "Bubbles," no not Champagne, but Chimpanzee
By Lynn Marie

Michael Jackson's three solo concert tours were the greatest entertainment events of all time. Starting in 1987, the Bad World Tour featured 123 concerts in 15 countries, playing to 4.4 million fans and grossing over 400 million and was recognized as the biggest and most successful tour of all time.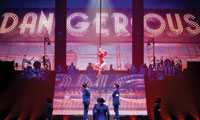 Although he vowed never to tour again, Michael Jackson kicked off the Dangerous World Tour in 1992, and it proved to be an even bigger success. Featuring pyrotechnics, several illusions, and a stuntman, the show was so big that two 747s were needed to transport all the equipment. True to his message of spreading global love, he donated the profits from the entire tour to charity.

With his third and final tour, Michael Jackson broke his own world record - again. Launched in 1996, the HIStory World Tour hit 58 cities in 35 countries on five continents. Performing 82 concerts for 4.5 million fans, grossed a total of $165 million.

Now the legend continues as Cirque du Soleil and the Estate of Michael Jackson have joined forces to create Michael Jackson The Immortal World Tour.

A riveting fusion of visuals, dance, music and fantasy that immerses audiences in Michael's creative world and literally turns his signature moves upside down, Michael Jackson THE IMMORTAL World Tour unfolds Michael Jackson's artistry before the eyes of the audience. Aimed at lifelong fans as well as those experiencing Michael's creative genius for the first time, the show captures the essence, soul and inspiration of the King of Pop, celebrating a legacy that continues to transcend generations.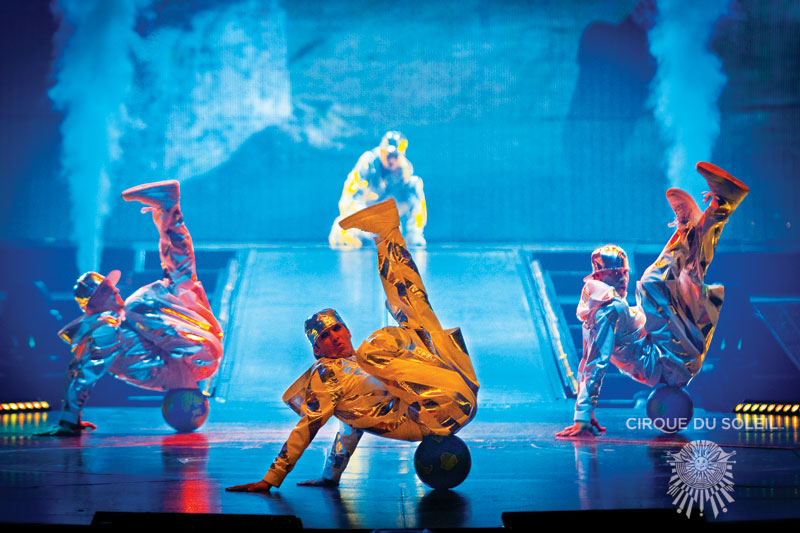 THE IMMORTAL World Tour takes place in a fantastical realm where we discover Michael's inspirational Giving Tree - the wellspring of his creativity. The secrets of Michael's inner world are unlocked - his love of music and dance, fairy tale and magic, and the fragile beauty of nature.

The underpinnings of THE IMMORTAL World Tour are Michael Jackson's powerful, inspirational music and lyrics - the driving force behind the show - brought to life with extraordinary power and breathless intensity. Through unforgettable performances Michael Jackson THE IMMORTAL World Tour underscores Michael's global messages of love, peace and unity.

Cirque du Soleil uses the musical catalogue of the legend to chronicle his life. From childhood to his death, Michael Jackson's music lives in everyone. Twenty-two scenes and 30 of MJ's songs are used to tell the story of every stage of his life. In pure theatrical: acrobatic; Cirque du Soleil style, the performers flipped across the stage; belly-flooped to the floor, and used speciality props (such as: life sized MJ glove & a bigger than life pair of penny loafers with glitter socks) to convey the messages that MJ portrayed in his music.

Terrance Harrison is one of those "magical" performers that makes the show so delightful. Harrison is a unique performer as he is a professional dancer and professional acrobat. The actor/dancer performs as Bubbles, Michael Jackson's Chimpanzee.


Originally from Houston, Texas, Harrison, like most performers, eventually made his way to Los Angeles and started working as a dancer for Vanessa Williams, Rihanna, and Kanye West. Then in 2007 Harrison received a phone call that was about to change his entire life. He received a call from Cirque du Soleil, "I was so convinced they had the wrong guy," says Harrison.
"Only because they had never seen me perform, I mean only in videos. I've been with Cirque for about five years now, and I'm quite happy and feel at home with Cirque du Soleil." says Harrison.

Harrison started as a young street performer in Houston. "I was an odd child, definitely the odd ball," says Harrison. "All the other kids wanted to play sports and I wanted to dance and practice gymnastics. Of course while growing the family couldn't afford to send me to gymnastic classes so I would just practice on my own," says Harrison.

"The fact that I have been asked to be a part of this show and have been a part of it for so long, to me personally is the fullest of all circles because as a kid I was inspired by the King of Pop. MJ's voice drives the show and his voice transitions all of us into every sequence with Michael there and watching over us," says Harrison.
"It's a very touching show but then there are numbers where you get up and dance and jump around. This is not a traditional Cirque show where you are used to sitting down," Harrison tells us. "We are totally in your face and it truly is an amazing and uplifting experience."

Although the North American tour of the show has concluded, The Michael Jackson The Immortal World Tour is scheduled to open in London on October 12th with dates expanding all over Europe well into the Spring of 2013. For more information please visit www.cirquedusoleil.com.