Cirque du Soleil's: Michael Jackson Immortal World Tour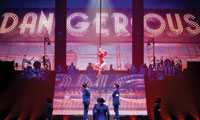 Michael Jackson's he legend continues as Cirque du Soleil and the Estate of Michael Jackson have joined forces to create Michael Jackson The Immortal World Tour.
A riveting fusion of visuals, dance, music and fantasy that immerses audiences in Michael's creative world and literally turns his signature moves upside down, Michael Jackson THE IMMORTAL World Tour unfolds Michael Jackson's artistry before the eyes of the audience. Read about The Immortal World Tour.
Jackson Awarded Star in Las Vegas
8-30-09 Extra - Michael Jackson was posthumously awarded a star on the Palms Casino Resort Walk of Fame yesterday, on what would have been the pop icon's 51st birthday.
Joe Jackson, Michael's father, attended the star ceremony along with Michael's fans. "Thriller" played from speakers as a drum line played and the star was unveiled in front of the Brenden Theatres in Sin City.
Organizers of the event said that Jackson's star ceremony had been two years in the making -- and that Michael had planned on coordinating the event with his birthday. The King of Pop was scheduled to receive his star after performing a slew of shows in London.
Joe told "Extra" that the Jackson family was proud of Michael's accomplishment, and said that the family is still grieving but holding up well. Joe also commented on how Michael's death was ruled a homicide, and suggested that new details about Jackson's death would be revealed soon. When asked if he would elaborate, Joe replied, "No, not now." Michael died on June 25.
"Extra's" complete interiew with Joe Jackson and additional coverage from the Michael Jackson star ceremony at the Palms Casino Resort airs on Monday, August 31st. For more on this story and other breaking entertainment news please visit: http://extratv.warnerbros.com/2009/08/joe_jackson_on_michael_jackson.php#ixzz0Pi5h6i8b
"This Is It" showcases Jackson last days
The upcoming Michael Jackson film, "This Is It" is drawn from the legendary entertainer's last concert rehearsals. The new movie contains Behind-The-Scenes footage. "This Is It" will be released October 30th in High Definition with Digital Sound from Sony Entertainment.
"This Is It" is being produced with the full support of The Estate of Michael Jackson and is drawn from hundreds of hours of rehearsal and behind-the-scenes footage, captured in high definition with state-of-the-art digital sound as the late singer was preparing for his concert series in London
The film, which will also offer select sequences in 3-D, will provide a unique career retrospective and feature interviews with some of Jackson's closest friends and creative collaborators. Continue reading about the new Michael Jackson movie "This Is It"
Michael Jackson dies at age 50
Micheal Johnson was pronounced dead on Thursday, June 25, 2009. He was rushed to a Los Angeles, CA hospital for cardiac arrest and was pronounced dead officially at 3:46pm.
"Michael Jackson will be remembered as one of the greatest performers ever, but his brand has taken a few hits over the years due to personal and legal battles. I don't believe his estate will financially prosper as brands, even after his untimely death, will not want to be associated with his negative reputation from his later years. Over the next few weeks, I predict his music sales will see a boom—one will definitely see his music rise in the top 10 on iTunes lists, but I doubt we will see a spike in the licensing of his brand, short term or long term " said Ronn Torossian, CEO of 5W Public Relations, one of the nation's 25 largest PR agencies, who has represented celebrities and corporations.
Michael Jackson's Death Underscores the Tragedy and Impact of Sudden Cardiac Arrest
WASHINGTON, June 25 /PRNewswire-USNewswire/ -- The Sudden Cardiac Arrest Association said Thursday that pop singer Michael Jackson's death at the age of 50 underscores the tragedy of sudden cardiac arrest, which kills nearly 300,000 Americans each year and is the nation's leading cause of death.
"Sudden cardiac arrest (SCA) is the result of an electrical disruption of the heart and is different than a heart attack. It can strike seemingly healthy individuals without warning, including those with no known history of heart disease. SCA kills an American once every two minutes and can happen virtually anytime and anywhere. Nearly 80 percent of all sudden cardiac arrests occur in the home, like in Mr. Jackson's case. Even though Mr. Jackson's collapse was apparently witnessed, emergency medical services responded promptly and Mr. Jackson's home was near UCLA Medical Center, it was still not sufficient to revive Mr. Jackson because SCA victims usually need immediate CPR and the shock of an automated external defibrillator (AED) if they are to have any chance of survival. Today's news should be a reminder that CPR is a basic life-saving skill that everyone should know, and that AEDs should be widely deployed to enhance the chance of survival." For more information, please visit www.suddencardiacarrest.org. Source: Sudden Cardiac Arrest Association
Tributes.com Establishes Online Memorial for Michael Jackson: A Place to Share Memories and Condolences
BOSTON, June 25 /PRNewswire/ -- Tributes.com establishes online memorial for Michael Jackson who passed away today at age 50 after reportedly suffering cardiac arrest.
In 1958, Michael Joseph Jackson was born in Gary, Indiana. He began his musical career at the age five performing with siblings in the musical group the Jackson 5.
In 1979, Jackson released his solo album "Off The Wall" which was the first album to produce four No. 1 U.S. singles. This success was closely followed by the release "Thriller" in 1982, the largest selling album of all time.
Michael was noted for his revolutionary music videos in which he employed special effects, theatrical staging and extraordinary choreography. In 1984 Michael won a record breaking eight Grammy awards and in 1987 Michael launched his record breaking first solo world tour in conjunction with the album "Bad". At the end of the 1980s Michael was named 'Artist of the Decade'.
In 1994 Michael married Lisa Marie Presley, daughter of rock legend Elvis Presley. The marriage lasted 19 months. In 1996, Michael married Debbie Rowe with whom he had two children, Prince Michael Joseph Jackson Jr. and Paris Michael Katherine Jackson. Subsequently Jackson produced a third child Prince Michael Jackson II also known as "Blanket".
The Associated Press reported that Michael's death "brought a tragic end to a long, bizarre, sometimes farcical decline from his peak in the 1980s, when he was popular music's premier all-around performer..."
Tributes.com has created a memorial page for those who have been touched by Michael's life and would like to leave a message of condolence to the family. http://www.tributes.com/Michael-Jackson.
Thriller 25 is Rocking the Planet!
'Thriller' Video Stars You as Part of the 25th Anniversary Celebration! Seminal Video from the 20th Century is Enhanced by Breakthrough Technology for the Next Century. Read more...
International Anticipation For Thriller 25, The New Edition Of The World's Biggest Selling Album Of All Time, Reaches Fever Pitch With New Hit Singles, An All-Star 40-Episode 'ThrillerCast' Podcast Event, The 'Thrillicious' Sobe Life Water Ad Campaign Launch At Super Bowl, Michael Jackson Lifetime Achievement Award At NRJ Music Awards At Cannes & More
Thriller 25 - 2008's Most Eagerly-Awaited Album - Available Tuesday, February 12, 2008
Global anticipation for the release of Thriller 25, the newly expanded deluxe 25th anniversary edition of Michael Jackson's Thriller, the world's top-selling album of all-time, is already reaching a fever pitch across the planet with surprise hit singles, an ongoing 40-episode "ThrillerCast" podcast event, the premiere of the "Thrillicious" Sobe Life Water ad campaign at the Super Bowl, the presentation of a Lifetime Achievement Award to Michael Jackson at the NRJ Music Awards at Cannes and a host of upcoming events and surprises.
Thriller 25 will be available stateside on Tuesday, February 12 and available around the world the week of February 11. The album debuts seven bonus tracks including new collaborations with Akon, Fergie, will.i.am and a Kanye West remix of "Billie Jean 2008."
The Michael Jackson Thriller 25th anniversary celebration runs throughout 2008 with a multi-faceted global marketing campaign featuring high-profile television, radio and online events around the world and the major re-launch of Michael's official website, www.michaeljackson.com
The first single from Thriller 25, "Wanna Be Startin' Somethin' 2008" featuring Akon, is a surprise smash hit impacting Pop, Rhythm and Urban radio stations across America with the single becoming the #1 On Demand song online for all Clear Channel Radio station web sites since its release on January 18.
One of the best-received commercial highlights of Super Bowl XLII was the premiere of "Thrillicious," PepsiCo Inc.'s Sobe Life Water spot starring supermodel Naomi Campbell and a cast of animated lizards busting out a series of fiercely choreographed dance moves to the tune of Michael Jackson's "Thriller."
Michael Jackson was recently honored with a Lifetime Achievement Award at the prestigious NRJ Music Awards ceremony at the opening of MIDEM in Cannes, France. Following a video tribute to the artist, Michael Jackson delivered a personal message via satellite to NRJ attendees and a television audience of more than 7 million viewers.
A recent Thriller 25 promotion in London featured professional dancers re- enacting the iconic "Thriller" zombie choreography on the London Underground, Trafalgar Square and other unusual locations. A competition has been launched for UK Michael fans to submit their own versions of the "Thriller" dance to YouTube.
"Thrillercast," a groundbreaking 40-episode podcast event, launches on February 12th and will be updated weekly throughout 2008. The series features icons of music, screen and culture including hip-hop legend Darryl "DMC" McDaniels, superstars Nick Cannon and Chris Brown, choreographers Shane Sparks and Mia Michaels from the hit show "So You Think You Can Dance," and dozens of other special guests. Each episode takes us behind the scenes into their lives to explore their own personal experiences with Thriller and its influence on them, both personally and professionally. "Thrillercast" will be available for free through iTunes, Zune, and all major podcast providers, as well as directly through www.michaeljackson.com.
Thriller 25
Thriller 25 includes all nine of Thriller's original performances as well as seven bonus tracks including five mind-blowing 21st century homages to Thriller featuring some of the hottest performers in contemporary pop and soul music:
Thriller 25's first single, "Wanna Be Startin' Somethin' 2008," produced by Michael Jackson and Akon, is a brand new version of Thriller's opening cut showcasing newly recorded 2008 vocals by Michael Jackson and Akon.
Previously unreleased in any form, "P.Y.T. (Pretty Young Thing) 2008" by Michael Jackson with will.i.am is Michael's original pre-album demo remixed by Michael and will.i.am with newly added vocals and production from will.i.am.
"The Girl Is Mine 2008" is another Michael Jackson with will.i.am collaboration based on a demo predating Michael's duet with Paul McCartney. This is a new, previously unreleased track, newly produced and mixed by Michael and will.i.am featuring a will.i.am rap. "The Girl Is Mine 2008" is being introduced as the album's first single in numerous international territories and is already charting in Brazil, Germany, Holland, Ireland, Poland, South Africa, Switzerland, the UK and Japan, where it entered the Top 10 at #5.
"Billie Jean 2008" features the original tracks of Michael's watershed signature hit, newly remixed by Kanye West.
"Beat It 2008" is both a remix and a new track featuring Michael's vocals and many instrumental tracks from the Thriller original coupled with seductive new vocals by Fergie with new band tracks and production by Michael Jackson and will.i.am.
Thriller 25 closes with "For All Time," a nascent classic recorded by Michael during the original Thriller sessions in 1982 but never completed or released until now. Michael has added new vocals and band tracks to his original recording. Mixed by Mick Guzawski and newly-produced by Michael Jackson, "For All Time" provides a sublime and fitting close to this new, definitive edition of Thriller, the top-selling album of all time.
As an added bonus for fans, Thriller 25 includes a DVD featuring Michael Jackson's groundbreaking short films from Thriller ("Thriller," "Beat It," and "Billie Jean") and the artist's Emmy-nominated breakout performance of "Billie Jean" from the legendary "Motown 25: Yesterday, Today, Forever" television special (first broadcast on NBC on May 16, 1983).
The Thriller 25 CD/DVD set will be available in three collectible editions: a standard version with the album's original cover art; a standard version with a new "Zombie" cover; and a deluxe edition in a hard-bound casebook format with a 48-page booklet. Both standard versions contain the CD and bonus DVD in a brilliant box with a rainbow holographic O-card and a 20- page booklet. Thriller 25 will also be available as a Platinum MusicPass Album Card, a digital album card which will enable consumers to download Thriller 25, and special bonus content in the form of high-quality MP3 files.
The Original Thriller
Originally released in the US 25 years ago on November 30, 1982 by Epic Records, Thriller, Michael Jackson's sixth solo album and second with producer Quincy Jones, rocketed the former child-star lead singer for the Jackson 5 into the stratosphere of international superstardom. Introducing the "robot" and the "moonwalk" into the international lexicon of clubland dance moves via the pulsing sounds of Thriller, Michael Jackson revolutionized all aspects of mainstream pop culture -- from radio airwaves to the newly emerging art form of music videos -- becoming the world's most popular entertainer in the process.
The original Thriller spent an astounding 80 consecutive weeks in the American Top 10, 37 of those at #1. Seven of the album's original nine tracks became Top 10 singles on the Billboard Hot 100 while Individual singles from Thriller reached #1 chart positions in the US, the UK, France, Italy, Australia, Denmark, Belgium, South Africa, Spain, Ireland, New Zealand and Canada.
Thriller made history as the first and only record to be America's top- selling album two years running (1983 and 1984).
Thriller has been certified 27x platinum by the RIAA, giving it Double Diamond Award status in the US. In addition, the album has achieved Diamond or Multi-Platinum status in Argentina, Australia, Brazil, Belgium, Canada, Finland, France, Germany, Japan, Mexico, Netherlands, New Zealand, Portugal, Spain, Switzerland and the UK. In 1985, the Guinness Book of Records named Thriller the Best Selling Album of All Time, an achievement which remains unsurpassed to this day.
In February 1984, Michael Jackson held a record-breaking 12 Grammy nominations, going on to win eight, which stands as the record for most Grammy Awards to be won by anyone in a single year. Seven of Michael's Grammys that year were for Thriller: Album of the Year; Record of the Year ("Beat It"); Best Male Pop Vocal Performance ("Thriller"); Best Engineered Recording, Non- Classical (Thriller); Best Male Rock Vocal Performance ("Beat It"); Best Male R&B Vocal Performance ("Billie Jean"); Best R&B Song ("Billie Jean"). (Michael's eighth Grammy that year was in the Best Recording For Children - Single or Album, Musical or Spoken category for "E.T. The Extra-Terrestrial").
That same year, Michael Jackson took home eight American Music Awards and three MTV Video Music Awards. The following year, "The Making of Michael Jackson's Thriller" took home the Best Video Album trophy at the 27th Annual Grammy Awards.
Named the "Most Successful Entertainer of All Time" by the Guinness World Records, Michael Jackson is among the most highly acclaimed and influential artists in pop culture. He was named the World Music Award's Best-Selling Pop Male Artist of the Millennium and received the American Music Award's Artist of the Century Award. He has been inducted into the Rock & Roll Hall of Fame twice: in 1997 as a member of the Jackson 5 and as a solo artist in 2001.
THRILLER - 25
The World's Biggest Selling Album of All Time
Thriller - original track listing - US Billboard Chart Peaks
"Wanna Be Startin' Somethin'" - (#5 Hot 100, #5 R&B)
"Baby Be Mine"
"The Girl Is Mine" (with Paul McCartney) - (#2 Hot 100, #1 R&B, #1 Adult
Contemporary)
"Thriller" - (#4 Hot 10, #3 Hot R&B/Hip-Hop Singles & Tracks)
"Beat It" - (#1 Hot 100, #1 R&B)
"Billie Jean" - (#1 Hot 100, #1 R&B, #9 A/C)
"Human Nature" - (#7 Hot 100, #2 Adult Contemporary)
"P.Y.T. (Pretty Young Thing)" - (#10 Hot 100)
"The Lady in My Life"

Bonus Material:
10. Vincent Price Excerpt
From "Thriller" Voice-Over Session

Previously Unreleased Tracks for 25th Anniversary Edition
11. The Girl Is Mine 2008 with will.i.am
12. P.Y.T. (Pretty Young Thing) 2008 with will.i.am
13. Wanna Be Startin' Somethin' 2008 with Akon
14. Beat It 2008 with Fergie
15. Billie Jean 2008 Kanye West mix
16. For All Time (unreleased track from original Thriller sessions)

DVD
The Short Films
1. BILLIE JEAN
2. BEAT IT
3. THRILLER
4. BILLIE JEAN - The Legendary Performance from Motown 25: Yesterday,
Today, and Forever

25th Anniversary Executive Producer: Michael Jackson Original Album Produced by Quincy Jones for Quincy Jones Productions
www.michaeljackson.com

www.legacyrecordings.com

www.epicrecords.com
Source: Legacy Recordings
NEW YORK, Feb. 6, 2008 /PRNewswire/ --
---
© 2008-2012 EMOL.org Music Entertainment Magazine. All rights reserved.