Entertainment Magazine: Music: Ringo
Ringo Starr
First Major Exhibition To Explore The Life Of Ringo Starr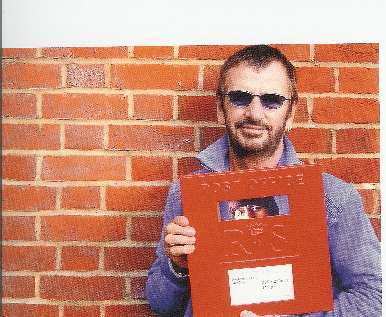 The GRAMMY Museum, in cooperation with Ringo Starr, will debut a major new exhibition, Ringo: Peace & Love opening on June 12, 2013.
This one-of-a-kind, limited-run exhibit will offer visitors an unprecedented in-depth look at all aspects of Starr's musical and creative life – as a musician, artist, actor, and as the man the world knows and loves simply as 'Ringo.' It will also aim to propel Starr's universal message of peace and love.

Ringo: Peace & Love is both the first major exhibit ever dedicated to a drummer and the first to explore the extraordinary career of the 7-time GRAMMY Award® winner. The scope of the exhibit spans Ringo's early life growing up in Liverpool, from Raving Texans turned Rory Storm, from The Beatles, to becoming a solo artist and then to the All Starrs with whom he continues to tour – this unique collection brings together diverse artifacts, rare and never before seen photographs, documents, personal letters and footage.
The GRAMMY Museum at L.A. LIVE is located at 800 W. Olympic Blvd., in Los Angeles, California (Near the corner of Figueroa Street and Olympic Boulevard, one block from STAPLES Center).
Ringo Starr's New Book and EBook, 'Photograph',
Featuring Never-Before-Seen, Previously Unpublished Images Taken By Ringo and From His Personal Archive
Genesis Publications and Ringo Starr proudly announce the upcoming release of PHOTOGRAPH, a collection of never-before-seen material, including photos taken by Ringo as well as exclusive images from his own personal archives. The material will first be published as an ebook, available exclusively on the iBookstore, on June 12 2013 in conjunction with the Grammy Museum Exhibit, "Ringo: Peace & Love", where select images from the book will be displayed. A limited-edition hand-bound book, signed by Ringo Starr, will follow in December 2013.

An exclusive excerpt of PHOTOGRAPH appears in the June 10, 2013 issue of PEOPLE, the No. 1 celebrity magazine in the U.S. The issue is available nationwide on newsstands (and on tablets) Friday, May 31, 2013.
Ringo's 2012 LP
Ringo Starr's 17th solo studio record, and his second on Hip-O/Ume will be released on January 31, 2012 in the United States (Internationally, January 30, 2012.) Titled simply "Ringo 2012" and produced by Ringo, it was recorded in LA and mixed in England by Ringo and Bruce Sugar, and features 9 songs. Of the 9 tracks two are covers, "Think It Over," and "Rock Island Line" and two are new versions of his own songs, "Wings" and "Step Lightly."

The track listing is as follows:

1. Anthem (Richard Starkey/Glen Ballard)
2. Wings (Richard Starkey/Vince Poncia)
3. Think It Over (Buddy Holly/Norman Perry)
4. Samba (Richard Starkey/Van Dyke Parks)
5. Rock Island Line (Arrangement by Richard Starkey)
6. Step Lightly (Richard Starkey)
7. Wonderful (Richard Starkey/Gary Nicholson)
8. In Liverpool (Richard Starkey/Dave Stewart)
9. Slow Down (Richard Starkey/Joe Walsh)

Joining Ringo in the studio for Ringo 2012 were musicians (in alphabetical order): Michael Bradford, Ann Marie Calhoun, Matt Cartsonis, Steve Dudas, Charlie Haden, Amy Keys, Kelly Moneymaker, Richard Page, Van Dyke parks, Kenny Wayne Shepherd, Dave Stewart, Bruce Sugar, Benmont Tench, Joe Walsh , Don Was, Edgar Winter. "Ringo 2012" is available digitally, on CD and vinyl.
Starr Celebrated 50th Anniversary of the Hollywood Walk of Fame
The event, watched by thousands of fans, took place in front of Capitol Records, at 1750 Vine in Hollywood, where Ringo's star, the 2401st on the walk, was placed in line with fellow Beatle's George Harrison and John Lennon as well as dear friend Roy Orbison (whose star was celebrated just last week, with Ringo adding "Roy was the hardest act the Beatles ever had to follow").
The Hollywood Chamber of Commerce commemorated the 50th Anniversary of the Hollywood Walk of Fame with a special evening event, and it was a full-on Hollywood style celebration, closing off Hollywood and Vine and using search lights to emblazon the night sky.
Ringo applauded the change, encouraging the Chamber to continue these in the evening, "I don't know how it is where you come from," he said, "but where I live, the stars come out at night."

Leron Gubler, CEO of the Hollywood Chamber of Commerce, welcomed everyone. On hand to induct Ringo was fellow "mocker" and now brother in law Joe Walsh, musician, friend and former producer Don Was and Ringo's most recent band mate and friend Ben Harper, who just completed a promotional tour to support Ringo's current CD Y NOT.

In his acceptance speech, Ringo said of his inductors, "I like to spend as much time as I can with great human beings, and the three guys that got up tonight are at the top of my list."

The love was palpable, emulating from the heartfelt eloquent and often funny speeches from Ringo's friends and the crowd who could not contain their enthusiasm and shouted "Peace and Love!" and "We Love You Ringo!!" throughout the 40 minute plus ceremony. One voice from the crowd reached Ringo and he said into the microphone, with his typical wit, "in case you didn't hear her she said I look fantastic!"

Sitting to the right of the stage was Ringo's family, including his wife, Barbara Bach Starkey, and Ringo thanked her from the podium adding "30 years we have been together, she is a beautiful human being with a beautiful heart and that's who I fell in love with...I love you Barbara."

Ringo also acknowledged The Beatles, and Paul, who was in England and couldn't attend, saying, "I still think we were the best band in the land."

Ringo Starr and the All Starrs on tour in 2010

The 11th All Starrs will feature Edgar Winter on sax and keyboards, Gary Wright on keyboards and Gregg Bissonette on drums. New to the All Starrs are Rick Derringer on Guitar, Richard Page on bass (Mr. Mister) and Wally Palmar on Guitar and Harmonica (Romantics).

Booked by Dave Hart, the concert tour will kick off this June 24, 2010 at Fallsview Casino in Niagara Falls Canada, include a July 7 (Ringo's Birthday!) show at Radio City Music Hall in New York City ending at the Greek Theatre in Los Angeles on August 7, 2010.
Sitting next to Barbara was her sister Marjorie Bach Walsh, and friends Barbara Orbison and son Roy Jr, Olivia Harrison, David Lynch, Benmont Tench, Jeff Lynne, Noah Wylie, All Starr's Edgar Winter and wife Monique, Gary Wright and his wife Rose, Sheila E, Jim Keltner and many more friends and family. Even Mayor Villarigosa, who was scheduled to be at another simultaneous event, meant to just drop by but wound up staying for the duration.

It was a love and star filled night for Ringo Starr, who concluded his speech with an exuberant trademark "Peace and Love!"

The entire Ringo Starr Hollywood Star event could be seen on a live webcast, produced by SyncLive, which brought the event to online viewers around the world, and can still be seen in encore broadcasts at ringostarr.com, thebeatles.com, beatlesrockband.com, AOL Music, moderndrummer.com, and several other sites.
Photo credit: Rob Shanahan
---
Ringo Starr in the News
---
Ringo Starr's Studio Album, Liverpool 8, released January 15 by Capitol/EMI. First New Solo Release with Capitol Since 1974; To Be Available On CD & Digitally
STARR'S BEST SOLO TRACKS COLLECTED FOR NEW CAREER-SPANNING CAPITOL/EMI COLLECTION, PHOTOGRAPH: THE VERY BEST OF RINGO STARR, TO BE RELEASED PHYSICALLY AND DIGITALLY ON AUGUST 28, 2007
Ringo Starr Returns to Capitol/EMI With Exclusive Global Signing Agreement
Stan Lee and Ringo Starr Develop New Superhero Franchise
By Ringo Starr
"Postcards from the Boys will delight Fab Four connoisseurs and send writers scurrying to revise their biographies."
London Sunday Times Magazine
For the first time, Ringo Starr is opening his private archive to share over 50 never-before-seen delightful and very intimate postcards sent to him throughout the years from John Lennon, Paul McCartney, and George Harrison. Continue reading...
---
---
© 200-2013 EMOL.org Music Entertainment Maagazine. All rights reserved.
Ringo Starr Music CDs
Richard Starkey is best known to the world as the Beatles' drummer. As an integral part of the revolutionary 'Fab Four', Ringo Starr helped change the world of pop music. Starr didn't join The Beatles until 1962, after original drummer Pete Best was sacked. As a drummer his proficiency is often under-rated, or derided as simplistic, but he remains an influence on many of today's best rock drummers. Most importantly, his drumming was consistent and reliable, and provided an expertly measured framework for Lennon and McCartney's perfect pop melodies. - Amamzon/SoundUnwound
"Postcards From The Boys" by Ringo Starr
Ringo loved to receive mail, especially from his band mates. Didn't matter much what the notes said—"everything here is still going well, except we miss you," "doing nothing at all" or "YOU ARE THE GREATEST DRUMMER IN THE WORLD"—he saved them, and now, 38 years later, they are all published in this colorful book of memories of the Beatles and Ringo's profound life.