Tucson restaurants offer a wide variety from the typical fast food to specialties as Mexican dishes, Italian, Japanese sushi and lots of Chinese food.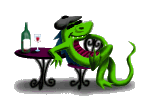 But, Tucson is best known for its great Mexican restaurants - like El Charro Restaurant, a long time staple.
Fine dining in Tucson restaurants can be as expensive as high end restaurants in major cities. Yet, fine dining can also be found in quaint, locally run restaurants.
---
Tucson Restaurant Coupons:
---
El Charro opens in Sahuarita
El Charro Café Rancho Sahuarita opened in the Rancho Sahuarita Marketplace and Village at 15920 S. Rancho Sahuarita Road. The 4,500 square foot restaurant has an indoor-outdoor bar, retail space and a patio. The restaurant will be similar to the two newer café location at 7725 N. Oracle Road and 6910 E. Sunrise Drive. Continue reading about new development with El Charro Café.
Sir Veza's Taco Garage opened by the Flores family
On the northwest corner of Swan and Speedway, a new casual concept Mexican restaurant has opened by the family that owns El Charro, Ray Flores. Sir Veza's Taco Garage, 4699 E. Speedway, is a sit-down restaurant which specializes in low-priced Mexican food, hamburgers and sandwiches.
IN-N-OUT now in-Tucson
IN-N-OUT Burger opened the first Tucson location on April 24 in front of El Con Mall in a new building at 3711 E. Broadway. The 3,200 square foot building has indoor eating facilities for up to 70 diners and 50 employees. There is a drive through. The restaurant will be open from 10:30 a.m. to 1:00 a.m. Sunday through Thursday. It stays open until 1:30 a.m. on Fridays and Saturdays. IN-N-OUT is a popular Irvine, CA based family company known for its excellent but simple hamburgers, fries and shakes. Another location is planned to open soon in Marana.
Tucson dining database and restaurant guide
Hundreds of Tucson restaurants can now be found with information about restaurants in Tucson, read reviews and contribute your own review to the ChefMoz database.
ChefMoz.org is an international open directory project from DMOZ.org. Volunteers and editors contribute information from all over the world to update the largest open-content restaurant directory on the web.Tucson restaurants are listed
When you click on a restaurant link, a new window opens to the ChefMoz directory. Add your own report, get address and phone information, pricing and other dining notes. Participate in a global venture!