"The Whole Enchilada- The History of Desert Rock, Tucson, Arizona 1978-1994"
The Whole Enchilada Trailer from R&R Press on Vimeo.
From the mind of Rich Hopkins, co-founder and guitarist of the Sidewinders/Sand Rubies, one of Arizona's most accomplished rock'n'roll exports, comes "The Whole Enchilada: The History of Desert Rock, Tucson, Arizona 1978-1994."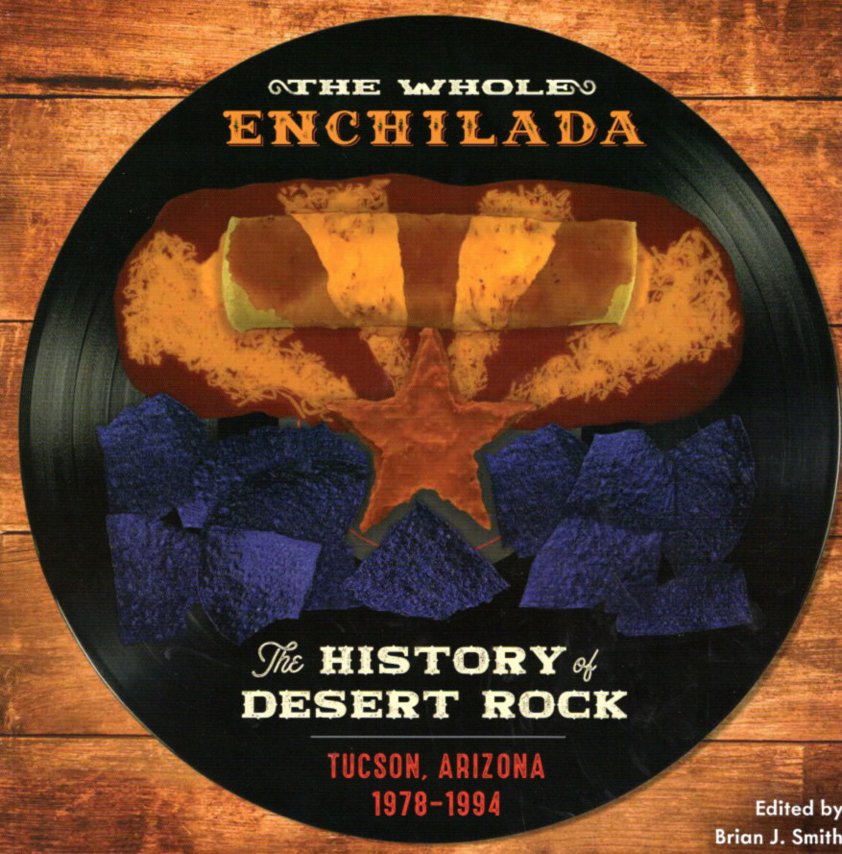 This whopping three-LP multi-media set and book is a who's-who anthology of Tucson's musical trailblazers from 1979 through 1994.

The paperback The Whole Enchilada: The History of Desert Rock, Tucson, Arizona 1978-1994 is now available on Amazon.

The LP and multi-media is now available from Tucson, Arizona's own San Jacinto label. A special local musical event was held for the release in April 2022.

The painstakingly compiled collection is a veritable Tucson musical family tree, leading us from from the mid-1970s through the mid-1990s, from the swoony Bob Meighan Band and the honky tonk of the Dusty Chaps (both whom signed to major labels in the 1970's) to international indie giants Green On Red (Serfers), Howe Gelb and Giant Sandworms, Naked Prey, Al Perry and The Cattle, Desert Rock breakouts The Sidewinders, Yard Trauma, Black Sun Ensemble and many more.

With varying styles covering honky tonk, power-pop, country and cow-punk, fusion, punk rock, eclectic and art-damaged, amped up bluegrass, blues and straight up sunbaked rock'n'roll, the album is full of pleasant surprises (unsung country great Ned Sutton, for example), collectible rarities, popular numbers and outright gems you'll wonder how you ever missed.
Accompanying the three-record set is a 70-page companion book with rare photos, obscure histories and anecdotes, and dozens of biographical essays by many of the artists themselves and others by named writers, journalists, photographers and deejays, placing the reader centerstage at Desert Rock's halcyon days.


The effort was compiled by Tucson natives Brian Jabas Smith and Douglas "Fini" Finical. In addition, the set includes a code that allows fans to view the 30-minute Whole Enchilada documentary, featuring a handful of stars and coulda-shouldas included in the project, helmed by film-fest winning director Maggie Smith.
Proceeds from THE WHOLE ENCHILADA benefit Tucson's Casa Maria Soup Kitchen.

CATALOG # 2064 "THE WHOLE ENCHILADA- The History of Desert Rock 1978-1994"

Multimedia Package: 978-939050-26-7 (book and 3-set vinyl) PRESSING LIMITED TO 1000 UNITS. Release date: March 15, 2022

Vinyl LP: 978-939050-24-3 (3-disc)
Album available on Shopify

Paperback: 978-939050-23-6 (paperback)
Paperback book available on Amazon
Produced by Richard Hopkins
Edited by Brian J. Smith
Designed by Douglas "Fini" Finical
Published by San Jacinto Records, Tucson, Arizona
Facebook Page for The Whole Enchilada
---
FOR ORDERING/WHOLESALE INQUIRIES CONTACT: RICH HOPKINS, [email protected]

Hurricane Records
636 N. 4th Avenue
Tucson, Arizona 85705
(713) 476-8878
� 2022 Hurricane Records / EMOL.org Entertainment Magazine. All rights reserved.