LG Electronics Extends LCD Monitor Lines With New LED and 3D Technology
Slim, Stylish Monitors Couple Advanced Display Technology with Optimized Performance
A dozen advanced widescreen computer monitors from LG Electronics for 2010 are highlighted by new, more energy efficient LED models, 3D gaming monitors and a line of commercial-grade LCD monitors introduced today at the 2010 International Consumer Electronics Show in Las Vegas in January.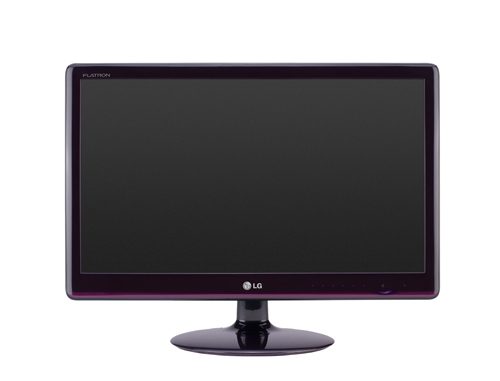 By combining a stylish new design with optimized features, including enhanced picture quality, 16:9 aspect ratio, Full HD 1080p resolution and multi-screen capability, consumers can integrate high design into their home office.
LG's newest LED and LCD monitors for both home and office use will be showcased alongside LG's full IT line for the first time this week.
"Computers have become a mainstay in most households - for personal and professional use - and the explosion of video content requires the display technology to be as multi-dimensional as their users," said Peter Reiner, senior vice president, marketing, LG Electronics USA. "LG's new monitor lines provide individuals with the diverse technology they need to manage their professional and personal lives, as well as improve their content viewing experience."
Exceptional Picture Quality for the Small(er) Screen
LG's full line of LED "Full HD" 1080p monitors provides consumers with enhanced picture quality and access to a variety of high performance entertainment features they look for with LED technology, as well as the functionality they need in a computer monitor.
LG's LED monitors incorporate environmentally-friendly features, including power savings and reduction of hazardous materials used in construction which lowers CO2 emissions created from shipping. Models in this line include the E50, E46 and E40 series, as well as models W2363D, M62D and W2220P:
LG E50 Monitor Series (20- 21.5-, 23-class sizes*) - LG's flagship LED model series, the E50 is just .69 inches thick, and boasts mega ratio contrast technology, resulting in an extremely clear and natural picture quality built into the ultra slim and stylish design. It Dual Screen feature optimizes the window size to automatically divide the screen to view multiple Web pages and run Microsoft Office(TM) at once, making it easier than ever before to multitask online. Other features include:
2-way stand
Smart+ package: Dual screen, Auto bright, Cinema mode, Original ratio
Over 40 percent power saving
Full HD (1080p): over 22-inch class sizes
Mega contrast ratio
Clean image
Slim depth
Ez control OSD
LG's new 23-inch E2350V LED computer monitor is the first product to earn UL Environment's new Sustainable Product Certification (SPC) for high tech equipment. The monitor completed UL Environment's independent, third-party certification for meeting IEEE 1680 environmental performance for consumer electronics, which includes ENERGY STAR® requirements for energy efficiency.
LG E40 Monitor Series (23-inch class size*) - The E40 line incorporates all the same core functionalities of the E50.
Enhanced 3D Gaming Experience
With LG's W2363D monitor, consumers can now enjoy 3D picture quality from their home monitor, offering an extraordinary gaming and entertainment viewing experience with special glasses*. The W2363D features exceptional picture quality with full HD 1920 x 1080 display resolution, Tru-Surround HD, dual HDMI interfaces and 3 ms response times making this a great fit for playing 3D games and watching 3D movies. Other features include:
120Hz , Full HD (1920x1080)
Contrast ratio: 70,000:1
SRS Tru-Surround HD
Rolling key
Intuition UI
DVI, HDMI x2
IT & Technological Image
Reaction lighting
Thru mode (Delay time zero)
Noise reduction (3D N/R) Auto-brightness (input source)
Also on display this week is LG's latest Full HD LCD Monitor TV, model M62D, which incorporates clearer and sharper images, faster refresh rates, higher contrast ratios and enhanced connectivity, all packaged in a sleek and slim design. The M62D is available in 23- and 27-inches class sizes* and boasts a variety of features to meet consumers' everyday needs, from entertainment and gaming to connecting online, and more.
Combining all the benefits of a Full HD monitor, the M62D doubles as a computer monitor that delivers exceptional picture quality for HDTV broadcasts, Blu-ray movies, computer games, digital photographs, and Microsoft Office(TM) applications. This model also offers the convenience and versatility of HDMI, DVI-D and D-sub ports while high quality built-in speakers and audio input jacks.
Versatile Monitor Solutions
LG continues to expand its offering of business monitor solutions for both the home office and larger office environments by blending easy-to-use technologies and stylish design to fit a wide range of business needs and extend the end-user experience.
LG W46 Monitor Series (21.5- and 23-inch class sizes*) - The W46 monitor series offers both small and large businesses a great solution. By blending a narrow bezel for convenient viewing and simple square-shaped head design, this series creates a clean working environment and maximizes desk space.
Both the W46T and W46PM models in this series provide consumers with enhanced picture quality at their workstation. The W46PM also boasts a height/pivot stand option and built-in speaker. Both monitors have passed through Microsoft-designed testing for Windows 7 certification. Other features include:
Response time: 5ms
Contrast ratio: 30,000:1
Brightness: 250nits
Viewing angle: 170/170
Full HD 1920 x 1080 Resolution (from 22-inch sizes)
DVI-D, D-SubLow power consumption
LG W2220P Monitor (22-inch class size*) - The W2220P is ideal for consumers who work with graphics-intensive applications or Web design, graphic or video editing in high-definition. With a viewing angle of 178 degrees consumers can see content clearly from almost any angle. This model also uses an IPS panel to eliminate motion blur. Other features include:
6ms (GTG) response time
Contrast ratio: 1000:1
Brightness: 300nits
Viewing angle: 178/178(H/V)
1680 x 1050 Resolution
D-sub, DVI-D, HDMI
LG Electronics Thinks Outside of the Box: Unveils World's First Full HD 3D Projector
Portable LED Projector Allows Consumers to Enjoy Excellent Display Quality - Anytime, Anywhere
LG Electronics unveiled its new versatile 2010 video projector series, including CF3D, the world's first Full HD, 3D Single Lens Type Projector and a new compact, lightweight projector (model HX300G), at the International Consumer Electronics Show in January 2010.
"Consumers are continuously looking for creative new solutions for both entertainment and business video display needs, and LG projectors provide the versatility and portability options for multiple applications," said Jeff Dowell, vice president, business solutions, LG Electronics USA. "Whether customers desire compactness and portability for presentation use, or theater-like performance for a home installation, LG has the right solution."
CF3D - More Life-Like Viewing
LG's versatile CF3D is the world's first Full HD Single Lens Type 3D Projector featuring an amazing brightness rating of 2,500 ANSI-lumens and a high contrast ratio of 7,000:1. This model also features TruMotion 120Hz for smoother images - a technology previously only seen on flat panel HDTVs.
LG's CF3D enhanced technology gives consumers a more life-like viewing experience. Incorporating both Dual Engine and 3D Auto Picture Calibration technology, the CF3D offers superb color correction to help ensure images are displayed naturally. HDMI upscaling on the CF3D reduces on-screen color banding, providing smoother tonal transitions and more subtle gradation between colors. Specifications include:
0.61-inch SXRD(TM)
Full HD 1080p (1920x1080)
3D Auto Picture Calibration
Dual Engine
2 HDMI 1.3, USB Input
ISFccc
Real Cinema
The HX300G uses an LED light source to boast distinctive, clear color imaging and offers increased durability with long lamp life of approximately 30,000 hours. With an output brightness of 300 ANSI-lumens, the HX300G allows users to view video content in a darkened room with reduced distortion.
The HX300G is good travel companion for those executives that are frequently on the road as it is compact and lightweight at just 1.7 pounds. The All File Viewer function supports all Microsoft Office® files and includes a USB port and support for "HD" DivX, MP3 and JPEG files, making it ideal for presentations. Specifications include:
0.55-inch DMD
XGA resolution
300 ANSI-lumens
Contrast ratio: 2,000:1
Life time: 30,000 hrs (typical)
HDMI 1.3, USB 2.0 input ("HD" DivX, File Viewer)
Green Technology (does not utilize a Mercury containing CCFL lamp)
Wireless FM Transmitter
About LG Electronics USA
LG Electronics USA, Inc., based in Englewood Cliffs, N.J., is the North American subsidiary of LG Electronics, Inc., a $45 billion global force and technology leader in consumer electronics, home appliances and mobile communications. In the United States, LG Electronics sells a range of stylish and innovative home entertainment products, mobile phones, home appliances and business solutions, all under LG's "Life's Good" marketing theme. For more information, please visit www.LGusa.com.
About LG Electronics, Inc.
LG Electronics, Inc. is a global leader and technology innovator in consumer electronics, mobile communications and home appliances, employing more than 84,000 people working in 115 operations including 84 subsidiaries around the world. With 2008 global sales of $44.7 billion, LG comprises of five business units - Home Entertainment, Mobile Communications, Home Appliance, Air Conditioning and Business Solutions. LG is one of the world's leading producers of flat panel TVs, audio and video products, mobile handsets, air conditioners and washing machines. LG has signed a long-term agreement to become both A Global Partner of Formula 1(TM) and A Technology Partner of Formula 1(TM). As part of this top-level association, LG acquires exclusive designations and marketing rights as the official consumer electronics, mobile phone and data processor of this global sporting event. For more information, please visit www.lge.com.
Source: LG Electronics USA, Inc.
LAS VEGAS, Jan. 8, 2010 /PRNewswire/ --