The sheer size of the Grand Canyon is overwhelming!
These pages provide a glimpse into the Canyon with suggestions to have a good experience and background information about the history of the Canyon.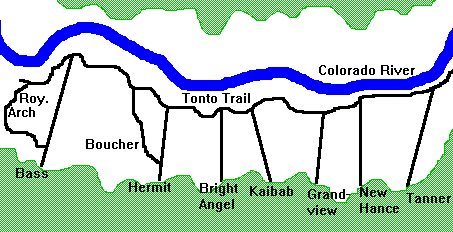 The number of visitors to the Grand Canyon has been rising for the past few years. There were 2.2 million visitors to the park between January and June 2004- a 7.2 percent jump over the previous year, according to the National Park Service.
Since 9/11, there had been a drop in visitors- a trend seen by most national parks. That trend is shifting upward as more people are travelling again.
Take a photo tour around the Grand Canyon with several Canyon tours.
Grand Canyon Events
September 5-7, 2009: GRAND CANYON: Labor Day Weekend Festivities – featuring Jaye Begay, Grammy nominee artist on Saturday and Hoop Dance contest on Sunday, cowboy and Indian Musician Day and frybread making contest on Monday, 928-856-0717.
September 11-27 GRAND CANYON: 26th Annual Grand Canyon Music Festival - Shrine of the Ages Auditorium, annual series of evening concerts, musicians from around the country, from jazz to classical, $, 7:30 pm, 928-638-9215 or 800-997-8285 or www.grandcanyonmusicfest.org H
September 19-November 1, 2009 GRAND CANYON: Grand Canyon Celebration of Art – major art show, see works of some of the best master artists in the nation as they seek to capture the beauty of the timeless Grand Canyon landscape on canvas, free, www.nps.gov/grca

©1996-2009 EMOL.org / Entertainment Magazine / AZentertain.com All rights reserved.