Entertainment Magazine: Celebrities: Michael Feinstein
Michael Feinstein takes us on a journey
Man on a mission to preserve American Song Book on PBS
By LynnMarie
Don't play "Name That Tune," with Michael Feinstein, I guarantee you that you will lose.
Not only does Mr. Feinstein know every tune, he is an encyclopedia when it comes to the American Songbook.
"I'm sadly obsessed, what I have been doing I have been doing my whole life," explains Feinstein. I personally think we should learn a lesson from Mr. Feinstein and be as "obsessed" and passionate with something so positive in our own lives.

There isn't any artist in history that has dedicated their career in preserving and promoting the great American Songbook than prominent cabaret and show performer Michael Feinstein.
"I think it should be illegal for people to throw away music," he admits.

The three-part series produced and directed by Amber Edwards of Hudson West Productions embarks on a dynamic road trip through the glorious history of American song by the acclaimed musician and five-time Grammy nominated vocalist.
Viewers accompany Feinstein on-stage and backstage, hear him interpret great standards, listen in on personal stories about the songwriters and entertainers he's known and worked with over three decades, and join him on his quest to find and preserve rare treasures of classic American music.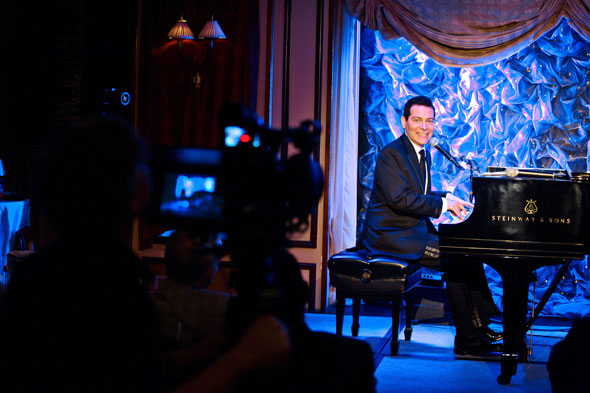 "When I first moved to Los Angeles, "I discovered that movie studios would throw away archives, music publishers would get rid of old arrangements, manuscripts would be discarded, and complete orchestrations for shows would be tossed out.
Our musical heritage was literally disappearing because people didn't understand it was valuable to save it."
Standing beside the 405 freeway in Los Angeles, he points out that it was built on a landfill created out of hundreds of thousands of musical scores discarded by MGM.

Michael has been collecting music since he was five years old. He remembers everyone telling him that he was never going to be able to make a career out of singing these classics and trying to preserve it for generations to come. "Life is centered around American Popular Song and music has a strong audience," explains Feinstein.

Amber Edwards, Producer and Director of the projects explains: "Michael is all about the passion and the enthusiasm, it's there at all times. One of the things I'm always mindful of in the editing is, you know, they say in the mystery stories that if you introduce a gun you have to shoot it. I'm sort of going from the assumption that there may be many viewers out there who don't know who Paul Whiteman is and don't know who Al Jolson is and don't know some of these sorts of iconic things."
"So, I tried to sort of build it so that at whatever level you come into it at, you will be able to follow along and learn and there will be something at every level of interest. So, if you are just interested in history, then you can get a lot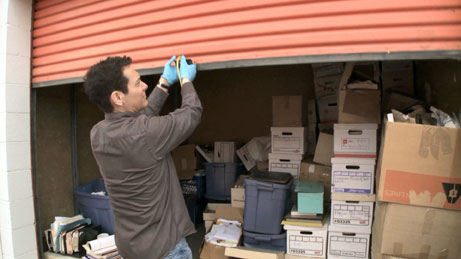 of interesting cultural history.
Or, if you are a really passionate collector of sheet music of RKO musicals of the 1930s, you'd find something there, too. You know, Michael is kind of like a shaker. You just turn him upside down and shake and all these kinds of interesting things come out!"

The first hour, "Putting On the Tailfin" focuses on the 1950's and 1960's, when the Great American Songbook competed with new forms like rock 'n' roll, and rhythm & blues. As Feinstein crisscrosses the country performing with big bands, symphony orchestras and jazz combos, viewers learn how iconic singers like Frank Sinatra, Nat King Cole and Rosemary Clooney kept the Songbook alive by reinventing pop standards of the 1930s and 1940s.

"Best Band in the Land" will showcase the music of World War II, including big bands, USO shows and the role music played in boosting morale among troops and the folks at home.

"A New Step Every Day" will present the jazz fueled days of the 1920s and 1930s and introduce viewers to collectors and musicians who keep this vital era alive today.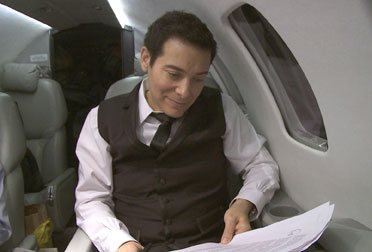 Amber Edwards (Producer & Director) also stated that there were a lot of wonderful performances by Michael that did not make it into the series and so on the DVD there is a bonus disc.
The DVD will be the three episodes and then there will be a disc that also has two hours of archival stuff and additional Michael Feinstein performances that are not in the show itself. "So, nothing that was really good got lost."

"My hope is that when you expose somebody to something they will like and appreciate it," explains Feinstein.

Michael Feinstein's AMERICAN SONGBOOK premieres on Wednesday October 6th with episode 2 airing on the 13th and episode 3 airing on the 20th. Check your local listings. The DVD is available at PBS.org.
---
---
© 2010 EMOL.org. Celebrity Entertainment Magazine. All rights reserved.
MICHAEL FEINSTEIN'S AMERICAN SONGBOOK, a dynamic road trip through the glorious history of 20th century American song – from the 1920s through the 1960s – by the acclaimed musician and five-time Grammy®-nominated vocalist
Rent Blockbuster Online. Watch at home. Exchange in-store. No due date. Free shipping. Get A Free Trial. Try Blockbuster Total Access FREE for 2 weeks!
TV Collectibles:
Shop ABC-TV Official merchandise for Boston Legal, Dancing with the Stars, Desperate Housewives, and more!
Shop NBC: NBC Universal Store Favorite TV merchandise. Dwight Schrute Bobblehead!
NBC Universal Store DVDs, Soundtracks, Clothing, Accessories and Collectibles from your favorite NBC Universal Shows, Movies and Sporting Events.
Sports Collectibles:
Fathead, Sports collectibles, super size graphics.
Movie Collectibles:
Fantastic Four, Spiderman, Elektra, Captain America, The Hulk and more! CLICK HERE
Warner Bros. Shop
Shop for toys, clothing, posters and more from Warner Bros. favorites like Harry Potter and The Wizard of Oz.
Tarzan collectibles, DVDs
Ornamental Collectibles:
Christmas Tree Ornaments
Free Promotional Offers: