Science, Sex, and the Ladies, Oh My!
An Interview With Filmmaker Trisha Borowicz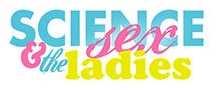 A new documentary feature will soon hit the film festival circuit – like none you've ever seen. Yet with a message that is SO needed when it comes to women, men, and sexual equality in contemporary culture.
Don't let the term "documentary" fool you. Don't think talking heads. Don't think cinema verité. Don't think Ken Burns or PBS. Think unique.

It's titled Science, Sex, and the Ladies, and it was written, directed, and produced by a three-person filmmaking team of one woman and two men. The filmmakers are Trisha Borowicz and Charlie Borowicz, a wife-and-husband filmmaking team, and long-time friend Barnaby Aaron.

Barnaby and Trisha film a scene.
Not only is the subject matter unique, but so is the social-political message as well as the film's style or format. Additionally, they take aim from a very grown-up perspective. This means due to the subject and how it's presented, this film is for viewers 18 years of age and older.

The filmmakers describe their subject matter this way: "Science, Sex, and the Ladies is an innovative non fiction movie detailing how our cultural (mis)understanding of female orgasm breaks female sexuality and in doing so attenuates sex and sexuality for everyone."

We are so used to accepted, traditional notions and images of female and male sexuality – and the enmeshed power dynamics – that most people don't question much of what they assume is innate biology and gender roles. Yet when you look closely, socialization and the ideological environment loom large in our cultural "education."
---
---

Sara Williams, Sara Yanney-Chantanasombut, and Nick Marson.
As Trisha, Charlie, and Barnaby put it, there is an "orgasm disparity between women and men that is culturally created, harmful, and in no way inevitable." Both women and men are responsible, and both need to make changes for progress to be made.

The filmmakers call the film's format "a new form of non-fiction cinema, the visual essay." While it is thoroughly researched and even puts citations on-screen, like research paper footnotes, they present their case primarily through quirky vignettes and skits. The filmmakers appear in some of them. It truly is innovative. It's also entertaining.
Tim Stroud and Erin Monahan.
Trisha Borowicz was the original force behind the project when a college course introduced her to the research and its implications. Over the next few years, her reading and writing continued, and in 2005, the team began the long process of turning it all into a viable screenplay.

I had the chance to attend a test screening of Science, Sex, and the Ladies and meet the filmmakers. Let's hear more about this project from the filmmaker herself, Trisha Borowicz.
Trisha, Erin Monahan, and Charlie.
1. Can you describe how you, Charlie, and Barnaby approached this film project as a team?

The three of us have been collaborating on short movies and paid video projects for years. We're also high school friends and were all roommates for a period of time, so we are incredibly comfortable talking out ideas and critiquing each other's work. The idea for the movie came from my experience as a woman and from years of reading and researching the subject. However, actually putting these ideas into a script and onto a screen came from our collective blood, sweat, and tears. We spent countless hours bouncing around ideas, editing each other's writing, and compromising on everything from casting to set design to editing choices.

Of course, we each have our strengths. For instance, Charlie did the majority of hands-on editing and almost all the effects work, and particularly during production we had to divide and conquer, but still there was always discussion prior to our tasks and critique after that ensured everyone was on the same page. We've always felt like we were strongest when we spent the time to really, truly collaborate, and so we made it a priority while making Science, Sex, and the Ladies.
---

---
2. How did you go about casting your actors? How did you get your music composer? Did you want performers and a composer who supported the message of the film?

We advertised auditions for this movie everywhere we could think of, and we were very clear about the kind of movie this was, both in the nature of the movie's subject and in our rather low budget status. We also did some recruiting of friends and family.

We lucked into our composer, Nathaniel Blume. Before his incredible opportunity to complete his studies at the Scoring for Television and Motion Picture Program at the University of Southern California, he worked with Charlie's brother in Indianapolis. We were introduced, hit it off, and began a very slow process (since the film took so long to finish) of collaborating, often through Skype and Google Hangout. Besides being totally cool and fun, he is also everything we could have hoped for in a composer – creative, thoughtful, technically skilled, and incredibly professional and on point.

It was important to us that people working on this movie understood our message, and in the end we found that our actors and whole production team became incredibly excited about the movie and have been unbelievably supportive.

Charlie Borowicz, Trisha Borowicz, and Barnaby Aaron.
3. Are there certain kinds of film festivals to which you are submitting your film?

We don't have a "type" of festival to which we are submitting it. We've found that it's not easy to predict the type of person who will connect deeply to this movie, and so we're just trying our luck at a variety of them. We've only begun in the past month or so to submit the finished movie to festivals so we're expecting to begin hearing back soon. We'll keep you posted.


4. What are some audience reactions?

Most of the screenings have been small groups, but we've been overwhelmed with the reactions. There is always a lot of laughter, and probably the most common response I hear after it's over is, "I wish I would have seen that about 20 years ago."

There is a lot of information in the movie, and we find different aspects of the movie jump out for different people. Those who work in sexual education tend to have a lot of interest in the aspects related to adolescents. Some parents have told me they want every other parent they know to see it. Some people really comment on the newness of the movie's argument. There are some who feel a little uncomfortable and even bothered by the boldness of our statements about the non-existence of scientific evidence for orgasms that result from stimulation of the vaginal wall.

I've also had notes from two women telling me the movie completely changed their view of their sexual lives. One of them felt she was living a lie for the last 35 years and that she had a lot to talk about with her husband. Honestly, I knew that reactions would be all over the board since this is such a personal and important subject in people's lives, but I feel as though I learn more and more about how this movie might impact people with every new showing.


5. How is the small group screening approach working so far? Was that part of your original plan for the film?

The small group screening idea was part of our plan from way back. We got the idea from Feminist Consciousness Raising groups of the 1970s. We've always felt the arguments in this movie were perfect for the kind of issues one might discuss in these groups. We say that because a main goal of these groups was for women to discuss their lives with each other so they could see if there were elements once thought to be individual, personal problems that were revealed to actually be systemic cultural problems shared by all women.

The cultural misunderstanding of the female orgasm that we discuss in the movie does reveal a larger cultural problem that, unfortunately, many women see as a personal deficiency. Our hope is that viewings in relaxed environments with people (both men and women) you trust can spark conversation and then action.

We've had a ton of interest in these screenings, from cast and crew who want to share with friends, to readers of the Science, Sex, and the Ladies blog, to our Kickstarter backers, to a few random people who just happen to find us on the internet. We've had a few so far (some are on the movie's website), and there are many more scheduled.


6. Since the film is for adults, do you plan to create a shorter version to help educate younger audiences?

We have no plans to edit the movie for an under 18 audience. Honestly, we would likely approach the subject with a different tone if our goal was educating young adolescents, so although there are probably some areas of the movie that adults might want to use along with their sexual education curriculum, we don't think we could just cut the movie down and get the type of movie we would really want to make. But hey, if anyone wants to fund a similarly styled sex ed movie for adolescents, we'd give it some thought.


7. While we do see advancements for American women over, say, the last century, why do you think sexuality in heterosexual relationships remains stubbornly static and regressive?

I think there are lots of reasons, but I think one of them is simply that critiquing hetero norms of sex can feel like a criticism of heterosexual men and a scolding of all us women who take part in these norms. That's off-putting because we hetero ladies often deeply love the men who we feel are being criticized. Our sexuality is also very deeply a part of who we are, and when there is criticism that touches how we or our partners conduct ourselves sexually, I think it's easy to become defensive, ignore it, or rebel against it.


8. Why haven't more women been able to learn/discover/embrace a more empowering female sexuality now that we're well beyond those famously female-liberating decades of the 1920s and the 1960s? This is part of the film, but it's so important that we should mention it here, too.

The way it's discussed in the culture, one would think the 1960s Sexual Revolution did all the sexual liberating a woman would ever want. That just simply isn't the case.

The quick answer is that it was a lot of things, not least of which is the way porn has not changed much as well as the cultural obsession with the g-spot after it was introduced in the early 1980s. There was real progress driven by some amazing women in the early '70s, but the important aspects of their arguments about the female orgasm simply never caught on. This is one of the main questions addressed by the movie.


9. Why do you think men continue to be socialized to define their masculinity, in part, by sexual behavior that is based on incorrect assumptions and inconsiderate attitudes toward women?

High sex drive seems to be one of the few qualities or traits still identified as clearly male. Gay, straight, old, young, any race or religion – the one thing that can be agreed upon is that dudes like to enjoy sexy things and to get it on. Women have moved into so many of the traditionally male spaces over the past 50 years that I think people cling to and celebrate this idea that men are simply the more sexual of the species. Because of this, I think there is more backlash against feminist critique on this subject.


10. What new projects are on the horizon for you, Charlie, and Barnaby?

We are currently in the writing process of a narrative movie. It's exciting to finally be able to begin -working on something else other than this movie, and we're also pretty excited that our next movie cannot possibly take as long as this movie did to make.


Thank you so much, Trisha! Good luck on the festival circuit and with the group screenings. Your film delivers such an important message about sexual equality. Hopefully it lights an important spark of awareness and change. My novel and short film (in development) also deal with sexual equality – and hopefully will continue your trail-blazing path.

For more on the film, the blog, or to schedule a group screening, you can visit the website at http://www.sciencesexandtheladies.com/
---
© 2014 EMOL.org Film Entertainment Magazine / EMOL.org. All rights reserved.