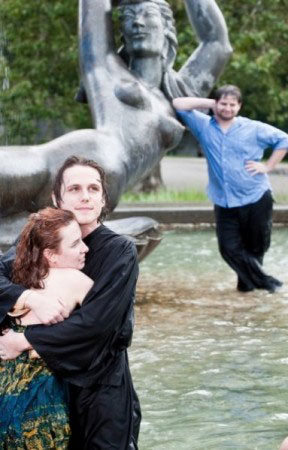 Paradise Recovered grabbed my attention in a local newspaper article about its upcoming premiere at the 2010 Heartland Film Festival.
The film was shot partly in Bloomington, Indiana, and partly in Austin, Texas. Indeed, one of the production photos accompanying the article showed a scene shot in a market that we frequent. Fun stuff.

But what also drew me in was the film's subject matter – not definably fun but certainly important.
Glancing through the festival line-up a couple weeks earlier, Paradise Recovered was an entry I had marked. Why?
At last year's Santa Barbara International Film Festival I saw another film made by similarly concerned filmmakers – concerned about religious sects that exploit their followers, where sexism, abuse, and hypocrisy can run rampant in closed-off communities. That film was Follow the Prophet.

As in that film, Paradise Recovered follows a young woman who has grown up in a religious sect that circumscribes her life within punitive, male-dominated boundaries. To question male religious authority – that is all-encompassing – is to question God and risk terrible sin.

In Paradise Recovered, Esther (Heather del Rio) moves beyond her 'sheltered' existence when she takes a job at a specialty market to make money for the church, to attend the church's college, and help out the minister's family with whom she lives. Thus she meets Gabriel (Dane Seth Hurlburt) and Mark (Oliver Luke). They're not only her co-workers. When the minister kicks her out because his son tries to seduce her, Gabriel and Mark offer to share their home with her. They offer to share much with her, and philosophical debates and new experiences abound.

As one of the taglines reads, Esther finally "learns about faith, living, and love." So she recovers her paradise.
Yet it's not recovered exactly –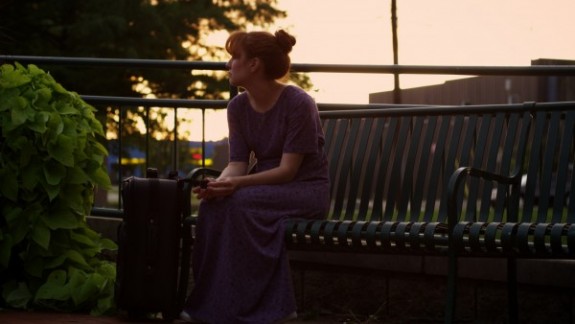 it's more than that. The paradise found is, in important ways, a new one. A better one. And she's not the only one who finds a better paradise.
Gabriel has his own quest and questions, ultimately finding paradise as well – one that's intertwined with Esther's in more ways than one.

While exposing the negative, self-serving aspects of closed-off religious sects, the film provides a very positive message – it is possible to shake off those shackles, delve freely into your spiritual quest, and find a better life.

The film's screening at Heartland was the world premiere, and we were lucky enough to talk to screenwriter Andie Redwine and director Storme Wood. We also had a chance to meet the film's three lead actors, Heather del Rio, Dane Seth Hurlburt, and Oliver Luke, who all did a great job. Redwine and Wood did a great job creating this film and share with us below their experiences making Paradise Recovered.

Andie Redwine
Can you tell us about your personal experiences that led you to write this script?

I grew up in an aberrant Christian organization. My parents and others joined this group (1960s-80s) believing they were serving God and bringing about world peace. Unfortunately, the leader was a narcissist who exploited their desire for his own gain. I left at the age of 18, and over the past 20 years, I have learned of others in different groups who, while experiencing different doctrines and practices, also experienced abuse at the hands of their leaders. Fear was used to keep them from thinking for themselves, and the leaders' wealth and privilege was built on their backs.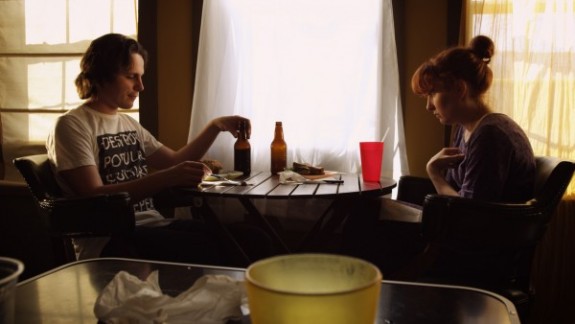 What goals/issues inspired and guided you in writing and producing this film?

Films like M. Night Shyamalan's The Village, the German film Downfall, the documentary Marjoe about celebrity child evangelist Marjoe Gortner, and even Frank Oz's comedy Bowfinger have showed how manipulation and mind control work. Unfortunately, there was never a film that showed what it was like for a person after exiting a group. I wanted to give spiritual abuse survivors a voice while talking about religion in a larger context.

Our goal was to make this film for independent film audiences who may or may not have experiences with cult mind control, but might have some interest in the role of religion in the public square. To meet this goal on a microbudget was daunting, but I think we were successful since audiences overwhelmingly love our film.

I think it's great that the main protagonist is a woman, with male friends to help her in her journey – rather than the usual other way around. What would you like to say about women in film and/or women in religious sects?

Well, I am a woman, so I love films with a great female protagonist. Women tend to suffer the most in fundamentalist Christian groups because of the literal interpretation of the Pauline letters – that women should be silent in the churches. Jesus never required women to be silent, and we don't know what issues Paul was answering.

Christianity was birthed into a Jewish culture where men and women were completely separate in worship and in community. That certainly isn't the case in 21st century American culture, but fundamentalists often suppress the thoughts and voices of women out of respect for Scripture as an infallible prescriptive for the church. High-demand churches often further exploit this prescriptive by hanging a woman's salvation in the balance; in short, she is in danger of losing her eternal salvation should she not be in full agreement with and submission to the teachings of Paul.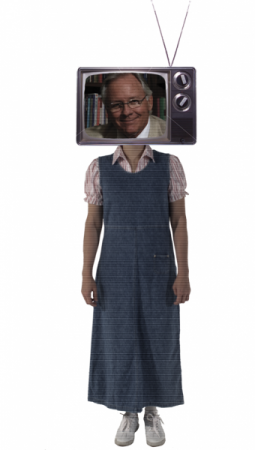 The problems that I see here and have experienced firsthand are two-fold. First, without the voices of everyone in the community meriting equal consideration, a caste system develops inside the group. Women become second-class citizens who are there to bear children, make meals, and clean up, while men talk about weightier matters and preach and make decisions for the community. A woman can be better educated than the men in the congregation and potentially add a great deal to the table based on her wisdom and work experience, but because of the supposed Pauline mandate, she is dismissed.

Second, the power that men wield in this kind of scenario often leads to violence toward women. In many high-demand groups, women do not have the ability to choose their clothing, their vocations, or their husbands, and they must submit to the authority of their fathers, pastors, and husbands without question. In talking with many spiritual abuse survivors, women are often alienated, even from one another, and their allegiance is forced, regardless of their feelings or beliefs. To leave means a one-way ticket to hell and to lose everything a woman has ever known, so she often stays and forces questions out of her mind for psychological survival.

Both men and women have their existence and salvation meted out at the whim of the leader. Many are scapegoated in order to further what is perceived to be the common good, and the leader's needs always supercede those of individual members. Members live in fear and anxiety on a hook for the leader; if they do not do what the leader says, they run the risk of losing their salvation and ultimately displeasing God. Leaders can often twist scriptures to make it seem like the group's holy book legitimizes sexual and physical assault, a leader's extravagant lifestyle, or leaving one's family.

There is a systematic recruitment process for people who join cults, and it is intense. Women tend to suffer the most in these groups, but men suffer as well.

Are there other films or novels that influenced you as a writer-producer?

I watched Fight Club to get an idea of how to bring the audience into this alternative world that is Prophetic Watchman Ministries, International. A Norwegian film translated "The Other Side of Sunday" was a film with a female protagonist that showed the double-mindedness of being inside a group. Norma Rae and Barbara Koppel's brilliant Harlan County USA were really helpful in thinking about a showdown and fighting for truth and learning how to ask questions after being oppressed.

I watched a lot of mumblecore films like the amazing Puffy Chair to get an idea as to what could be done on our budget. Our total budget has been less than $100,000, but Storme and the production team really knew what they were doing and took some great risks. Everyone brought their A game, and it is much better than I expected it to be.

Are there ways the film came out differently from what you originally envisioned?

I think it came out better, actually. David Blue Garcia's RED camera work was amazing. Often he would shoot ten hour days hand held, and the RED isn't exactly light. Our cast members brought a lot to the table, and the extras lent this real quality to the film. I love the raw emotion from Heather Del Rio, the chemistry between Dane Hurlburt and Oliver Luke, and the scenes shot in the VFW Hall church. It was hard to know how things would end up, and the editing, sound mixing, and color correction really brought things together. Plus the amazing music from Cara Jean Wahlers and Grover Parido and all of the brilliant artists on our soundtrack set the tone. The pieces came together brilliantly, and I couldn't be happier.
Storme Wood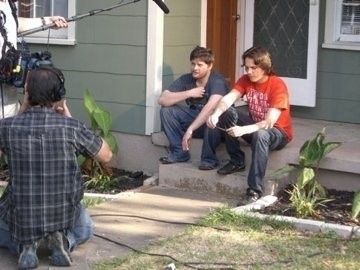 What was your first reaction when you read Andie's script?

My first reaction was "Wow. This is really good." It is such a compelling story, such an important subject, and it could have so easily been melodramatic. But it wasn't. It was real. It was funny. It was fair. To me, it is a very honest script. And I loved it from the first time I read it.

How did you approach casting?

We approached casting with an open mind. We worked with Casting Director Karen Hallford, who worked with Austin talent agents to get actors they thought would fit the parts and audition. Austin has a great talent pool of incredible actors, which made for some difficult decisions. But we knew everything hinged on Esther. Heather Del Rio really blew us away with her audition. There were other really good auditions for that role, but Heather stood out. And in our call backs, the chemistry with Heather, Dane and Oliver really emerged. Then there was the tension between Austin Chittim (who plays Phillip Sawyer, the minister's son) and Heather. That came out in the auditions as well. They are a talented young cast. We feel so lucky to have found them. And the rest of our cast is fantastic as well.

Are there particular films or filmmakers or philosophies or goals that have influenced you?

There are so many great films and filmmakers. So many influences – in life as well as in film. In film, personally, I'm very influenced by filmmakers who have followed in the traditions of the Italian Neorealists. I was so impressed the first time I saw Vittorio De Sica's The Bicycle Thief. And in that same vein, I love Francois Truffaut's The 400 Blows. From there, it's the American New Wave films of the seventies. One of my all-time favorite's in Bob Rafelson's Five Easy Pieces. And you have the early films of Martin Scorsese, Francis Ford Coppola, Woody Allen, Hal Ashby – so many great films. For Paradise Recovered, I was really inspired by Martin Ritt's Norma Rae. The camerawork and editing in that film are fantastic. The strong female protagonist. The performances of Sally Field, Beau Bridges, and Ron Liebman. Norma Rae was a real touchstone for me in my approach to directing Paradise Recovered.

Are there ways that the very low budget positively impacted the film?

I think our low budget had a lot of positive effects. I think the low budget helped us get at the authenticity that really bleeds through much of the film. Shooting in real locations in rural Indiana, with real people who live there, with actors who are fantastic but not household names, without a lot of time or money to spend on big fancy setups... I think all of this contributed positively to the film and actually helped us make a better film.

Are there ways the film came out differently from what you originally envisioned?

In a lot of ways, the film came out as I envisioned it. In many ways, it came out better. It's not a perfect movie, so there are some areas and some scenes that didn't come out exactly right. We were on a really tight schedule, so in some cases, we didn't really get to dive into things the way I would have liked. But overall, I'm very proud of this film and I think that the cast and crew did a great job of taking my vision for the film and making it even better than I imagined.

What are audience reactions?

The response has been overwhelmingly positive, more positive than I thought it would be. I'm really glad that the film is connecting so well with so many people. We're especially pleased when we hear from people who have come out of high-demand religious groups, who have lived through experiences like Esther's experiences, and who tell us overwhelmingly that we got it right, that they really connected with our film and they're glad someone was willing to speak for them. That kind of feedback is really gratifying.

What's next?

Our LA Premiere has just happened. Very exciting. We were honored to screen as part of Film Courage's ongoing series Film Courage Interactive, held at the Downtown Independent Theater in Los Angeles. We are waiting to hear back from a number of festivals that run through spring 2011.

So the future looks bright. We're talking to producers' reps and getting requests from distributors. We're confident that Paradise Recovered will find a good home and we're planning for a theatrical and DVD release some time in 2011. In addition, we have a couple of projects in development and hope to have one of them in production soon!

Thank you so much, Andie and Storme! Thanks for taking the time to tell us more about the film. Thanks for making Paradise Recovered.