Entertainment Magazine: Film: Heartland Film Festival: 2012
The 2012 Heartland Film Festival
As is the case every year now, the Heartland Film Festival broke the previous year's record for total number of films submitted: an amazing 1,240 films vied for consideration – 45% more than 2011 – and 118 of those films were selected for the festival.
That means less than 1% were chosen. Wow. Heartland has become very competitive and a sought-after festival for filmmakers with positive messages, hoping to inspire change and make the world a better place.
This year we saw a number of narrative and documentary feature films that we liked. Look for feature articles covering four of those films. Jared and I interview Heartland veterans Ryan Little and Adam Abel about their latest World War II drama, Saints and Soldiers: Airborne Creed.
We also interview the writer-director of Future Weather, Jenny Deller, whose main character is an 8th grader like Jared. Free Samples is a quirky, edgy comedy from director Jay Gammill, who shares his filmmaking experiences with us. And, you will also hear about Jason Jeffrey; writer-director of Your Side of the Bed, which had its world premiere at Heartland.
But now, here are some other interesting films from the 2012 Heartland Film Festival...
Trash Dance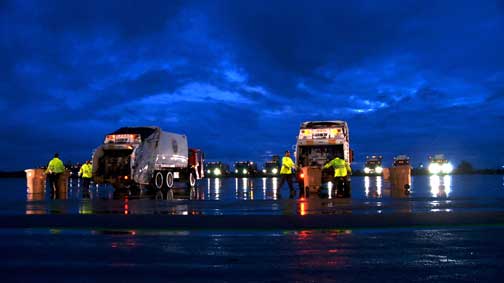 You would never guess city sanitation workers, the garbage trucks they drive, and their assorted workday accoutrements and routines would be the stuff of choreography. But that's what this documentary is all about. There can be beauty just about anywhere. There is fun to be had just about anywhere. Sometimes it just takes the eye of someone willing to see it to make it reality – and, in this case, someone else to adapt it to film, for wider audiences to enjoy. That would be Allison Orr, the choreographer who looks in unlikely places to find art. And there's filmmaker Andrew Garrison, who found a way (over three years) to capture the experience, which actually took place in 2009. Orr creates "dance routines" from very unlikely sources, like gondoliers and their gondolas in Italy or, in this film, the sanitation department workers of Austin, Texas. The film traces the initial skepticism, eventual embracing of the idea, and finally the triumphant performance of the participants – in the rain, at an old parking lot – to an appreciative sell-out audience. With lights shining off wet pavement in the evening, they gained added dramatic visuals. The highlight of the performance and perhaps the film is when Don Anderson, who attended the screening with Garrison, deftly maneuvers a crane to the music. Yes, it was a thing of beauty. Heartland judges thought so too, for this was a festival award winner.
Not That Funny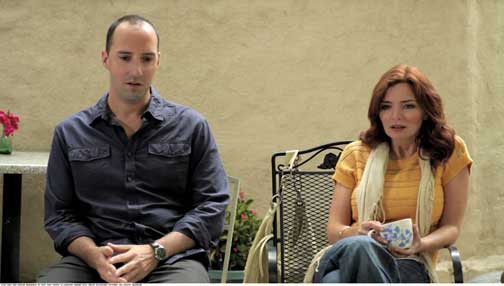 A comedy-drama, this narrative feature is not a knee-slapper but rather a quiet, slice-of-life romantic comedy. Stefan (Tony Hale) is a very average man, an accountant who rents an apartment in the older home of an elderly woman, Toogey (K Callan). He helps her in numerous ways, often routine stuff but sometimes much more than that. Toogey's granddaughter, Hayley (Brigid Brannagh), sets the story in motion when she shows up for a brief visit. Hayley grew up in that house and now lives 3,000 miles away. Neither Hayley nor Stefan is especially happy with their lives, and it turns out that the visit is the catalyst needed for change. The significant eye-opener for each is recognizing the discontent and unsatisfying routines their lives have become. It then takes some initiative to stop and question things and actively decide to pursue something better. It takes courage. That's where the title comes in: Stefan, who is the protagonist, somewhat mistakenly thinks Hayley wants a man brimming with humor – yet being funny is not his forte. Despite the uncomfortable obstacles, he musters the courage to try. He's glad he did. And so is she. From director/co-writer Lauralee Farrer.
A Bottle in the Gaza Sea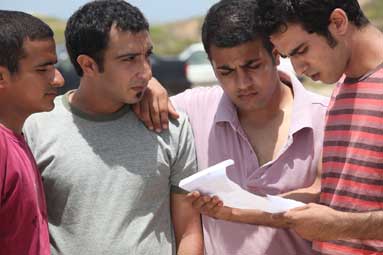 This festival award winner is a fictional almost-romance that conquers the huge divide between Israelis and Palestinians. It parallels Tal, a Jewish high school senior who recently moved to Jerusalem from France, with Naim, a Palestinian would-be college student living with his mother in Gaza. They connect as email pals after Tal's message-in-a-bottle attempt at peace: to whoever finds her bottle, she asks why there is such hatred. Naim is the one who responds. In the end, they can only "pass in the night" as he crosses borders to attend college in France and she arrives at the crossing in time to only make eye contact. But voice-overs suggest they remain in touch by email, and apparently she may return to France for college herself. I have to say this is a story that just begs for a sequel – not only for the potential romance in the face of such hostility, in the vein of West Side Story, but for the varying religious-political reactions of each person's family and friends. Maybe co-writer/director Thierry Binisti will consider it.
Cairo 678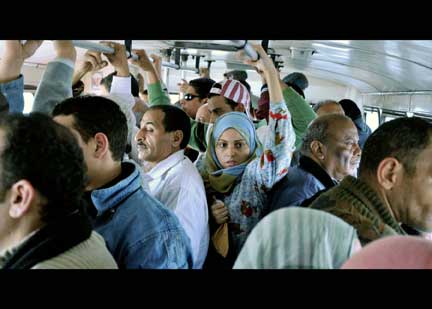 An intense drama about women's rights in Egypt, this film won Heartland's grand prize for narrative features. Interestingly, it was written and directed by a man, Mohamed Diab. He has had to contend with threats, with the film based on actual events of just a few years ago. Neatly interwoven are the initially three separate storylines of three different women, who all experience variations on the harsh unfairness toward women in this Arab culture. As the movie progresses, the women's stories begin intersecting and they all finally meet and try to act together. It's not easy at all, but as a result of their determination, Egypt finally enacts a sexual harassment law – though we learn that few women have been brave enough yet to use it.
All Me: The Life and Times of Winfred Rembert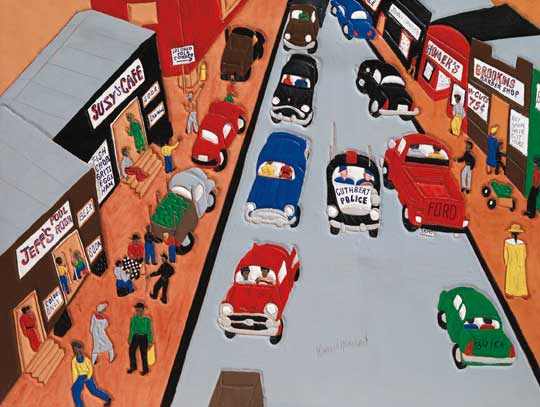 This documentary feature by Vivian Ducat, another Heartland award winner, looks at the unique art and life of Georgia native and Connecticut resident Winfred Rembert. Now in his 60s, he was born in the 1940s and grew up under Jim Crow conditions and the struggles of the early Civil Rights Movement. He spent a number of years on a Georgia chain gang because he got caught up unfairly in the aftermath of a civil rights demonstration. His art, which captures moments and scenes from his life and the black community, utilizes paint and leatherwork on leather canvases. His breakthrough as an artist came several years ago when Yale's art museum recognized his work and Rembert sold numerous pieces for high sums of money. The film follows him to his ultimate victory – his triumphant return to his Georgia hometown for the opening of his art exhibit.
Rising From Ashes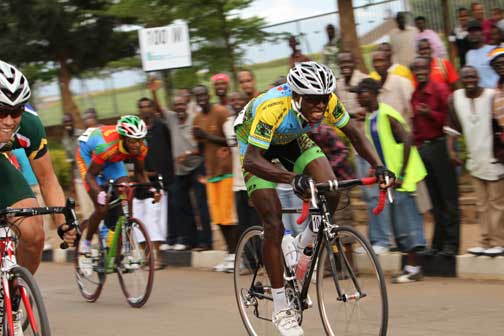 This moving film about bicyclists in Rwanda, who were children during the horrific 1994 genocide, won Heartland's top prize for documentary features. Not only are the young men inspiring as they learn how to compete internationally in mountain bking, but cycling champion Jock Boyer, from the U.S., had to overcome his own tough times to move to Rwanda to work with these young men. The stand-out athlete among them is Adrien Niyonshuti. He qualified for the 2012 Summer Olympics in London, where he competed and carried the Rwanda flag in the opening ceremony. In addition, well-known animal/conservation ambassador Jack Hanna, who has done a lot of work for animals and children in Rwanda, offered and did a special presentation with animals, including cheetahs, for the film at Heartland. Academy Award winner Forest Whitaker narrated and was an executive producer. The director/co-producer was T. C. Johnstone.
---
---
© 2007-2012 EMOL.org Film Entertainment Magazine / EMOL.org. All rights reserved.