Entertainment Magazine: Film: Heartland Film Festival: 2012
Filmmaker Jason Jeffrey:
Your Side of the Bed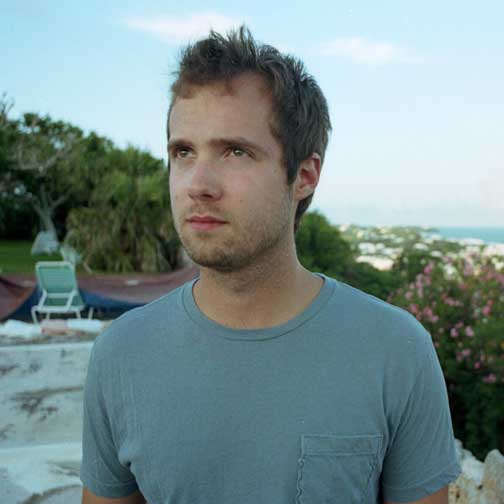 It's always a bit of a thrill when you get to watch a world premiere at a film festival.
Not only are the filmmakers on hand to reveal interesting tidbits, but you know you're the film's first real audience.

In the case of Your Side of the Bed, which premiered at the 2012 Heartland Film Festival, it was also the first feature film from a young Canadian writer-director-producer named Jason Jeffrey.
His only other films are two shorts he made while at film school at Sheridan College in Toronto a few years back.

It also turned out that the film was accepted late and screened only one time, late in the festival, in one of the festival's open slots for any last-minute additions/changes.

Photo above: Jason Jeffrey.
To top it all off, the film did indeed capture the interest of the audience as a thoughtful, intelligent meditation on the ups, downs, and ironies of life.

Attending Heartland in Indianapolis was quite the road trip from Toronto that day for Jason, his mother, his father Jim Jeffrey, who was director of photography and co-producer, and Jason's film school classmate and co-producer Jeremy Kelly.
Jim Jeffrey is an experienced cinematographer, with credits going
back to the 1980s.

Your Side of the Bed stars real-life brothers Matt Gordon and Luke Gordon playing brothers whose life paths are skewing in different directions.
Matt Gordon will be known to viewers from Rookie Blue, a Canadian police series. Luke Gordon recently made the move from film crew, as a grip, to being in front of the cameras as cast.

Without giving too much away, suffice it to say that the movie opens with Matt Gordon's character, Dan, mired in mourning the loss of his wife in an accident. His brother, Johnny, shows up to stay for a while and the interpersonal drama begins.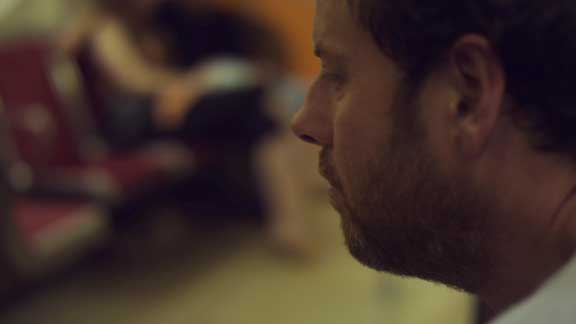 Photo left: Matt Gordon as Dan.
Interestingly, Jason Jeffrey said that the extremely low budget was the lowest that the Canadian actors union ever approved – and Jeffrey made every cent count.
When he wrote the script and scouted locations, he made sure to use what was convenient or called in favors. It was shot in 16 days.

Here's more about the film and the filmmaker from the man himself...


1. When did you decide that you wanted to be a filmmaker?

My decision to pursue film as a career came right around the end of high school. I was by no means a cinephile as a kid, and I wasn't making movies obsessively when I was younger. I wanted to be a professional hockey player back then. Filmmaking was definitely something that I grew into and now it's become an all-consuming obsession.


2. Did Your Side of the Bed emerge out of your short films in film school?

No, Your Side of the Bed was something that came about separately. It was a little over a year after graduating from film school that I decided to write the script for it. I knew I wanted to do a feature, and I knew that nobody was just going to give me the chance to make one. So I thought I'd write something that we could make for a very low budget.


3. Are there other festivals coming up? What are some of the reactions to the film?

Heartland was our very first film festival. We're waiting on confirmation from some other festivals. Audience and industry reaction has been very positive so far. Our screening at Heartland was such a great experience, and I was very touched by how it was received. People have really been able to relate to it on a personal level, which as a filmmaker is what you hope for.


4. What are your goals as a filmmaker? Are there any filmmakers or films which have been particularly influential?

I have many goals as a filmmaker. First and foremost, I want to be involved in projects that I find relevant and can relate to. If a story doesn't resonate with me, it's really hard for me to give it my all and become completely consumed in what I'm doing – something I think is important when making a movie.


Also, being a new filmmaker, I'm not at the point yet where I can completely support myself off just film jobs. I'm still doing the whole "day job" thing.
Hopefully I won't have to do it too much longer. Being able to sustain myself doing what I love would be huge!

I really look up to the Coen brothers – Joel and Ethan – as filmmakers. The same with Woody Allen and Alejandro González Iñárritu. They are all such masters at their craft, and I find myself learning every single time I watch and re-watch their films.


5. Do you have a next project on the horizon?

I've started writing a new feature; one that I hope to make for a little more money than this last one. It'd be nice to get some legitimate funding. Right now, though, my main project is actually a television series that I'm developing with Matt Gordon. It's a half hour comedy, and we hope it'll get some legs in the near future.


Thank you for your insights and information, Jason. The coming year will undoubtedly be an interesting adventure for you. Happy New Year!
---
© 2007-2012 EMOL.org Film Entertainment Magazine / EMOL.org. All rights reserved.