Entertainment Magazine: Film: Heartland Film Festival: 2012
Making Saints and Soldiers a World War II Film Series: Interview with Ryan Little and Adam Abel
Saints and Soldiers. It's a wonderful title. If you're thinking the 1940s and Frank Capra, that's the right track. But also think World War II combat in Europe. Saints and Soldiers has become the title for an evolving series of dramatic feature films set during World War II.

Filmmaking partners Ryan Little and Adam Abel are setting this new series in motion with their second Saints and Soldiers movie, Saints and Soldiers: Airborne Creed. We got to see the new movie at the 2012 Heartland Film Festival, where we also got the chance to speak with the filmmakers.

Abel and Little created their production company, GO Films, over ten years ago, and their first feature was Saints and Soldiers (2003). That film earned them critical praise and a gold star on the vast independent filmmaking map. Notably, Saints and Soldiers won the Grand Prize at the Heartland Film Festival in the fall of 2003 and won numerous other awards on the festival circuit.

Director Ryan Little had initially earned notice as a student filmmaker with his 1999 short film, The Last Good War. He won Heartland's Jimmy Stewart Memorial Crystal Heart Award for best student film and an Academy of Television Arts and Sciences Student Emmy. That film's setting started him on the World War II path.

In between Saints and Soldiers and Airborne Creed, Little and producer Abel have come out with two other dramatic features through GO Films, both of which also played at Heartland. Outlaw Trail: The Treasure of Butch Cassidy (2006) is a mystery-western family film set in the 1950s.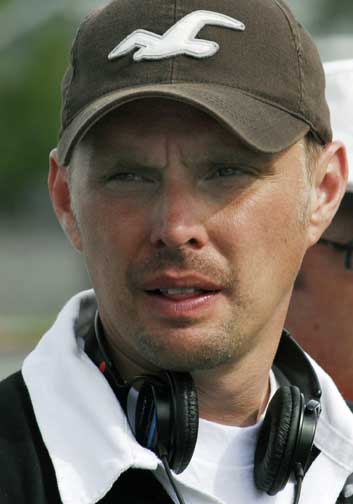 Photo: Director Ryan Little
Set in the present, Forever Strong (2008) follows one young man's redemption by playing rugby for a renowned inspirational coach. But now Abel and Little return to the 1940s with Saints and Soldiers Airborne Creed (2012). The script was written by Lamont Gray and Lincoln Hoppe, and it was inspired by the book Letters Home—A Paratrooper's Story, by Lory Curtis.

Based on actual events, the movie follows the 517th Parachute Regimental Combat Team and the Allied troops' Operation Dragoon, which took place on August 15, 1944, in France. Being directed by Ryan Little in a World War II film wasn't new for two of Airborne Creed's lead actors: Corbin Allred starred in Saints and Soldiers, and Lincoln Hoppe starred in The Last Good War. The other leads are played by David Nibley, Jasen Wade, and first-time film actress Virginie Fourtina Anderson. The acting is superb.

Ryan Little and Adam Abel answered some questions for me about the new film and how it marks a new film series. Here are their combined answers...


How would you compare your experience making Saints and Soldiers with Saints and Soldiers: Airborne Creed?

The first Saints was driven purely by our excitement of making our first movie. Someone actually believed in us enough to give us money. Who would have seen that coming? We made lots of little mistakes, but we also had a lot of serendipitous things happen. We sort of captured lightning in a bottle. We were getting our feet wet, really learning how to make movies. It was on-the-job training for sure – and lots of fun.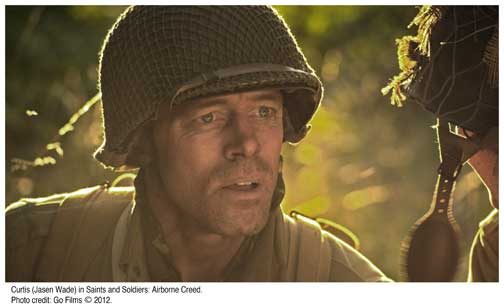 The second film was more calculated. We knew exactly what we wanted and we did it very effectively. We also had much more filmmaking experience, so we were able to navigate a lot of the pitfalls we had on the first film. It was much more driven by a sense of running a business. Somewhere there is a perfect balance between the creative and the business side. We are always striving to find that. Also, Airborne Creed was a lot easier to make from the standpoint of advancements in technology. Cameras and editing systems are cheaper and faster. Visual effects are much more affordable. There were things we did in this film that we couldn't do in the first one. It really helps you get the story you see in your head.

Lincoln Hoppe starred in The Last Good War and now has co-wrote and acts in Airborne Creed – where a scene is actually based on the short film. Can you tell us more about that?

We really like working with Lincoln. When we started talking about doing another Saints and Soldiers, we thought it would be great to take The Last Good War and expand it into a secondary story in the new film. Lincoln was really excited about this and wanted to help develop and shape the original story into something with a little more depth than what we could do in the short film. It was a lot of fun to come back to that story 12 years later and rework it into something bigger.

You said you were very organized and thus able to shoot Airborne Creed in just two weeks. Can you tell us about post-production?

The post-production process on any film is really where the filmmakers go mad. It can go on forever – countless hours of looking at footage over and over to find the perfect moment or shot, scoring the film, color correction, sound design. It is all terribly time consuming. The post-production phase is really not that fun, but when you sit on the sound stage listening to the mix for the very last time there is this incredible catharsis of emotion that pours over you. You've made it. You have reached the light at the end of the tunnel. You take a deep breath – then think to yourself, "What is the next movie going to be about?"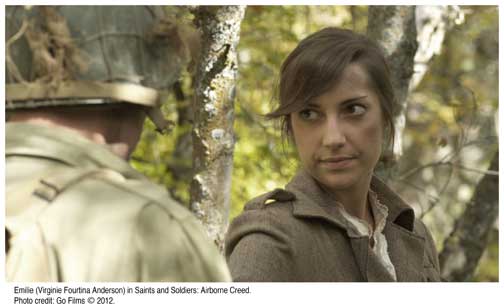 I'm really curious about and very interested in what will now be a Saints and Soldiers World War II series of films. How did this idea come about?

We enjoy making all kinds of films, from family films to sports films and everything in between, but we really like World War II films the most. We are really driven with a purpose, to honor those who have done so much for protecting our freedoms. We are not sure how many we would like to make, but there are countless stories that should be told and so many brave people who did so much. Those are the kinds of stories we love to tell.

Do you know what the next Saints and Soldiers movie will be about?

We aren't sure. We are looking at lots of great options. The underground movement in France is one, but we are also thinking about the efforts of those involved with the OSS (Office of Strategic Services). A World War II spy thriller would be a nice change from the front lines. But hey, we change our minds on a weekly basis at GO Films, so you never really know.

You said it was a conscious choice to include more women who were integral to the story in Airborne Creed compared to Saints and Soldiers. Can you tell us about feedback or observations that led to this decision? And how do you see the next film for women's roles?

We noticed we had a rather large following of women who loved Saints and Soldiers. That is not the norm for a World War II film. With Airborne Creed, we decided to make one of our main characters female. It was a great choice because we have so many faithful fans who were excited to see that. With respect to the next film, it's possible, but since we don't know what it will be, we can't really say how many female characters there will be. A female spy in World War II sure sounds intriguing. The wheels are turning on this one.

We have seen all four of the feature films you've made together through your production company, GO Films. We really like the films and appreciate their positive messages. How would you describe the types of films you make and the messages you hope to convey?

I think GO Films strives to make movies that can appeal to a broad audience. We also like films that have positive messages, themes that inspire people to see things differently, and hopefully motivate them to do things that are proactive and positive in their community.

Can you tell us more about GO Films, your partnership, and how you two came to work together?

GO Films has been around for more than 10 years. We sort of divide and conquer when it comes to making a movie. If one of us doesn't know how to do something, you can pretty much be sure the other one does. So we've got the bases covered. How did it all start? Hmmm. I think we were both PA's on some boring movie set and I said, "I have a great idea for a movie," and Adam said, "I know some people who I think will give us money." The rest is history.


Thank you so much, Ryan and Adam, for sharing your experiences making Saints & Soldiers: Airborne Creed and your plans for the new series. We always look for you at Heartland now. We look forward to telling everyone about Airborne Creed, released on DVD this week (Amazon: Saints & Soldiers: Airborne Creed), and to hearing more about the next film – when those wheels really get spinning!
Read Jared Winslow's interview with Ryan Little and Adam Abel about Saints and Soldiers: Airborne Creed.
---
---
© 2007-2012 EMOL.org Film Entertainment Magazine / EMOL.org. All rights reserved.