Entertainment Magazine: Film: Heartland Film Festival
Steve Albrezzi: On the Road to Commencement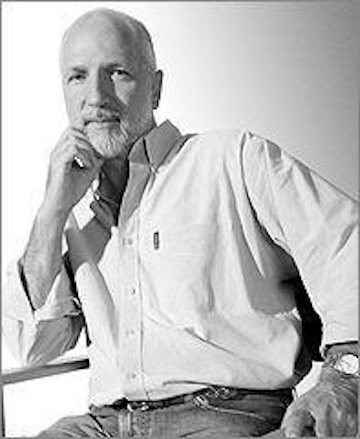 Commencement is one of those films that draws you in to a warm sense of intimacy with a small group of characters. There is a main character, Christa (Amelia Rose Blaire), with her own crises and decisions to make at this crossroads in her life.
But in many ways she is the catalyst for the ensemble. Each of a number of surrounding characters has different personal or relational issues to deal with over the course of a 24-hour period.

So when the lights came up in the theater at the 2013 Heartland Film Festival, I decided immediately that I liked this film. In fact, there was a veritable cornucopia of things to like. Let me tell you about some of them.

The opening credit sequence has an animated "drawing thread" (created by Cyndee Barber) that creates a very nice flow for the beginning of the movie. It instills a positive vibe that resonates with the opening song (by Derik Nelson, who also wrote and performed two other original songs), as well as the film's continuing musical score (composed by Ryan Beveridge).

I always applaud movies where the protagonist is a woman, in this case on the morning of her college graduation. This young woman is about to face some important decisions about her life at this key moment of transition.

Unexpectedly – and rather mundanely, as a tow truck driver – Javier (Rick Gonzalez) enters Christa's life. What I loved about Javier, who is Mexican-American, and his interactions with Christa, who is white, was his elegant way of handling and exposing the fallacies of her sometimes subtle prejudices.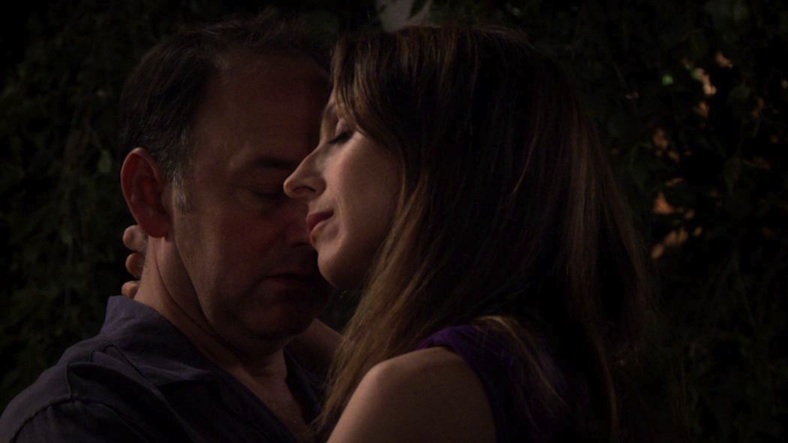 Arye Gross as Nate and Marin Hinkle as Gillian.
Christa also has to deal with Andrew (Bryan Dechart), her college boyfriend, who drops a little bomb on her right before she drives home from college for the last time. I will have to leave Christa's two romantic storylines at that, though, so as not to give away the plot.

Then there are Christa's parents, Nate (Arye Gross) and Gillian (Marin Hinkle), who have issues of their own to work out. But it's not just their own interactions with each other and figuring out their separation. They haven't told Christa, and now she finds out – not the most opportune time for her to deal with it.

Then there's her maternal grandmother, Judge Jennifer (Jennifer Warren), and her paternal grandfather, Peter (Alan Rachins), again with their own issues to work through but which add to the stew that is Christa's graduation party.
Alan Rachins as Peter.
The beauty here is that these people all end up together in Gillian's backyard for Christa's graduation party on the day she drives home from college for the last time. She has plans, but in the space of 24 hours, those plans change in ways she could not have foreseen just a few days earlier. Through the various difficult moments, she matures and her life will take different yet positive new directions.

Lucky for me, filmmaker Steve Albrezzi – writer, director, and producer – was at the Heartland Film Festival, where Commencement had its U.S. premiere. I had the chance to meet Steve after the screening, so let's learn more about the man who created this lovely film.
Animation from Commencement's opening credit sequence.
...
With your BA in Theatre and English and your interest originally in the stage, how and why did you move into screenwriting and filmmaking?

Film lends itself to an intimacy that I have always been drawn to – so much can be said by a furtive glance, by the expulsion of a breath, by the intent hidden behind someone's eyes. Walter Murch, the grand-daddy of editors, calls film the "theater of thought." In film, you can witness joy, doubt, decision, and transformation without it having to be amplified by the actor. The camera allows us to put the audience in the optimum place to experience life unfolding. In the theater, the physical architecture of each performance space often dictates the audience's relationship to a moment.

I also like the tremendous trek you take as a filmmaker: first you dream the story and the characters; in preproduction you organize the many elements you will need to bring it all to life; then in production you actually mix the stew and adjust in the face of a myriad of variables that you never imagined would arise – and then finally you discover the story anew as you seam together the pieces that collide and make meaning in unexpected ways. You spend a year or two of your life refining what your film is about. It's like a pilgrimage.

In your experience, what is the biggest difference between playwriting and screenwriting?

I have never actually written a play. I began writing screenplays as that seemed the most expedient road to directing a film. While at Actors Theater of Louisville, I had the great fortune to work with many accomplished playwrights and probably learned about writing through osmosis. Through collaborating with other artists in the theater, I learned a lexicon that I naturally applied to screenwriting. I do believe that most theater and film artists share a grammar for creating the specifics of characters grappling in defined worlds. We enter into a conversation that allows us to paint a story in great detail no matter what medium we are working in or what tools we are using. For instance, editing is the final rewrite of a film; through production and costume design we can say so much about the characters and their existence. Film and theater artists, while having different implements and techniques to "write" with, are all involved in illuminating facets of the human dilemma. Story and character are the core of what we do in both mediums.

Screenwriting differs from playwriting because the camera is such a powerful tool. It can move you in and out of people's lives, it can capture secrets, it can reveal the truth and it can withhold it. The camera can take you on a roller coaster or rock you like a baby. It can make an image reverberate metaphorically, it hints at the subtext of a scene, it creates power and takes it away. It swaths a story in mood and atmosphere. I think initially in screenwriting we learn to tell a story in images and in playwriting we begin with the power of the spoken word. Today both mediums steal freely from one another and, happily, my work has been a result of that co-mingling.

What is it about film directing that excites you? Do you prefer it to directing for the stage?

I love telling stories – on film, in television, and on stage. I truly don't have a preference. I'm drawn to whatever medium seems to best fit the story we are telling. All are blank canvases to be filled with our imaginations. Film directing is very much about capturing lightning in a bottle. You only need to get it once and you have it for all time. You can actually share with an audience the birth of a moment when something very special spontaneously combusts on the set.

In the theater we try to orchestrate the atoms to split every night. There are moments in the rehearsal hall that are absolutely electric and, unfortunately, the audience never gets to see them. But that intimacy you share with actors in the rehearsal process – the depth of that exploration and those magic moments of creation – are very special. There is also the moment, when you are sitting in a preview, and all the elements of a production congeal and the play is now a living, breathing thing, because the audience is the final, crucial ingredient. Different than film – but no less exhilarating.

Of writing, directing, and producing, do you have a favorite hat to wear?

I have been directing for many years so that is where I am most at home and it is indeed, as Orson Welles said, "the best erector set a kid could ever have." I love carrying a story around in my head and imagining it in detail. I love collaborating with talented and passionate artists and creating the circumstances in which others can create – to bring a story to life.

I find writing challenging yet enormously rewarding. Once I find my way into a world and the characters begin to have a will of their own, I really enjoy the process. I tend to think for a long time about characters and events and then I sit down over a few weeks and write it out. When I am in writing mode, I am in the office with my coffee at 8 am and I work until 1 pm. It is very concentrated time and I love being alone with the dream of the film in my head. It is quite opposite of the very collaborative and social experience of production.

On Commencement , I ended up producing a lot because that is what the budget dictated. I work with a very talented producer, Vero Shamo-Garcia, and she has two young children, so for Commencement we decided she would work from home. In the future, I hope to be relieved of those responsibilities.

What filmmakers have influenced you the most?

Because I teach at USC, I am continually exposed to and discovering the work of filmmakers recent and past as I try to absorb more about the medium. Here's a sampling: DeSica, Truffaut, Eric Rohmer, Claude Chabrol, Goddard, Bergman, Scorsese, Mike Nichols, Robert Benton, Woody Allen, Spielberg, Zemeckis, Coppola, Danny Boyle, Wong Kar Wai, Ang Lee, Olivier Assayas, Sam Mendes, Gus Van Sant, Mike Leigh, Jonathan Demme, Steve McQueen, and on and on. And then there are my students, who I learn from everyday.


When did the film premiere on the festival circuit? And what has your experience been thus far?

We have just had our U.S. premiere at Heartland Film Festival. We are very excited by the warm welcome that audiences around the country have given Commencement . We have had 4 preview screenings on the festival circuit as well: Charleston International Film Festival, Cinetopia International Film Festival, Catalina Film Festival, and Woods Hole Film Festival. We have garnered 4 awards thus far and we really appreciate the recognition these festivals have given the film. Besides screening the film for new audiences, I really enjoy getting to spend time with other filmmakers and seeing their work.

Has Commencement attracted any distributors yet?

We have been approached by a couple of film reps at this point and are just beginning conversations with distributors. Hopefully we will find a good home for Commencement very soon so we can get on to prepping our next film, Paris, to shoot this summer. I have three other projects ready to go and a book that I would really like to adapt and direct.
Thank you very much, Steve, for taking the time to tell us about your filmmaking and theatre background. I really enjoyed Commencement and look forward to seeing it again in distribution. I will be on the lookout for your upcoming projects too.

Amelia Rose Blaire as Christa and Rick Gonzalez as Javier.
---
---
© 2007-2014 EMOL.org Film Entertainment Magazine / EMOL.org. All rights reserved.