"Meet the Fockers"
ABOUT THE CAST
Robert De Niro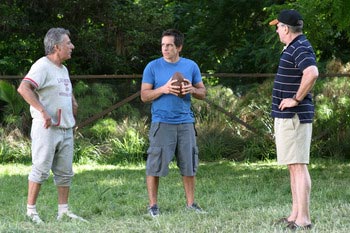 (Jack Byrnes / Producer) launched his prolific motion picture career in Brian De Palma's The Wedding Party in 1969. By 1973 De Niro twice won the New York Film Critics' Award for Best Supporting Actor in recognition of his critically acclaimed performances in Bang the Drum Slowly and Martin Scorsese's Mean Streets.
In 1974 De Niro received the Academy Award® for Best Supporting Actor for his portrayal of the young Vito Corleone in The Godfather: Part II. In 1980 he won his second Oscar®, as Best Actor, for his extraordinary portrayal of Jake La Motta in Scorsese's Raging Bull.
De Niro has earned Academy Award® nominations in four additional films: as Travis Bickle in Scorsese's acclaimed Taxi Driver, as a Vietnam vet in Michael Cimino's The Deer Hunter, as a catatonic patient brought to life in Penny Marshall's Awakenings and in 1992 as Max Cady, an ex-con looking for revenge, in Scorsese's remake of the 1962 classic Cape Fear.
De Niro's distinguished body of work also includes performances in Elia Kazan's The Last Tycoon; Bernardo Bertolucci's 1900; Ulu Grosbard's True Confessions and Falling in Love; Sergio Leone's Once Upon a Time in America; Scorsese's King of Comedy, New York, New York, Goodfellas and Casino; Terry Gilliam's Brazil; Roland Joffe's The Mission; Brian De Palma's The Untouchables; Alan Parker's Angel Heart; Martin Brest's Midnight Run; David Jones' Jacknife; Martin Ritt's Stanley & Iris; Neil Jordan's We're No Angels; Ron Howard's Backdraft; Michael Caton-Jones' This Boy's Life; John McNaughton's Mad Dog and Glory; A Bronx Tale; Kenneth Branagh's Mary Shelley's Frankenstein; Michael Mann's Heat; Barry Levinson's Sleepers and Wag the Dog; Jerry Zaks' Marvin's Room; Tony Scott's The Fan; James Mangold's Copland; Alfonso Cuarón's Great Expectations; Quentin Tarantino's Jackie Brown; John Frankenheimer's Ronin; Harold Ramis' Analyze This and Analyze That; Joel Schumacher's Flawless; Des McAnuff's The Adventures of Rocky and Bullwinkle; Jay Roach's Meet the Parents; George Tillman's Men of Honor; John Herzfeld's 15 Minutes; Frank Oz's The Score; Tom Dey's Showtime; Michael Caton-Jones' City By the Sea; and Nick Hamm's Godsend. He recently finished production on John Polson's Hide and Seek and Mary McGuckian's The Bridge of San Luis Rey and supplied the voice of Don Lino in DreamWorks' Shark Tale.
De Niro takes pride in the development of his production company, Tribeca Productions, and the Tribeca Film Center, which he founded with Jane Rosenthal in 1988. Through Tribeca, he develops projects on which he serves in a combination of capacities, including producer, director and actor. Tribeca's A Bronx Tale marked De Niro's directorial debut.
Tribeca's current projects include: Meet the Fockers with Universal, the follow-up to Meet the Parents, which re-teams De Niro and Ben Stiller; Stage Beauty, starring Billy Crudup and Claire Danes, directed by Sir Richard Eyre; and House of D, David Duchovny's directorial debut, which stars Duchovny and Robin Williams (slated for March 2005).
Upcoming projects include: The Good Shepherd with Universal, which De Niro will direct with Leonardo DiCaprio starring; and the screen adaptation of Jonathan Larson's Rent, directed by Chris Columbus. Tribeca's previous film productions include About a Boy (2002); Analyze That (2002); Showtime (2002); Meet the Parents (2000); The Adventures of Rocky and Bullwinkle (2000); Analyze This (1999); Flawless (1999); the Academy Award®nominated Wag the Dog (1997); Marvin's Room (1996); The Night We Never Met (1993); Thunderheart (1992); Mistress (1992); and Night and the City (1992).
In 1992, Tribeca TV was launched with the critically acclaimed series Tribeca; De Niro served as one of the series executive producers. In 1998, Tribeca produced a miniseries for NBC, based on the life of Sammy 'The Bull' Gravano. Tribeca Productions is headquartered at De Niro's Tribeca Film Center, in the TriBeCa district of New York. The Film Center is a state-of-the-art office building designed for the film and television industry. The eight-story facility features office space, a screening room, banquet hall and restaurant, in addition to a full range of services for entertainment industry professionals.
Ben Stiller (Greg Focker) was recently seen in the 20th Century Fox film Dodgeball: A True Underdog Story, opposite Vince Vaughn. The film, which he produced with his Red Hour Films partner Stuart Cornfeld, opened number one at the box office and was the biggest grossing comedy of the summer. In the film, a group of misfits enter a Las Vegas dodgeball tournament in order to save their cherished local gym from the onslaught of a corporate health fitness chain owned by the eccentric White Goodman, played by Stiller.
Earlier this year, Stiller starred as classic television character Starsky, opposite Owen Wilson as Hutch, in Todd Phillips' smash hit comedy Starsky & Hutch. Based on the long-running ABC series, the feature version focused on the formation of the duo's partnership and also starts Vince Vaughn and Snoop Dogg.
The film was also produced by Red Hour Films. Prior to that, Stiller starred opposite Jennifer Aniston in the romantic comedy Along Came Polly, written and directed by John Hamburg for Universal Pictures. In the film, Stiller plays a risk-averse man who analyzes risk for a living; his life is subsequently turned upside down when he gets involved in a risky romance with Aniston's Polly character.
The impressive cast also includes Debra Messing, Philip Seymour Hoffman, Alec Baldwin and Hank Azaria. In 2001, Stiller directed and starred in the title role of the Paramount Pictures comedy Zoolander, based on the story of Derek Zoolander, the male model character he co-created with Drake Sather for the VH-1 Fashion Awards. Stiller also co-wrote the movie with Drake Sather and John Hamburg (Meet the Parents, Meet the Fockers and director/writer of Along Came Polly). He also produced with Scott Rudin and Red Hour Films partner Stuart Cornfeld.
Prior to that Stiller also starred in Jay Roach's blockbuster Meet the Parents for Universal Pictures. The film, which also stars Robert De Niro, Teri Polo, Blythe Danner and Owen Wilson, has grossed over $150 million in the U.S. The film won a People's Choice Award and earned Stiller an American Comedy Award for Funniest Male Performance. He was also nominated for two MTV Movie Awards for his work in the film: Best Comedic Performance and Best On-Screen Team (with De Niro). Stiller also starred in Wes Anderson's eccentric comedy The Royal Tenenbaums for Disney, with Gene Hackman, Owen Wilson, Bill Murray and Gwyneth Paltrow. Stiller made his feature-length motion picture directorial debut in 1994 with Reality Bites, in which he also co-starred with Winona Ryder, Janeane Garofalo and Ethan Hawke.
He went on to direct Jim Carrey and Matthew Broderick in The Cable Guy for Columbia Pictures. Other films: In 1998, Stiller appeared in Peter and Bobby Farrelly's smash hit romantic comedy, There's Something About Mary, for 20th Century Fox; the film also starred Cameron Diaz and Matt Dillon. He gained critical notice in the feature film Permanent Midnight, directed by David Veloz and based on Jerry Stahl's controversial Hollywood memoir about being a heroin addict who led a double life while writing for television sitcoms. He also appeared in Neil LaBute's Your Friends & Neighbors; written and directed by LaBute, the ensemble drama also stars Jason Patric, Nastassja Kinski, Catherine Keener and Aaron Eckhart. He appeared in Jake Kasdan's Zero Effect with Bill Pullman; the comedy/mystery was selected to take part in the "Un Certain Regard" sidebar of the 1998 Cannes Film Festival.
He also starred in David O. Russell's Flirting With Disaster, opposite Patricia Arquette, Téa Leoni, Josh Brolin, Mary Tyler Moore, George Segal, Alan Alda and Lily Tomlin. Stiller made his professional acting debut on Broadway in 1985 starring opposite John Mahoney in John Guare's The House of Blue Leaves.
While appearing in the play, Stiller persuaded Mahoney and fellow cast members Swoosie Kurtz, Stockard Channing and Julie Hagerty to appear in a short comedy film, his first true directorial effort, The Hustler of Money. The short film, a parody of Martin Scorsese's The Color of Money, eventually aired on Saturday Night Live, where it was so well received Stiller was subsequently hired as a featured player and apprentice writer for the NBC comedy series.
Following his stint at Saturday Night Live, Stiller directed a comedy special for MTV called Back to Brooklyn. Stiller followed that project by creating The Ben Stiller Show, also for MTV, and later collaborated with Judd Apatow for a 13-episode run on FOX. A critical success, Stiller, along with the rest of the writing staff, was awarded an Emmy for outstanding comedy writing. Warner Home Video released all 13 episodes on DVD in December, 2003. Decidedly predisposed to a career in show business, with parents Jerry Stiller and Anne Meara, Stiller is a native of New York City. Stiller studied Theater Arts at UCLA for one year before opting out of college to pursue his acting and directing ambitions professionally.
Dustin Hoffman
A two-time Oscar® winner and seven-time nominee, Dustin Hoffman (Bernie Focker) is distinguished as one of the cinema's most acclaimed leading actors. Hoffman caught the world's attention for his role as Benjamin Braddock in Mike Nichol's Academy Award®-nominated film, The Graduate.
Since then, he has been nominated for six more Academy Awards® for such diverse films such as Midnight Cowboy, Lenny, Tootsie (a film he also produced through his company, Punch Productions) and Wag the Dog. Hoffman won the Oscar® in 1979 for his role in Kramer vs. Kramer and again in 1988 for Rain Man. Hoffman recently starred in David O. Russell's comedy I Heart Huckabees, with Jude Law, Naomi Watts, Mark Wahlberg, Lily Tomlin and Jason Schwartzman.
A husband-and-wife team (Hoffman and Tomlin) play detectives, but not in the traditional sense. Instead, the happy duo helps others solve their existential issues, the kind that keep you up at night, wondering what it all means. Additionally, he was also seen in Marc Forster's Finding Neverland, opposite Johnny Depp and Kate Winslet for Miramax Films.
Finding Neverland is a tale of magic and fantasy inspired by the life of James Barrie, the real-life author of the children's classic Peter Pan. Set in London in 1904, the film follows Barrie's creative journey to bring Peter Pan to life, from his first inspiration for the story up until the play's life-changing premiere.
Finding Neverland premiered at the 2004 Venice Film Festival. Hoffman will also lend his voice to Frederik Du Chau's film, Racing Stripes, for Alcon Entertainment and slated for a January 14, 2005 release. Hoffman joins the ensemble cast which includes Frankie Muniz, Mandy Moore, Michael Clarke Duncan, Whoopi Goldberg, Steve Harvey, Patrick Stewart, Snoop Dogg and David Spade, among many others. Upcoming projects also include appearances in Lemony Snicket's A Series of Unfortunate Events, as well as The Lost City with Andy Garcia.
Hoffman recently starred in Gary Fleder's Runaway Jury, opposite John Cusack, Gene Hackman and Rachel Weisz; James Foley's Confidence, opposite Edward Burns and Rachel Weisz; and Brad Silberling's Moonlight Mile, opposite Jake Gyllenhaal and Susan Sarandon. His other film credits include: Little Big Man, Straw Dogs, Papillon, All the President's Men, Marathon Man, Straight Time, Agatha, Ishtar, Dick Tracy, Billy Bathgate, Mad City, Hero, Sleepers, Sphere, American Buffalo, Hook and Outbreak.
On the stage, Hoffman has had an equally impressive career. His first stage role was in the Sarah Lawrence College production of Gertrude Stein's Yes Is For a Very Young Man. His performance in this play led to several roles off-Broadway, for which he won the Obie and Drama Desk Award for Best Actor. His success onstage caught the attention of Mike Nichols, who cast him in The Graduate. In 1974, Hoffman made his Broadway directorial debut with All Over Town.
In 1984, Hoffman garnered a Drama Desk Award for Best Actor for his portrayal of Willy Loman in the Broadway revival of Death of a Salesman, which he also produced. In addition to starring in the Broadway production, a special presentation aired on television and Hoffman won the Emmy Award. Additionally, Hoffman received a Tony Award nomination for his role as Shylock in The Merchant of Venice, which he reprised from his long run on the London stage.
As a producer, Hoffman produced Tony Goldwyn's feature film, A Walk on the Moon, starring Diane Lane, Viggo Mortensen, Liev Schreiber and Anna Paquin for Miramax Films. He executive-produced The Devil's Arithmetic, which won two Emmy Awards. Hoffman was born in Los Angeles and attended Santa Monica Community College. He later studied at the Pasadena Playhouse before moving to New York to study with Lee Strasberg.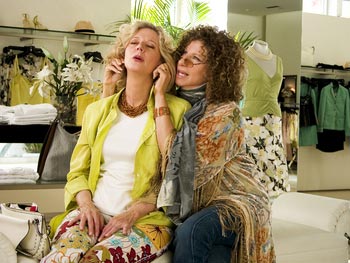 As film director, producer, writer, actress, singer and composer, Barbra Streisand's (Roz Focker) career has been paved with bold creative achievements, highlighted by a series of firsts. Prince of Tides was the first motion picture directed by its female star ever to receive a Best Director nomination for the Director's Guild of America, as well as seven Academy Award® nominations. Her directorial debut film, Yentl, earned her Golden Globe Awards both as Best Director and producer of the Best Picture (musical or comedy).
She earned the New York Drama Critics Award and a Tony nomination with her first Broadway appearance (I Can Get It For You Wholesale) and the Album of the Year Grammy (one of two) for her very first record album (The Barbra Streisand Album). She became the youngest artist ever to have won that at the time. Her first motion picture performance (Funny Girl), following her performance in the hit Broadway musical production, brought her the 1968 Academy Award® for Best Actress, the first of two Oscars®.
And with Yentl, she became the first woman ever to produce, direct and star in a major motion picture. At the same time, Steven Spielberg called it the best directing debut since Citizen Kane.
Her first television special (My Name is Barbra) earned her the Emmy Award (one of five for the show) and the distinguished Peabody Award, and she duplicated this with her most recent television specials, Barbra Streisand: The Concert and Timeless, winning three more personal Emmys and another Peabody in the process.
The two shows earned nine Emmys. She is the first female composer ever to win an Academy Award®, this for her song "Evergreen," the love theme for her hit film, A Star is Born. Her 1994 concert tour was similarly record-setting, registering five million calls in the first hour of ticket sales. Her Millennium New Year's Eve concert at the MGM Grand Gardens in Las Vegas established the highest one-day single event sale in the history of Ticketmaster and became the highest-grossing concert of all time. Her double album, Timeless, which captured that production, quickly was confirmed both Gold and Platinum, while her adaptation of the production for the four concerts in Los Angeles and New York 2000 Tour, with which the star concluded her live public concert career, was similarly a record-setting success. Her 2001 release Christmas Memories was certified gold and platinum in its first month.
Recipient in 1995 of an Honorary Doctorate in Arts and Humanities from Brandeis University, Barbra Streisand is a rare honoree, the only artist to earn Oscar®, Tony, Emmy, Golden Globe, CableACE, Peabody Award and the American Film Institutes Lifetime Achievement honor. She is a recipient of the National Endowment for the Arts' National Medal of Arts Award and has been honored by France as a Commander of the Order of Arts and Letters.
Barbra also received a number of major honors saluting her social and political activism and her dedicated philanthropy. Her total of 10 Golden Globe Awards, prior to being voted the year 2000's Cecil B. DeMille Award for Lifetime Achievement, is the most accorded any artist.
Barbra Streisand's popularity has endured for nearly four decades. According to the Recording Industry Association of America her total gold and platinum albums (her most recent release, The Movie Album, quickly became her 49 th gold and 30th platinum album) makes her the highest selling female recording artist ever, with number one albums in each of the last four decades, and number one albums spanning a period of over 35 years, the greatest longevity in that statistic for any recording artist or group. Her 13 multi-platinum albums, accredited by the RIAA, are similarly record-setting.
A recent national poll by the Reuters News Agency named her and Frank Sinatra the favorite female and male singers of the century, and the Recording Industry Association of America confirmed her as the leading female recording artist of the 20 th century.
Her Barwood Films, through which she has created such films as Yentl, The Prince Tides, The Mirror Has Two Faces (all of which she directed and starred in), A Star Is Born, Nuts and Up the Sandbox, has helped to bring significant and largely ignored subject matter to both the big and small screens. On television, these include the multiple Emmy and Peabody Award-winning Serving in Silence: The Margarethe Cammermeyer Story, which dealt with the civil rights of gays, and other shows exploring the imperatives of gun control (The Long Island Incident: The Caroline McCarthy Story) and the celebration of women film pioneers in the Emmy-winning documentary, Reel Women. Serving in Silence was acknowledged by gay and lesbian civil rights groups for its bold revelation and protest of discrimination in the military.
Much of the star's energy and resources are channeled into charity through the Streisand Foundation, which has directed millions of dollars to such concerns as the environment, the plight of at-risk women and children, civil rights including gay rights, research and assistance addressing such diseases as AIDS and cancer and ameliorating relations between religious and ethnic groups.
Her political activism has been similarly notable, raising funds and awareness for urgent civil rights and humanitarian issues. From her early days supporting Bella Abzug and George McGovern to her current civil liberties and environmental advocacy, Barbra Streisand has been an active participant in supporting Democrats and progressive causes.
Her taste and talent as a collector of art, furniture and artifacts and as a creator of distinctive living environments is well acknowledged by leading publications in those fields of interest. She is married to actor/director James Brolin.
Blythe Danner (Dina Byrnes) has had a diverse and distinguished career in film, television and theater. Among her many film credits are: The Prince of Tides, directed by Barbra Streisand; three Woody Allen films, including Husbands and Wives, Alice and Another Woman; Neil Simon's Brighton Beach Memoirs; The Great Santini, opposite Robert Duvall; Costa Gavras' Mad City, with John Travolta and Dustin Hoffman; The X Files; Edward Burns' No Looking Back; Farmhouse; To Wong Foo, Thanks For Everything! Julie Newmar; The Myth of Fingerprints; and Jay Roach's Meet the Parents.
In the spring of 1999 she co-starred in Forces of Nature with Sandra Bullock and The Love Letter with Kate Capshaw. In 2003, Danner portrayed Aurelia Plath, mother of the poet Sylvia Plath, in the film Sylvia, opposite her daughter, Gwyenth Paltrow, as Sylvia.
On television, Danner starred in such movies as: HBO's Judgment, for which she received a CableACE Award nomination; A Love Affair: The Eleanor and Lou Gehrig Story; Too Far to Go; Saint Maybe; and Guilty Conscience with Anthony Hopkins.
She can be seen in a recurring role as Marilyn Truman, Will's mother, in the popular sitcom Will & Grace, as well as in the Showtime series Huff, opposite Hank Azaria. In 1999 Danner was nominated for a CableACE Award for A Call to Remember with Joe Mantegna and she received an Emmy nomination for her role in 2003's We Were the Mulvaneys, a telefilm based on the novel by Joyce Carol Oates. She has starred in two network series, Adam's Rib and Tattinger's, and has had numerous guest-starring roles on such shows as M*A*S*H and St. Elsewhere.
Her theater resume is as extensive as it is impressive. She received a Tony Award for her Broadway debut in Butterflies Are Free and Tony nominations for roles in A Streetcar Named Desire and Harold Pinter's Betrayal. Other Broadway credits include The Philadelphia Story, Blithe Spirit and the Roundabout Theater production of Deep Blue Sea.
Danner has been a member of the Williamstown Theater Festival for over 20 years and also appeared at other leading venues such as the Theater Company of Boston, Trinity Square Playhouse, the Mark Taper Forum in Los Angeles, the Repertory Company of Lincoln Center in New York and the New York Shakespeare Festival. Many of her roles have been in the classics, ranging from Shakespeare to Chekhov, George Bernard Shaw and Tennessee Williams.
Born in Philadelphia, Pennsylvania, Danner holds a drama degree from Bard College in New York and honorary Doctorate degrees of fine arts from Williams College and Hobart/William Smith Colleges.
A talented actress with beauty to match, Teri Polo (Pam Byrnes) is now firmly established as a presence in motion pictures and television. Following her portrayal of Pam in 2000's Meet the Parents, Polo toplined in the movies Domestic Disturbance, opposite John Travolta and Vince Vaughn, and Beyond Borders, opposite Angelina Jolie and Clive Davis; she also starred in the telefilms The Unsaid with Andy Garcia and Second String with Jon Voight.
She also headlined the ABC-TV sitcom I'm With Her as Alex Young, a movie star who falls in love with a schoolteacher. Polo has had recurring roles on the series Felicity, as Maggie, a catering service owner; the sitcom Sports Night; and the longrunning series The Practice. Originally from Dover, Delaware, Polo began her performing career as a dancer. By the age of 13 she was attending New York's School of American Ballet.
The summer before her senior year she was signed to a modeling contract, which led to a role as Kristen on the ABC daytime drama Loving. She made her primetime debut in the dramatic series TV 101. Television audiences will remember her as Michelle Capra, the doctor's wife who was determined to master the strange surroundings (and even stranger characters) of Cicely, Alaska, in Northern Exposure. Polo's other credits include leading roles in the feature films Born to Ride, with John Stamos; Mystery Date, opposite Ethan Hawke; Aspen Extreme, with Peter Berg; Golden Gate, opposite Matt Dillon; and The House of the Spirits, alongside Meryl Streep, Glenn Close and Jeremy Irons.