From left to right are the Byrneses, Dina (BLYTHE DANNER), Pam (TERI POLO) and Jack (ROBERT DE NIRO)--and the Fockers, Bernie (DUSTIN HOFFMAN), Roz (BARBRA STREISAND) and Greg (BEN STILLER).


Meet the Fockers

PRESS INFORMATION

Release Date: December 22, 2004

Genre: Comedy

Cast: Robert De Niro, Ben Stiller, Dustin Hoffman, Barbra Streisand, Blythe Danner, Teri Polo
The makers and stars behind the runaway hit of 2000, Meet the Parents, are re-united in the follow-up comedy, Meet the Fockers.

Now that Greg Focker (Stiller) is "in" with his soon-to-be in-laws, Jack (De Niro) and Dina (Danner) Byrnes, it looks like smooth sailing for him and his fiancée, Pam (Polo). But that's before Pam's parents meet Greg's parents, the Fockers (Hoffman and Streisand).
The hyper- relaxed Fockers and the tightly-wound Byrneses are woefully mismatched from the start, and no matter how hard Greg and Pam try, there is just no bringing their families together-- which all adds up to a disastrously funny time of "getting to know you."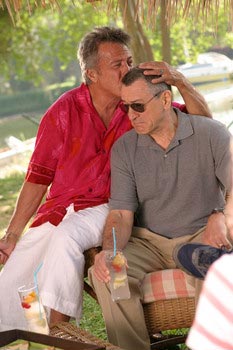 Meet the Fockersis directed by Jay Roach and produced by Jane Rosenthal, Robert De Niro and Roach. The writers are John Hamburg, Jim Herzfeld, Tim Rasmussen & Vince DiMeglio. It is executive-produced by Nancy Tenenbaum and Amy Sayres.
The film is a Universal Pictures/DreamWorks Pictures co-production and is distributed domestically by Universal Pictures, with DreamWorks Pictures handling the international distribution.

Directed by: Jay Roach

Writers: John Hamburg, Jim Herzfeld, Tim Rasmussen & Vince DiMeglio

Producers: Jane Rosenthal, Robert De Niro, Jay Roach

Executive Producer: Nancy Tenenbaum, Amy Sayres
---
2004 Entertainment Magazine / Universal Studios
Meet the Fockers
(theatrical release) not yet available.
Pre-order now and pay when released on DVD.
Meet the Parents DVD
(Full Screen Special Edition and Wide Screen, DVD and VHS formats available)
Buy New: $20.99