Download free public domain books on W.F. Cody:
An Autobiography of Buffalo Bill (Colonel W.F. Cody) is a genealogical sketch compiled in 1897. The book is in the public domain and free to own a copy from Project Guttenberg electronic works.
Photo: William Frederick "Buffalo Bill" Cody
Buffalo Bill Cody's Mining in Oracle, Arizona
William F. Cody (1846-1917) better known as the Wild West Show entertainer "Buffalo Bill," had invested in many mining interests. One mine was near the town of Oracle, 40 miles north of Tucson, Arizona a decade before the Arizona territory entered Statehood. Located in the Old Hat Mining District, Campo Bonito was one of the early gold mining operations conducted on the northside of the Santa Catalina Mountains. Read "Buffalo Bill Arizona Mining Ventures," about Cody's investments and presence in Oracle, Arizona in the decades prio to his death.
1894 Wild West Buffalo Dance Film
"According to Edison film historian C. Musser, this film and others shot on the same day featured Native American Indian dancers from Buffalo Bill's Wild West show, and constitutes the American Indian's first appearance before a motion picture camera." - Library of Congress, Motion Picture, Broadcasting, and Recorded Sound Division. (Standard 4:3) (1894)

"Ballads of the Santa Catalina Mountains" CD
Listen to songs and ballads on CD about the Iron Door Mine, the Santa Catalina Mountains, the Old West and about Arizona historian Flint Carter. $9.95. Call 520-289-4566 for more information and to purchase copies.
Audio Recording: The Life of Honorable William F. Cody - as told by Cody
The life and adventures of Honorable William F. Cody--Buffalo Bill--as told by himself, make up a narrative which reads more like romance than reality, and which in many respects will prove a valuable contribution to the records of our Western frontier history.
While no literary excellence is claimed for the narrative, it has the greater merit of being truthful, and is verified in such a manner that no one can doubt its veracity. The frequent reference to such military men as Generals Sheridan, Carr, Merritt, Crook, Terry, Colonel Royal, and other officers under whom Mr. Cody served as scout and guide at different times and in various sections of the frontier, during the numerous Indian campaigns of the last ten or twelve years, affords ample proof of his genuineness as a thoroughbred scout. (Summary by the publisher). Page link: http://archive.org/details/life_william_cody_0907_librivox All files: http://ia600500.us.archive.org/3/items/life_william_cody_0907_librivox/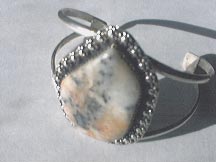 Cody Stone is mined from the Catalina Mountains in Southern Arizona, USA- the same mountains mined by Buffalo Bill Cody. Designed as jewelry grade gold and silver in quartz, Codystone specimens and hand made items are on display at the Oracle Inn Steakhouse & Saloon in Oracle, Arizona. Call Flint at 520-289-4566 or email [email protected].