Kabbalah Study: Astral Projection
Astral Projection Bookstore
These astral projection books are highly recommended. The more you read about astral projection and lucid dreaming, the higher the chances you will have an actual astral projection experience. These books are available on Amazon.com in print and digital Kindle formats.
---
Selling Occult & Kabbalah Library To downsize large vintage collection of hundreds of hard-to-find, rare, out of print and great condition books on the occult, astral projections, etc. These books date from the 1970s and earlier- usually in hard cover or early editions. Robert Zucker Collection on Amazon
.
---
---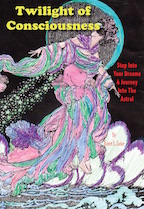 A new book by Robert E. Zucker with methods to obtain astral experiences from dream awareness techniques. Find out how the brain makes its transition from waking to sleep where the "dweller of the threshold" engulfs the physical body to release the astral body. This book on astral projection helps guide you through the necessary steps to achieve astral projection. Free sample PDF download. Available on Amazon.com.
---
(Paperback) Author: Robert Bruce, Brian Mercer. Astral projecting out-of-body requires a delicate balance of mind, body, and spirit. Mastering Astral Projection offers everyone the opportunity to explore nonphysical dimensions and learn more about their spirituality. This practical guide to achieving conscious out-of-body experiences is based upon Robert Bruce's extensive knowledge of astral projection, Brian Mercer's methods for personal success, and valuable feedback from volunteers who have tested this program. Presented in an easy-to-follow workbook format, the thirteen-week program introduces astral projection methods and provides daily exercises that progressively prepares and trains readers for this incredible, life-changing experience. Paperback: 480 pages. Publisher: Llewellyn Publications; Pap/Cdr edition. November 1, 2004. Language: English.
---
Author: Robert Monrore. With more than 300,000 copies sold to date, this is the definitive work on the extraordinary
phenomenon of out-of-body experiences, by the founder of the internationally known Monroe Institute. Paperback: 280 pages. Publisher: A Dolphin Book, Doubleday; Updated edition (December 1, 1992). Language: English.
---
Astral Projection Mastery: Powerful Astral Projection And Astral Travel Techniques To Expand Your Consciousness Beyond The Psychical!
By L. Jordan (Author) Astral Projection Beginnerís Guide offers an exclusive look inside the realm of the spiritual world, which is largely unknown to many individuals in todayís society.The techniques explained in this book are very clear and doable, requiring no specialized knowledge and no mystic powers. They are techniques that you will find, at face value, too ordinary to believe. Yet once you get to practice them you will clear any doubts you ever had about ordinary people doing extraordinary things. You will be a living testimony that all you need is basic but important knowledge to do what a mystic can do in terms of astral projection. In this book you will learn: What Astral Projection entails How different astral projection is from an ordinary dream How to prepare your body and your environment for astral projection The different ways you can learn to project your spiritual energies beyond your body The kind of people who can succeed in astral projection The best time for planned astral travel If there are specific times when you cannot take an astral travel And much, much more.
---
When you download Astral Projection: learn the secrets to experience out of body control, your knowledge will increase every day! You will discover everything you need to know about Astral Projection. These Secrets will transform your Life, you will no longer be a beginner. You'll we have ancient knowledge Secretsmand new techniques to Spiritually grow. Would you like to know more about? Exploring the spiritual realm Mystery surrounding the astral plane The best time for planned astral travel Prepare your body and your environment for astral projection Parallel Realities This book breaks training down into easy-to-understand modules.
---
Magical Books, Talismen, Kabalah Bracelets and more
---
---
Author: Stephen Laberge. What if right now, reading these words, you suddenly realized that you were actually dreaming Ė and that in this domain you could do anything imaginable? That is what itís like to dream lucidly, teaches Stephen LaBerge. In this new book/CD, he teaches his simple, proven methods for becoming fully conscious in the dream state.. with expert instruction gleaned from LaBergeís 20 years of pioneer in research at Stanford University, now anyone can learn to consciously explore and use their dreams for self-discovery, creativity, fantasy fulfillment, emotional healing, and profound spiritual insights. CD includes two complete guided dream induction sessions. From the Publisher: Stephen LaBerge is considered the pioneer of lucid dreaming, with more than 20 years of research at Stanford University. Hardcover: 84 pages. Publisher: Sounds True; Har/Com edition (March 2004). Language: English.
---
(Paperback) Author: Patricia Garfield. Paperback: 272 pages. Publisher: Fireside; Updated edition (July 1, 1995). Language: English
---
---
Magical Books, Talismen, Kabalah Bracelets and more
---
© 1995-2023 Copyright by Robert Zucker. Entertainment Magazine.EMOL.org. No part may be copied, reproduced, republished or digitally stored without permission from author.