Kabbalah: "Sefer Yetzirah : Links on the Internet
Internet Links to the "Sefer Yetsirah"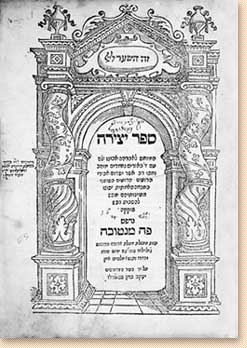 By Robert Zucker
(Editor's Note: I am finishing a new book on the legends and history of Kabbalah and the Book of Creation that will be published soon and available on Amazon. These are some of the pages that will be included. If interested, please email [email protected] to be informed when the book is ready.)
The Internet is full of web sites on "Sefer Yetzirah" (also spelled as Sefer Yesirah, Sefer Yezirah or Sefer Yezira, among other spellings).
Many of these sites have been online for years and provide a good source of understanding and personal commentaries.
Some of these links have been hard to find. Many go out of service, have become password protected to limit outside visitors or have changed their focus or domain.
This list of Sefer Yetzirah web site's is updated often. New links are added as they are discovered or suggested.
One great discovery is a Czech web site with Hebrew texts of several version of Sefer Yetzirah along with other great Kabbalah works. This is a newly updated link.
The Sefer Yetzirah text in Hebrew and English can easily be found on the Internet. Some sites with the Hebrew text of Sefer Yetzirah.
Since the Sefer Yetzirah is open to much interpretation, controversy and discussion, there is one true, difinitve source. A true Qabalist must take all of the sources into context and decide which combinations suit their own path.
"Sefer Yetzirah"
Kabalah Links
Kabbalah Society has study groups on all five continents and periodically holds conferences and workshops in different countries. Get news, video, books, and participate in study groups on Kabbalah.
More Kabbalah web links
Authors (Abulafia, Kaplan, Westcott...)
---
© 2007-2016 Bob Zucker. EMOL.org All rights reserved. . No part may be copied, reproduced, republished or
digitally stored without permission from author.