Entertainment Magazine: Mexico: Puerto Peñasco
Plenty of dining choices in Rocky Point
Rocky Point (Puerto Peñasco) has some excellent restaurants serving Mexican food. But, there are also some fine Italian, Japanese and American specialties. See a list of the most popular restaurants below.
Most of all, Rocky Point is known for its fresh seafood, caught the same morning and served within hours of catch at some restaurants.
The best dining in Rocky Point is located along the downtown main street near the fish market and just off the main street, like the Blue Marlin.
While dining in Mexico was once cheaper, the cost difference in tourist towns like Puerto Peñasco is becoming smaller. Expect to pay $7-12 US dollars for a full Mexican plate (2 tacos, beans, rice) and more for chicken or fish dishes.
Relax and dine with friends at the edge of Sea of Cortez on a local downtown Puerto Peñasco (Rocky Point) restaurant. Enjoy fresh seafood and tacos. Photo by Robert Zucker, 2009.
Street vendor and restaurants serve individual tacos (fish, chicken and shrimp) for about $1.50 US each. Popular taco stands can be found throughout the downtown area, and places like Chino's taco house. Ask around to the locals to find Chinos Tacos.
Some menus in Mexican restaurants list their prices only in pesos (10-11 pesos equal about one U.S. dollar). Don't be too shocked when you see a taco for $15.00. In US dollars, it is about $1.50.
Tips are expected in Mexican restaurants and range between 15-20% as standard in the US.
Map of Rocky Point.
Hotel Reservations | Alamo Car
Real Estate | Bike Rally | Index
---
---
Puerto Peñasco Restaurants
Aztlan Cafe - 383-2027 120 Kino Blvd
Cafe Plazas Las Glorias - 383-6010 13 Armada Nacional Ave
Cocodrilos - 383-6376 26 National Armada Ave
Coctelería El Perico Marinero - 383-6601 46 Malecon Ave
Costa Brava - 383-3130 41 Estrella Ave
El Capitán - 383-5698 1 Aqua Ave.
El Galeón - 383-2818 112 Constitución Ave
Espresso Express Coffee House & Restaurant - 383-4098 119 Matamoros Ave
Friendly Dolphin - 383-2608 44 Alcantar Ave
Happy Frog - 383-6249 97 Matamoros Ave
JR's BBQ Restaurant - 383-5824 48 Nacional Armada Ave
La Casa del Capitán - 383-2270 5 Estrella Ave
La Curva Restaurant - 383-3470 100 Kino Blvd.
La Hacienda Restaurant Inside the Playa Inn Hotel
La Palapa Lupita - 383-3697 243 Juarez Blvd.
The Lighthouse - 383-2389 4 Agua Ave
Lilly's - 383-251031 Malecon Ave
Manny's Beach Club - 383-3605 12 Coahuila Ave
Maria Bonita - 383-3708
Malecon Ave in the Viña del Mar Hotel.
Mar-y-Sol Sports Bar & Grill - 383-5822 1742 N. Hwy. 8
Mezón La Españ ol - 383-3763 278 Constitutción Ave
Old Port Galley - 383-3354 23 Alcantar Ave
Pink Cadillac Diner - 383-5880 141 Matamoros Ave
Playa Bonita - 383-2199 147 Balboa Ave
Playa Inn Restaurant - 383-5015 18 Sinaloa Ave
Pollo Giro Chicken & Beef - 383-4076 229 Juarez Blvd
Rocky Garden Restaurant - 383-5442 146 Matamoros Ave
Rocky Point Chinese Food - 383-5940 133 Sinaloa Ave
Sr. Amigo - 383-3795 12 Malecon Ave

Villa Granada - 383-2775 107 Madero Ave
Vista al Mar - 383-2985 19 Malecon Ave.
Clubs, bars, adult entertainment in Puerto Penasco
Babes
Dunas
Mamacitas
Guau Guau 120 Zapata Ave, table dancing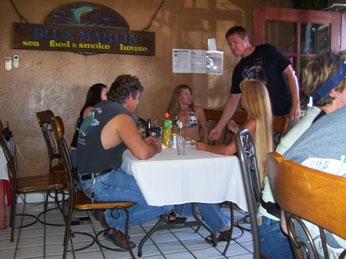 Blue Marlin (El Marlin Azul) - 34 Limeon Ave. Phone: 388-0056. The Blue Marlin restaurant specializes in fresh fish and other seafood dishes, is located half a block up from the fish market. The family owned by Homero Ortega, an oceanographer who ran a fish store on the same site. In 1966, he turned the business into the popular restaurant it is today. Photo left: dining Inside the Blue Marlin, Rocky Point. Open noon to 10 p.m. daily; closed Wednesdays. Restaurante y Ahumadora.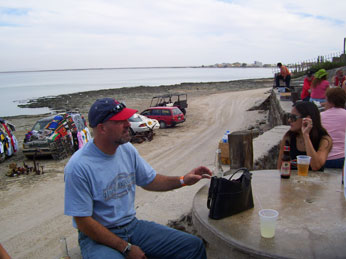 JJ's Cantina - 383-2270 58 Seaside Ave, Cholla Bay. JJ's is the popular hangout just outside of Rocky Point. In nearby Cholla Bay, JJ's has been a popular warmup spot for nearly two decades. Plenty of beer and food with lots of inside and outside seating by the edge of the bay.
Puerto Peñasco buffets
These restaurants offer buffet dining. See addresses, phone numbers and descriptions below:
Portofino: Italian buffet every Thursday 1-5pm.
Sushi Sun: Japanese food buffet Fridays
Italian Dining in Puerto Peñasco
Portofino 383-6838 1 de Junio & Malecon Kino at Old Port. Fine Italian cuisine and bar. View the Sea of Cortez while dining on fresh sea food, beef and chicken dishes. Italian buffet every Thursday 1-5pm.
Japanese Restaurants in Rocky Point
Sushi Sun 383-2772 Calle 13, one block before Hotel Plaza las Glorias. Japanese food, steak house and bar. All you can eat sushi and Japanese food buffet Fridays. Take out and delivery.
Tenshi Sushi 388-6565 Freemont Blvd. 150, 1 block east of the Red Cross. Open Mon-Fri from 11am to 11pm, Sat. and Sun from 1pm to 11pm.
Favorites in Puerto Peñasco
Chino's Tacos - you first need to find Chino's house.
Hamburgers in Rocky Point
MOAB 388-0753 Calle Matamores at the Mirador. MOAB- The Mother Of All Burgers- Home of the giant burgers. M-T from 11am to 10pm; F-Sun from noon to 1am.
© 2007-2015 EMOL.org / Entertainment Magazine On Line. All rights reserved.