The upcoming 15th annual 2015 Rocky Point Bike Rally ® is held during Veteran's Day. The Rocky Point Rally ® is a three-day event held every year in the town of Puerto Peñasco, Sonora, Mexico that showcases motorcycles and other 2-4 wheel vehicles.
Each November, thousands of people from around the world gather for the "Gran Fiesta de Motocicletas" to watch parades and contests between motorcycles and other recreational vehicles.
There are travel warnings this year. But, like always, travel in groups and stay on the main highway and ride it during the daytime. The Rocky Point Motorcycle Rally fans bring safety in numbers.
Rocky Point Bike Rally Index
---
---
Rocky Point Rally Videos
These videos were taken by publisher Robert Zucker during his attendance at the rallies during 2007 and 2010.
Camping World
Save on great Camping World products. Check out what's on Sale at Camping World! Hundreds of Items - Huge Savings. Shop at Camping World.
---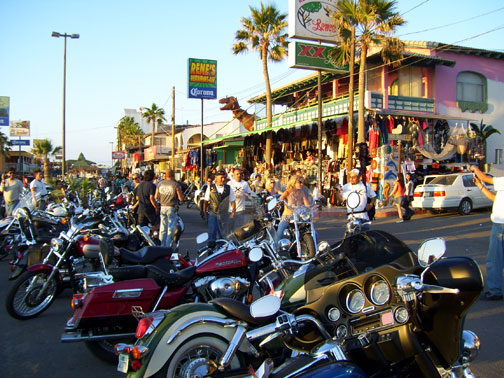 Rene's Bar, pictured above, in downtown Puerto Peñasco during the Rocky Point Bike Rally. Most of the activities were held downtown. Thousands of people crowded the streets, hung from the balconies and paradied their rides through town. Below: downtown street in Puerto Peñasco at the edge of the Sea of Cortez (in backgroud).
Rows of motorcycles parked along Puerto Peñasco's main downtown street looks more like a Harley showcase than a parking lot. Photos by Robert Zucker.
U.S. border passport requirements
Border travelers are required to present a passport on return to the U.S. The wallet size passcard is also now accepted at the international border for citizens to enter the U.S. More US border travel details.
Besides a valid U.S. passport, if you drive or ride in Mexico, it is the law to have Mexican insurance. U.S. auto insurance may not cover travel in Mexico.
Mexico Travel Alert Eased
The U.S. State Department has updated its travel warning in Mexico. The latest warning says U.S. citizens to use the Lukeville/Sonoyta border crossing and limit driving to daylight hours. Traveling in groups is encouraged.
Common-sense precautions such as visiting only legitimate business and tourist areas during daylight hours, and avoiding areas where prostitution and drug dealing might occur, can help ensure that travel to Mexico is safe and enjoyable.
Rocky Point, though, has been relatively safe from that violence, except a few incidents. Mexican police presence along the highway to Puerto Peñasco (Rocky Point) and visibility in the town has been increased anyway.
There has been a travel warning for Mexico since 2010 because of drug-related violence.
---
Motorcycle Parts, Accessories
CMS-Motorcycle Parts and Accessories for Honda, Suzuki, Yamaha, Kawasaki parts. Visit the motorcycle parts website.
---
Motorcycle Superstore

Free Shipping at Motorcycle Superstore. Find more cycle, ATV and dirt bike deals from
Motorcycle Superstore
---