One of major events of the Rocky Point Bike Rally, "Party On The Point," was hosted by Peñasco Del Sol Hotel, Dos XX Beer and Tecate Beer. But most of the action was downtown Puerto Peñasco during an impromptu street parade.
The Rocky Point Bike Rally also consisted of the Poker Run from Why, Arizona to Rocky Point, bike contests, the RideNow Invitational Golf Tournament, exhibits, manufacturers, dice games and plenty of Mexican beer and alcohol.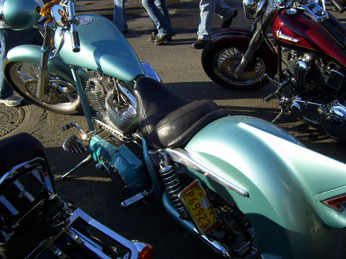 Being a biker today is a heavy investment. Many Harley-Davidson's run between $25-30,000. Tatooing the bike can run into the hundreds. Maintenance and upkeep costs are only offset by the great mileage and thrill of the ride. Related gear and accessories, including clothing, costs thousands.
To support this habit, many of 40-60 year olds parading their rides, are lawyers, doctors, accountants, blue and white collars, and police officers during the weekdays.
Last year, more than 10,000 people attended for the weekend. This years attendance is probably the same. The 2008 Rocky Point Rally is expected to be larger.
Take a virtual tour of some of the highlights of the 2007 Bike Rally during Satuday's street parade down Puerto Peñasco's main street along the waterfront.
Watch video clips and camera shots of some of the action downtown. Bookmark this page for information on the upcoming 2008 Rocky Point Bike Rally.