The upcoming 2008 Rocky Point Motorcycle Rally (also called Rocky Point Bike Rally to include non-motorcycle vehicles) is expected to be even larger this year. Last year, over 10,000 people attended.
The 2008 Rocky Point Bike Rally will have the traditional Poker Run from Why, Arizona to Rocky Point, MX.
There will be bike contests, the RideNow Invitational Golf Tournament, bike exhibits, bike and other displays. One of major entertainment event is "Party On The Point." But much of the action will be held in downtown Puerto Peñasco.
The Rocky Point Motorcycle Rally has raised nearly $100,000 in donations for Puerto Peñasco and Sonoyta, Sonora organizations from fees paid at the Welcome Tent. Find out more about the charity organizations.
Take a virtual tour of the 2007 Rocky Point Rally. Watch video clips and camera shots of some of the action downtown.
If you have an event to post on this page, please email [email protected]. Entertainment Magazine will again be covering the weekend event this year. See you there!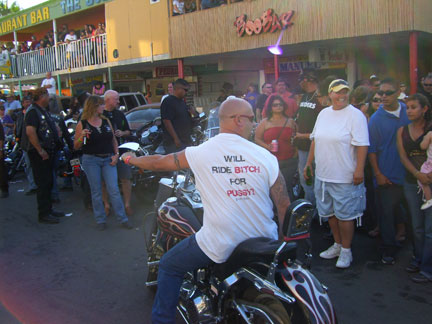 Impromptu bike exhibits, parades and demonstrations are held throughout downtown Puerto Peñasco.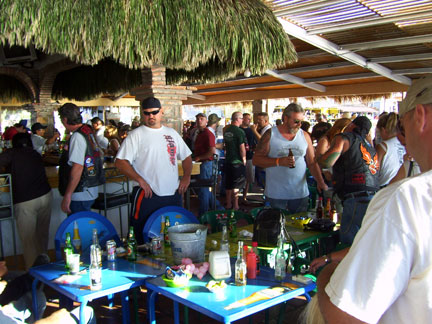 While some bikers flex muscles outside with their bikes, others are inside the bars flexing with their mugs.
New U.S. border rules- new ID requirements
At this time, no passport or visa is required to visit Rocky Point. Instead, a valid driver's license AND a copy of your birth certificate is necessary. Border travelers may be required to present a passport beginning in 2009 or later. The wallet size passcard is also now accepted at the international border for citizens to enter the U.S. Continue reading...
Making Rocky Point Connections
I am trying to find a point of contact for the 2008 Rocky Point Rally. I want to ride with a group from Why, AZ to Rocky Point. My wife and I have a condo reserved and are looking for a couple (NON-Smokers) who would like to share. Also, how is the police activity between Rocky Point and the boarder? If you have any information please let me know. Thank You and we look forward to seeing you there. Allen Williams [email protected]
2008 Bike Rally Events and Activities Schedule
These are some of the events, entertainment, shows and activities for this year's Rocky Point Rally. New dates and times for upcoming events and schedule are posted as available.
2008 Bike Rally Dates:
Thursday, November 6-Sunday, November 9, 2008
Location:
Puerto Peñasco, Soñora, Mexico aka Rocky Point
Thurs., Nov. 6, 2008 and Fri., Nov. 7, 2008
Poker Run to Rocky Point

The "Mystery Cards" Poker Run to Rocky Point starts at the Flores Chevron Station in Why, AZ on Thursday, November 6 and Friday, November 7. The Welcome party is held at Hacienda Las Fuentes.
Welcome Tent
On entering Rocky Point, the Welcome Tent is set up for participants in the Bike Rally. Fees collected at the Welcome Tent are used to operate the activities and given to local charity organizations. Registration is held all day beginning on Thursday, Nov. 6 through Friday, Nov. 7, 2008.

In 2007, Rally registration was held at the Desert Oasis Resort, on Blvd. Juarez, south of the intersection of Highway 8 from Arizona and Caborca Hwy. See a Google interactive map of Puerto Peñasco.
Friday, November 7, 2008
Mystery Cards Poker Run continues. SEE ABOVE DATE FOR DETAILS.

Cinco Estrellas Rollin the Dice Resort Ride held.

Rally at the Playa held at Playa Bonita Resort.

Friday Night Bar-Hop held at the Desert Oasis, Sandbar, CamelToe Cantina.
Saturday, November 8, 2008
Fiesta on the Malecon held all day with bike shows, music and activies.

Rally at the Playa held at the Playa Bonita Resort

Hacienda Moto Parade Held at the Red Cross to the Malecon.

Concert on the Beach, featuring Mogollon at the Playa Bonta's beach front.
Sunday, November 9, 2008
Come to Rocky Point, area activities supported by the Puerto Peñasco Visitors Bureau. More from Come to Rocky Point
RideNow Invitational Golf Tournament
Held at Las Palomas Resort and sponsored by RideNow.
"Party On the Point"
"Party on the Point" is hosted by the Peñasco del Sol Hotel. The 2007 "Party On The point" hosted the classic rock group Rare Earth, the RideNow Rodeo and Bike Show, exhibitors, manufacturers, contests and concerts through the day and into the night.
Rally Beach Party
Hosted at the Puesta Del Sol Restaurant Terrace, this traditional event features live music and no cover on Thursdays and live music on Friday and Saturday nights. Puesta del Sol is a Play Bonita Resort.
Find more events updated at http://www.rockypointrally.com/
Other Events in Rocky Point
Debbie's Grill & Bar will be hosting the Geoffrey J Band from Tucson on Friday & Saturday night on the patio for bike week. We would also be hosting a Adios Breakfast for the biker's on Sunday morning. Debbie's is located at the Malecon (Old Port) above the fish markets. [email protected]
Money raised for local charities
The Rocky Point Motorcycle Rally has raises funds that are donated to the local charities. Find out more about the local Mexican organizations supported by fees and donations.
More event, entertainment agenda: http://www.rockypointrally.com/agenda.htm