Renting affordable luxury homes around Sandy Beach
Located a few miles from Puerto Peñasco (see the hill in middle of above picture- that is the town of Puerto Peñasco), Sandy Beach is a getaway on its own. The same curios found in the downtown stores is available from beach vendors.
Besides fractional ownerships and timeshares, many homes on Sandy Beach are rented by the day or week. There are management companies that rent out these luxurious homes on and near the beach.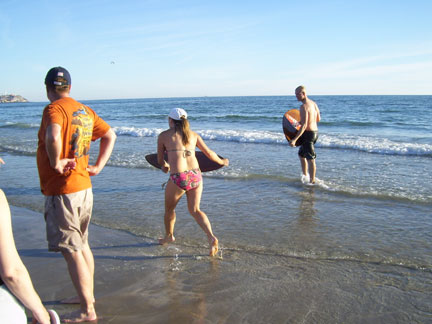 Photo left: Another form of torture - or pleasure - waterboarding. Skate the incoming wave on a modified surf board at Sandy Beach, Mexico.
Sandy Beach Property owners rarely live in Rocky Point full time. They often stay for short periods of time, like weeks or months throughout the year. While gone, they rent our their large homes for the week, weekend or month.
Vacation home rentals on the beach are an alternative choice to renting a hotel room. When there are more the 3 or 4 in a family, the overall cost can be considerably less. Some houses, valued between $600-1,000,000, will rent out between $200-$350 US a day.
Rocky Point Bike Rally and Spring Break visitors sell out all rentals well in advance of the events. The beach homes provide an inexpensive stay when shared among friends.
See photos of Sandy Beach, where most of the hotels, condominiums and rental and ownership homes are built.