Entertainment Magazine: Free Movies
Watch and download free horror movies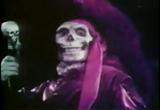 If you enjoy old classic sci-fi and horror produced films from the 1920s through 1970s, there are several sites to watch and download these horror and science fiction films online for free.
Watching free horror/sci-fi movies: No special software is needed to install to watch these free horror films. The movie automatically starts streaming instantly when the movie screen is clicked. Learn how to watch free movies on your PC or mobile.
Downloading free horror/sci-fi mives: These free movies can be watched from almost any computer or mobile anywhere around the world. Learn how to download free movies.
Public domain movies: Movies in the public domain can be downloaded transferred to many mobile devices for free. There is no copyright ownership on movies marked as public domain.
Read the Movie FAQ to learn more about watching and downloading free movies.
Free Horror Movie Index
Frankenstein is a 1910 silent film by Thomas Edison. Frankenstein is the creation of the perfect human bein that turns into the creator's monster. This is the first film adaptation of the often filmed Mary Shelley story of "Frankenstein."
Lady Frankenstein is the 1971 film after the death of Dr. Frankenstein, when his daughter and his lab assistant continue the experiments, and fall in love. Public domain.
"The Phantom of the Opera" (1925) At the Opera of Paris, a mysterious phantom threatens a famous lyric singer, Carlotta and thus forces her to give up her role (Marguerite in Faust) for unknown Christine Daae. Runtime 106 minutes. Silent film with music. Public domain.
Night of the Living Dead is the 1968 classic yet still creepy horror film, strangers hold up in a rural Pennsylvania farmhouse and battle constant attacks from dead locals who have been brought back to life by mysterious radiation. Public domain.
"Nosferatu" is the first horror movie filmed in 1922. Original German copy in the public domain.
"The Little Shop Of Horrors" is the original 1960 classic dark comedy of the Roger Corman classic about a nerdy flowershop clerk who grows a giant, man-eating plant and is forced to kill in order to feed it.
"Flash Gordon" is about the Intergalatic super hero who fights evil-doers wherever they go. This film has three episodes, including "Flash Gordon and the Planet of Death" (1954), "Deadline at Noon" (1955) and "Subworld Revege" (1955).
"The Corpse Vanishes" (1942) is about a mad scientist who wants to keep his elderly wife young. He kidnaps young females and extracts fluid from them. A reporter starts sniffing around. Runtime: one hour 3 minutes. Public domain.
"The Wasp Woman" (1960) is about a beautiful woman by day - a lusting queen wasp by night. A cosmetics queen develops a youth formula from jelly taken from queen wasps. She fails to anticipate the typical hoary side- effects. Runtime: 1 hour, 13 minutes. Public domain.
"Bride of the Gorilla" (1951) stars Raymond Burr. Deep in the South American jungle plantation manager Barney Chavez (Raymond Burr) kills his elderly employer in order to get to his beautiful wife (Barbara Payton). Public domain movie.
"The Brain That Wouldn't Die" (1962) is a classic scarey film about after a car crash, a man keeps his wife's head alive in his laboratory. As if this weren't enough, an evil beast pounds and screams from a locked room adjacent to the lab. Public domain.
"The Last Man on Earth" (1964) is a horror flick that stars Vincent Price and is based on the chilling Richard Matheson science fiction classic film "I am Legend."
Watch and download more free movies online.
The Rocky Horror Picture Show has endured for one reason: there is nothing else like it. It may not have been shot with anything more high-tech than the industry standard cameras and mikes of the day, but it remains the worldÕs first and finest interactive multimedia experience. Continue reading about the The Rocky Horror Picture Show, the new book and watch the trailer.
---
---

Top New Halloween Costumes
BuyCostumes.com
© 2009-2015 EMOL.org Free Movies Entertainment Magazine On Line . All rights reserved.