"Do You Trust Your Wife"
with Johnny Carson, a daytime game show (April 15, 1958). 29 minutes. Public domain.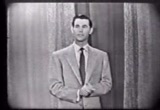 Johnny Carson hosted several TV shows before his period on The Tonight Show, including the game show Earn Your Vacation (1954), the variety show The Johnny Carson Show (1955 - 1956), a regular panelist gig on the first version of To Tell The Truth until 1962 and a five-year stint on the game show Who Do You Trust? (1957–1962), during which Carson met long-time sidekick Ed McMahon.
In 1960, Carson was a candidate to play the role of TV writer Rob Petrie in a new sitcom created by Carl Reiner entitled Head of the Family. At the suggestion of producer Sheldon Leonard, however, Dick Van Dyke was given the role and the series was subsequently retitled The Dick Van Dyke Show.
On March 19, 1999, Johnny Carson suffered a severe heart attack at his home in Santa Monica, California. He was sleeping when he suddenly awoke with severe chest pains. He was rushed to a hospital in nearby Santa Monica where he underwent a quadruple-bypass surgery. He died on January 23, 2005.
Read more from wikipedia: Johnny Carson
Celebrity Articles: Johnny Carson
How to watch and download free movies
This movie uses a new code found in many browsers that provide quick streaming video without any special software. Select a movie title above. Read more how to watch free movies online.
To download free movie: Select the streaming movie files link to download the movie files and images. These movies can also be transfered to mobile devices like iPads and smartphones. Find out more how to download movies.
These free movies are in the public domain and linked from Entertainment Magazine.
---
© 2008-2015 All rights reserved. EMOL.org Free Movie Entertainment Magazine..