Entertainment Magazine: Free Movies
Watch and Download Laurel and Hardy Free Movies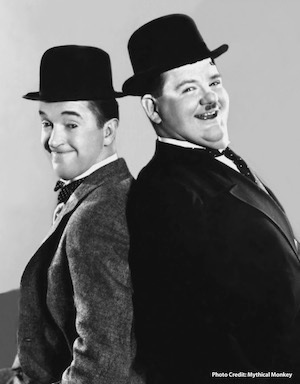 Watch and download free Laurel and Hardy classic comedy movies.
These free movies can be streamed online through a PC or mobile device. There is no charge to play or download these films. Learn more about watching and downloading free movies.
Between 1927 and 1940, Stan Laurel and Oliver Hardy starred in 62 short films and 13 feature fill length films (not counting numerous cameo roles in others' films). Read more about the Laurel and Hardy story.
---
Free Laurel & Hardy Movies
"Flying Dueces" In 1939, this was the first comedy film that Laurel and Hardy starred without thier former producer Hal Roach.
Laurel and Hardy "This is Your Life" This is the classic TV episode of "This Is Your Life" with Ralph Edwards. This video features Laurel and Hardy in their later years. This is the only time the comedy team both appeared together on live television.
"Flat Tire" is the classic slapstick comedy where Laurel & Hardy go out for a ride, but get a flat tire instead. This film was released August 10, 1929 by MGM Studio and was produced by Hal Roach.
---
---
Laurel & Hardy Books, Exhibits and More
The Hollywood Museum unveils its new exhibit, "100 Years of Hal Roach Studios: Laurel & Hardy, 'Our Gang' and Harold Lloyd" in honor of the Hollywood icon's centennial, opened to the public in 2014. The exhibit contains authentic photos, costumes and props from the rich history of Hal Roach Studios and the legendary talents that emanated from there in the early 1900s.
The Library of Congress unveiled "The Survival of American Silent Feature Films: 1912-1929," the first comprehensive survey of American feature films that survived the silent era of motion pictures. Read about Preserving Silent Movies.
Watch More Free Movies
Downloading and Watching Free Movies