Entertainment Magazine: Free Movies: TV Shows
Lucille Ball the zany red head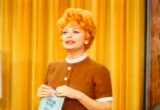 Lucille Désirée Ball, popularly known as Lucy, or Lucy Ball, was an American comedienne, film, television, stage and radio actress, glamour girl and star of the landmark sitcoms I Love Lucy, The Lucy-Desi Comedy Hour, The Lucy Show and Here's Lucy.
The following Lucy Ball TV shows and episodes can be watched online, and if in the public domain, can be downloaded for free.
Watch and download Lucy Ball episodes
Lucille Ball is one of America's favorite stars and had one of Hollywood's longest careers. She was a movie star from the 1930s to the 1970s, and appeared on television for more than 30 years.
Ms. Ball received 13 Emmy Award nominations and had four wins. She has been the recipient of dozens of Lifetime Achievement Awards and has been nominated dozens of other times for television and film roles.
These videos of the Lucy Show are the full-length television performance now available in the public domain. The Lucy Show was Lucille Ball's follow up show to I Love Lucy. It began in 1962 and ran until 1968. Born: August 6, 1911. Died: April 26, 1989. More on Wikipedia: Lucille Ball
Read more how to watch free movies online.
To download free movie: Select the streaming movie files link to download the movie files and images. These movies can also be transfered to mobile devices like iPads and smartphones. Find out more how to download movies.
© 2008-2015 All rights reserved. EMOL.org Free Movie Entertainment Magazin. This is a public domain archive.