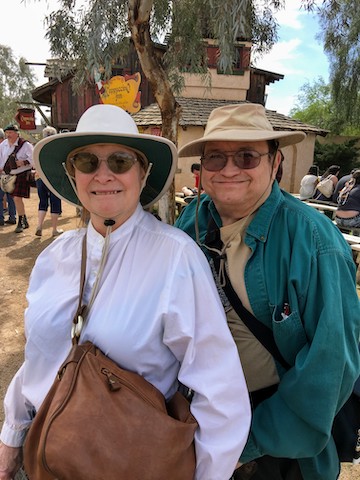 Email: James & Carolyn Barnett at [email protected]
Carolyn and James Barnett have been with the Entertainment Magazine since 1985 and have been involved with writing and photography. During the magazine's print phase before 1995, they also managed distribution and ad sales.
Lately, the Barnett's have covered Tucson Comic Con, ACE Comic Con in Glendale, the Wild Wild West Steampunk Convention at Old Tucson, and the Arizona Renaissance Festival. Although this will be their eighth visit to Phoenix Comic Con/Fest 2018 will the first time they cover the con for the Entertainment Magazine On Line at EMOL.org.
The Barnetts have a long history with Sci-fi and Comic conventions. They met at the Phoenix Star Trek Convention on Memorial Day Weekend 1977.
They saw STAR WARS on its opening weekend for their first date, and were married a month later on July 1, 2018 will be their 41st anniversary. Sci-fi and Comic cons, where nerds go to mate!