Entertainment Magazine: Tucson: Sabino Canyon
Sabino Canyon- Oasis in the Tucson desert
Shuttle Service Now Available

Nestled in the southeastern foothills of the Santa Catalina Mountains, just northeast of Tucson, Arizona the desert spawns an oasis called Sabino Canyon. This secluded oasis is one of Tucson's most popular sites to visit, and revisit, with numerous trails, picnic facilities, and plenty of nature all year round.
The tram shuttle tours of Sabino Canyon are now operating with new health guidelines, including wearing masks in the ticketing and boarding ares, social distancing, and staying home if not feeling well.
The new Sabino Canyon Crawlers electric vehicles are open-air and are disinfected on a regular basis. Buy tickets online at sabinocanyoncrawler.com or use the onsite ticket kiosks (use your own hand sanitizer).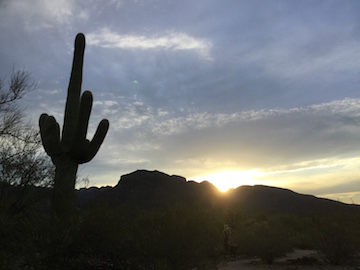 Sabino Canyon at daybreak. Photo by Carolyn and James Barnett. See more photos of Sabino Canyon.
---
Getting Around Sabino Canyon
Information, Directions, Map
Hiking Sabino Canyon
Hiking Sabino Canyon tips about hiking the area. Shuttle information, Sabino Canyon Visitors Center and the Santa Catalina Mountains Pass.
History of Sabino Canyon
Twelve thousand years ago, Colombian mammoth roamed Sabino Canyon and the Catalina Mountains. About 1,200 A.D., the Hohokam Indians placed irrigation dams in the flowing creek. Read more about the history of Tucson and the Catalina Mountains.
Sabino Canyon Weather
National Weather Service forecast for Sabino Canyon weather. Includes a detailed 7 day forecast, detailed weather map and point forecast.
Other Sabino Canyon Related Links
---
---
Jewelry and Rock Art from Mt. Lemmon Mines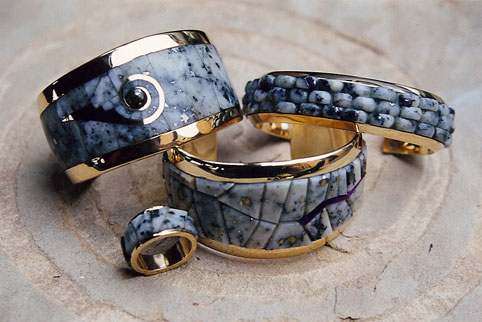 Flint Carter is one of the few artists who create their entire work - from finding the stones, cutting, polishing and fabricating. All jewelry and art work materials are mined from Mt. Lemmon and the Santa Catalina Mountains. Read about Flint Carter's work, the legend of the Iron Door Mine and other stories of the Old Southwest. Call Flint at 520-289-4566 or email [email protected].
---
Recommended Books on Sabino Canyon
Sabino Canyon, Field Guide to: Pocket Naturalist Guide (Pocket Naturalist Guide Series)
is a beautifully illustrated guide highlights over 140 familiar and unique species of mammals, birds, reptiles, amphibians, fishes, seashore creatures, butterflies/insects, trees, shrubs, wildflowers and cacti. Laminated for durability, this lightweight, pocket-sized folding guide is an excellent source of portable information.
A Guide to the Geology of Sabino Canyon and the Catalina Highway: Coronado National Forest
is a 45 page full color geologic Guide to Sabino Canyon and the Catalina Highway (DTE-17) by J.V. Bezy explains how Sabino Canyon was formed as well as the geologic features on Mt. Lemmon along Catalina Highway in this wonderful depiction published by the Arizona Geological Survey .
El Charro Salsa Picante is an authentic salsa from El Charro Cafe in Tucson, AZ. Contains: crushed tomatoes (tomatoes, salt, citric acid), water, salsa (onions, salt, garlic, white vinegar, canola oil, chiltipin pepper, oregano), tomato puree (water, tomato paste, citric acid), citric acid. More online products from El Charro Café.
See more books on Sabino Canyon.