Entertainment Magazine: Tucson: Events
91st Tucson Rodeo Days and Parade 2016
Every year since 1925, the Tucson Rodeo attracts tens of thousands of locals and visitors from all over the world to the Tucson Rodeo Grounds.
The 91st season of Tucson's Rodeo, La Fiesta de los Vaqueros - the Celebration of the Cowboys, will be held February 20-28, 2016. Tickets are on sale now.
Two major events make up La Fiesta de los Vaqueros: the Tucson Rodeo and Tucson Rodeo Parade. Center stage is the Tucson Rodeo with six rodeo scheduled performances.
Chandler Warden 2016 Grand Marshall
The Grand Marshal for the 2016 Tucson Rodeo Parade, Chandler Warden, is a transplanted Californian who learned a love for Southern Arizona attending summer camps at Tanque Verde Guest Ranch. Continue reading about Chandler Warden.
Tucson Rodeo Guide

---
As one of the top 25 rodeos on the Professional Rodeo Cowboys Association (PRCA) calendar, the Tucson Rodeo attracts the sport's current and former world champions, all vying for a share of tens of thousands of dollars in prize money.
New Security Measures: This year, enhanced security is required for all attendees to the Rodeo stands. Glass bottles, cans, coolers, Thermoses or ice chests are no longer allowed, including purses larger than a clutch, luggage, briefaces, handbags, outside food and beverages, horns, artifical noise makers, weapons or dangerous objects. Complimentary clear bags will be available and are accepted on entry. There is also a limit on the size and types of bags allowed. Items in clear, plastic bags are allowed. Small clutch bagsm diaper bags and other enclosed items will be searched.
Tucson Rodeo Related Events
Country star Tracy Lawrence is putting on a special Tucson Rodeo performance at the Diamond Center on Saturday, Feb. 27, 2016. Tickets to the show go on sale Saturday, Jan. 16, 2016.
6th Annual Cowgirls with Heart Rodeo Dance has chosen to support the Arizona Fisher House, serving our military families in Southern Arizona at the Tucson VA. We will be attending the dedication of the home on February 18 and appear on the Morning Blend on February 19th. Reserve tickets! Diane Storms: 520.954.4355. Our FB page is : Cowgirls w/Heart Annual Rodeo Dance.
See more Tucson events happening this Rodeo Week.
---
TicketNetwork Tucson Rodeo Tickets
---
---
Rodeo Photo Highlights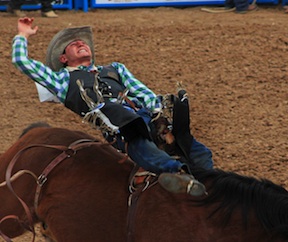 Tucson Rodeo photos by Carl Sparfeld. See all photos from previous years in Sparfelds Rodeo Collection.
The Tucson Rodeo Parade
La Fiesta de los Vaqueros is hosted by the nonprofit Tucson Rodeo and Tucson Rodeo Parade Committees. A portion of the rodeo proceeds benefits community groups including the University of Arizona Foundation scholarship fund and local Lion's and Rotary Clubs. Read more about the Tucson Rodeo Parade.
Read about
---
---
Tucson Rodeo Parade Museum
The Tucson Rodeo Parade Museum is open January 2 through April 6, 2013 with new exhibits, ADA access and updated bathroom facilities. Walk among over 125 horse-drawn vehicles and the great displays featuring life as it was in late-1800 Tucson. More information on the Tucson Rodeo Parade Museum.
---
Special Tucson Entertainment Book Offer

Bass Pro Shops

Bass Pro Shops is an outdoor retail leader in hunting, camping, boating, and outdoor clothing, in addition to fishing. Shop online the Clearance Department at Basspro.com
Mt. Lemmon Jewelry

Extremely rare serpentine with white quartz, gold, silver and copper ores from mines miles within Tucson's Mt. Lemmon and Santa Catalina mountains. Unique, one-of-a-kind specimens, southwestern artwork and fashioned jewelry by local artist Flint Carter. Call 520-289-4566.
Tucson Rodeo Parade & Museum
Author: Paul L Grimes. Full of historical photos this 176 page book plus appendices tells the tales and stories of "La Fiesta de los Vaqueros Rodeo Parade." Published by Tucson Rodeo Parade Committee (1991), Read more about the Tucson Rodeo Parade & Museum
.
New Books Featured
The Entertainment Magazine, in conjunction with BZB Publishing (the publisher of EMOL.org and the Entertainment Magazine) is producing print and digital books for the public. Copies are available through Amazon.com and other retailers. Read sample chapters of the following new releases:
---
Tucson Rodeo Location/Offices
4823 S. 6th Ave., Tucson, AZ 85734
Phone: (520) 741-2233 or (800) 964-5662
© 1995-2016. This site is not affiliated with the Tucson Rodeo Parade Committed. Information is provided as a public service by Entertainment Magazine.