Entertainment Magazine: Tucson Rodeo & Parade
The Tucson Rodeo Parade 2015 Information
The 2015 Tucson Rodeo parade is an 90 year-old Tucson tradition that brings the vibrant history and colors of the Southwest to life each February in conjunction with La Fiesta de los Vaqueros, the Tucson Rodeo.
Over 150,000 spectators line the streets in southern Tucson each year in anticipation of this historic event. The Rodeo Parade is broadcast live on KOLD-TV channel 13 and Public Access TV.
New 2015 Grand Marshall and Tucson Rodeo Parade events to be announced.
Tucson Rodeo Parade: Thursday, February 26, 2015 9:00 AM
Watch Video of Dan's Acceptance Speech
Tucson Rodeo Parade Route
The starting point of the Annual Tucson Rodeo Parade is Ajo and Park Avenue – restoring the traditional 2.5-mile parade route, which was cut by approximately a half mile in 2010 due to budget constraints.
The Parade will begin at 9 a.m. and proceed south on Park Avenue to Irvington Road, then west past the grandstand viewing area to South Sixth Avenue and north to the Rodeo Grounds.
The parade is FREE to spectators along most of its route. Ticketed grandstand seating that includes pre-parade entertainment is also available next to the Rodeo Grounds on Irvington Road. Grandstand tickets are $7 each for adults and $5 for children ages 12 and under and can be purchased at the Parade office at 4823 S. 6th Ave or at www.tucsonrodeoparade.org
Tucson Rodeo Parade website: TucsonRodeoParade.org
---
Tucson Rodeo Parade Highlights
Included in the procession are local and national dignitaries, Native American royalty and performers, historical wagons and colorful floats, marching bands and mariachis, royalty from five rodeos and working cowboys. The League of Mexican-American Women and Mormon Battalion are entries that have been in the parade greater than 30 consecutive years.
This year, there are approximately 115 entries (17% new entrants). More than 525 horses, approximately 2,000 people, 60 wagons and buggies and 9 marching bands will form this moving spectacle of Western heritage.
WATCHING THE PARADE: The Parade Committee asks all spectators to follow instructions from Tucson Police Department (TPD) officers and parade volunteers to help ensure a safe parade. All spectators must stay off the curb line.
Noisemakers (horns, cap guns, balloons, poppers) may not be brought to the parade and will be confiscated. Also for safety, spectators are restricted to the official parade route and may not enter the staging and line-up areas in the Fairgrounds Neighborhood.
Parade spectators are encouraged to arrive early to secure viewing spots along the parade route, or sit in the grandstands along Irvington Road near the Rodeo Grounds.
RODEO PARADE TICKETS: Grandstand tickets can be purchased online at www.tucsonrodeoparade.org or at the Rodeo Parade Office at 4823 South Sixth Avenue or via phone with a credit card (294-1280). Grandstand tickets are $7 for adults and $5 for children under 12.
PARKING: Parking is available at the Rodeo Grounds until 8 a.m. Pre-parade entertainment at the grandstands begins at 8 a.m. Spectators driving to the parade will have the traditional access to parking on the rodeo grounds through the gate on 3rd Avenue. Access the 3rd avenue gate by traveling west bound on Irvington to 3rd, then through the gate. Please note that Irvington is completely closed at 8 a.m. except for parade spectators and performers. Arrive early to see our pre-parade entertainment beginning at 8 a.m. Someone at the gate will provide instructions on where to park.
ENTRIES: Entry information for those wishing to participate in the Parade may be obtained by calling 520-294-1280 or visiting www.tucsonrodeoparade.org. Deadline for entry is January 13, 2012. Wagons are available for rent for the parade.
TUCSON RODEO PARADE SPONSORSHIP Sponsors of the Parade will have their names in front of Arizona's largest single spectator event --- over 200,000 spectators on the Parade route + 'live' Television broadcasting to over 40,000 households. There are a variety of Sponsor programs one of which can fit your needs and budget. Call our office or Bob Stewart at 520-591-9585 for information.
History of the Tucson Rodeo and Parade
In 1924, Frederick Leighton Kramer, President of the Arizona Polo Association and later recognized as the Founder of the Tucson Rodeo and Rodeo Parade, gathered a group of local business men to discuss the possibility of having a Rodeo.
Since 1925, the Tucson Rodeo Parade has been a part of Tucson, Arizona history. Schools close on the Thursday and Friday of rodeo week so families can enjoy the festive parade and rodeo traditions.
A treasured tradition of rodeo week, the Tucson Rodeo Parade is billed as the largest non-motorized parade in the world.
An estimated 200,000 spectators line the parade route, watching over 150 western-theme floats and buggies, Mexican folk dancers and musicians. The parade route begins at Ajo Way and Park Avenue. Entrants travel south on Park Avenue, west onto Irvington Road and north on Sixth Avenue where they return to the Rodeo Grounds. The route is approximately 2.5 miles in length.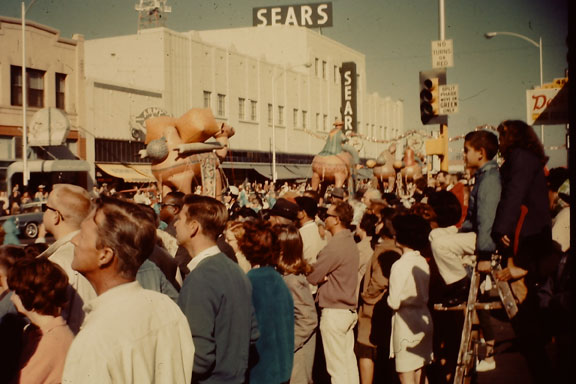 Photo of Tucson Rodeo Parade in downtown Tucson, Arizona 1963. Photo by Bertram Zucker.
This was the inspiration and moving force that made it possible for the Tucson Rodeo and Tucson Rodeo Parade to take place on February 21, 1925. Read more about the history of the Tucson Rodeo Parade.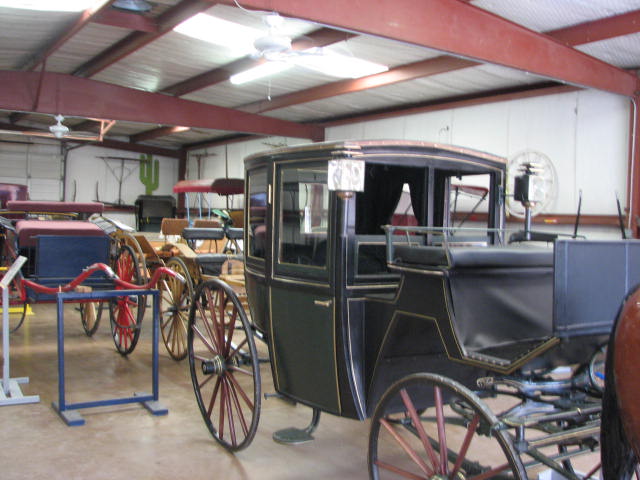 The Tucson Rodeo Parade Museum is now open.
For more information about the Tucson Rodeo Parade
Tucson Rodeo Parae Committee, Inc.
P.O. Box 1788 Tucson, Arizona 85702
Phone: 520-294-1280 | Museum: 520-294-3636
Tucson Rodeo Parade & Museum
Author: Paul L Grimes. Published by Tucson Rodeo Parade Committee (January 1, 1991)
Stories, memories, tales since 1925.
Rodeo from Amazon.com
Click the image to see more information from amazon.com
Bass Pro Shops

Bass Pro Shops is an outdoor retail leader in hunting, camping, boating, and outdoor clothing, in addition to fishing. Shop online the Clearance Department at Basspro.com
Buckle

Men's apparel on sale,
select brands up to 85% off at Buckle.com!
Find your favorite brands for men & women - PLUS $5 shipping at Buckle.com!
Mt. Lemmon Jewelry

Extremely rare serpentine with white quartz, gold, silver and copper ores from mines miles within Tucson's Mt. Lemmon and Santa Catalina mountains. Unique, one-of-a-kind specimens, southwestern artwork and fashioned jewelry by local artist Flint Carter. Call 520-289-4566.