Entertainment Magazine: Tucson: Tucson Rodeo and Parade: Museum
Tucson Rodeo Parade Museum history on display
When not working on the production of the longest non-motorized parade in the world, the Tucson Rodeo Parade Committee's efforts turn to their other love, the Tucson Rodeo Parade Museum.
The Tucson Rodeo Parade Committee owns a collection of more than 170 pieces of "rolling stock:" horse-drawn buggies, buckboards, stagecoaches and farm wagons, which are featured in the Tucson Rodeo Parade each year.
The Tucson Rodeo Parade Museum is located at the Tucson Rodeo Grounds, corner of 6th Ave. and Irvington Road. The museum complex includes the old hanger of Tucson's first airport – the first municipally owned airport in the country.
The museum provides visitors the opportunity to take a giant step back to the Tucson and the Old West that was. A stroll down the museum's wooden sidewalks takes you past a blacksmith's shop, the Royal Irving Saloon and Jacob's Assay Office. Visitors can stand in front of the original registration desk of the Hotel El Conquistador and take in a panoramic view of the old hotel.
Call the Tucson Rodeo Parade Comittee at 294-1280 for more information, ticket prices and schedules.

Museum Location

The Tucson Rodeo Parade Museum is located at 4865 S. 6th Avenue (at the southeast corner of S. 6th Ave. and Irvington Road). The museum is on the historic Tucson Rodeo Grounds.

Museum Schedule

Hours: 9:30 am - 3:30 pm. Closed Sundays and holidays, except for privately arranged tours. For more information call the office at 520-294-3636
---
---
While the Tucson Rodeo Parade Committee works to preserve the character of its equipment, they have made some important modifications through the years.
The Tucson Rodeo Parade Committee has set its sights on renovation of the museum facilities and enhancement of its displays. Work has begun on an enlarged museum that will give its visitors a better look into Tucson's history.
In fact, most of the Tucson Rodeo Parade Committee equipment has been enhanced with a braking system. These brakes are often the main focus of volunteer work details as each piece of horse-drawn equipment receives new brakes annually. The brakes operate similarly to what's found in an automobile and help drivers keep pace with the parade. These brakes can also be applied in emergency situations and significantly enhance the stopping ability of parade equipment.
All of the included equipment may be viewed in various displays at the Tucson Rodeo Parade Museum.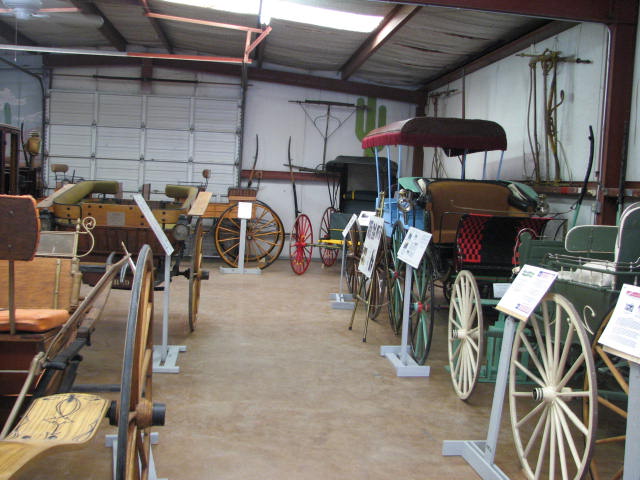 The Tucson Rodeo Parade Museum has an inventory of 150 vehicles, ranging from small buggies to elaborate coaches, carriages, wagons and historical artifacts from pioneer days. Walk among over 125 horse-drawn vehicles and great displays featuring life as it was in late 19th century Tucson.
A re-created Main Street representing what early Tucson would have offered in terms of businesses and services is displayed at the museum.
Three buildings house museum artifacts and exhibits. The large metal building was originally the city's first airport hanger, established in 1918 and dedicated on November 20, 1919.
This was the location of the first municipally owned airport in the United States.
The concept of a museum for public visitation was developed in 1962 by Peter Waggoner, an original charter member of the Parade Committee. The museum continues to develop as funds are found with a goal to have it open year round.
The museum stores vehicles manufactured by Ronstadt, Studebaker, Brewster, Healey and other, and used in films starring Maureen O'Hara, Ava Gardner and John Wayne are among the offerings.
Historic vehicles used by Maximilian, Mexico's ill-fated ruler, and Howell Manning of the Tucson Manning family are also on display.
LOCATION: The Museum is at the Tucson Rodeo Grounds, corner of 6th Ave. and Irvington Road.

HOURS: 9:30 a.m. to 3:30 p.m., Monday – Saturday. Closed Sundays and Holidays. Guided tours daily at 10 a.m. and 1 p.m. Open Jan. 2 – April 15, 2013. Rodeo Week Dates: 11 a.m. – 1 p.m., Feb. 18 – 20 and Feb. 22. Closed Feb. 21 for parade. Closed Monday, Feb. 25, 2013.

ADMISSION: The Tucson Passport is welcome at the Museum. Adults $10, Seniors $8, children $2. Military (and family) with ID receive a 50 percent discount. Tax deductible donations in any amount are also encouraged and may be made to the Tucson Rodeo Parade Museum, PO Box 1788, Tucson, AZ 85702.

TOURS: The museum is a popular tour for school classes and Tucson Rodeo Parade Committee volunteers serve as tour guides, instructing the children on the history, use and mechanical workings of these vintage vehicles. Students become "drivers," "passengers," "horses" and even "baggage" as they explore the equipment. Leather harness, reins and horse collars accompany the wagons to allow a complete presentation.

Some of the museum pieces most popular with the schools are the Tucson Police paddy wagon, the "mud wagon" stagecoach, a freight wagon that doubled as a school bus and the surrey "with the fringe on top." By equating the classic wagons to a vehicle of today (e.g., buckboard = pickup truck; stagecoach = Greyhound bus) the Tucson Rodeo Parade Committee volunteers are able to put these wagons in a modern perspective for the children.

Call 520-294-1280 Office, 520-294-3636 Museum or visit www.tucsonrodeoparade.org for more information about the museum and its tours.

Scenes inside the Tucson Rodeo Museum and carraige warehouse. Photo credit: Robert Zucker, Entertainment Magazine.
Tucson Rodeo Parade & Museum
Author: Paul L Grimes. Full of historical photos this 176 page book plus appendices tells the tales and stories of "La Fiesta de los Vaqueros Rodeo Parade." Published by Tucson Rodeo Parade Committee (1991), Read more about the Tucson Rodeo Parade & Museum
.
Rodeo from Amazon.com
Click the image to see more information from amazon.com
Bass Pro Shops

Bass Pro Shops is an outdoor retail leader in hunting, camping, boating, and outdoor clothing, in addition to fishing. Shop online the Clearance Department at Basspro.com
Buckle

Men's apparel on sale,
select brands up to 85% off at Buckle.com!
Find your favorite brands for men & women - PLUS $5 shipping at Buckle.com!
Mt. Lemmon Jewelry

Extremely rare serpentine with white quartz, gold, silver and copper ores from mines miles within Tucson's Mt. Lemmon and Santa Catalina mountains. Unique, one-of-a-kind specimens, southwestern artwork and fashioned jewelry by local artist Flint Carter. Call 520-289-4566.