New Izakaya (pronounced as "ee-ZAH-ka-ya") style dishes and seating has been designed by Jimmy. Similar to appetizers, Izakaya style lets you choose among many smaller dish items from homemade gyoza and homemade vegetable spring rolls to edamame and other dishes.
An izakaya is a type of Japanese drinking establishment which also serves food to accompany the drinks. The food is usually more substantial than those offered in other types of drinking establishments in Japan such as bars.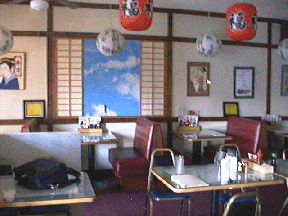 Izakaya's are traditional Japanese taverns or pubs where businessmen go for a drink or quick meal after work. Portions are smaller, and less expensive. The idea is to choose two or three at a time with a glass or two of Japanese beer, sake or green tea.
The name "izakaya" means "i (to remain)" and "sakaya" (sake shop). The Japanese word originates from sake shops which allowed customers to remain on the premises to drink.
Izakaya are sometimes called Akach'chin (red lantern) in daily conversation, because these paper lanterns are traditionally found in front of an izakaya.
Jimmy redesigned a portion of the restaurant to be more similar to the Izakaya look- where booths are separated by walls and an overhang.
This provides more privacy, in a more traditional Japanese dining environment.
In addition to the Izakaya menu, new signature Japanese dishes are available with Jimmy's specially made teriyaki and spicy sauces.
Mekabu for Health
Want a healthy way to eat? Try some Mekabu seaweed. Scientifically proven to improve immunity, improve health and decrease cancer activity.
Ask Jimmy to add his famous Mekabu sauce to your meat, chicken, fish or vegetable dish. Great to top off your favorite dishes. Jimmy is now selling his Mekabu sauce and packaged Mekabu seaweed.