Actress and Fashion Icon Sings in TV Spot Celebrating Pretty Khaki and Feminine Style
Performing a new interpretation of the Broadway song "Enjoy Being a Girl," Sarah Jessica Parker returns to her musical roots in Gap's new TV spot for spring.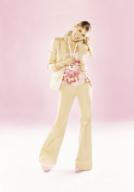 Marking her third consecutive season with Gap, Sarah Jessica embraces femininity, fashion and fun in Gap's latest TV spot entitled "Pretty Khaki," which debuts March 3rd and illustrates how khaki has been reinvented by Gap this season.
"This spring, we've taken khaki -- an American essential Gap is famous for -- and made it more fashionable and versatile than ever," said Jeff Jones, executive vice president of Gap Marketing. "Gap khaki has been transformed with a whole new feminine twist this season and who better than Sarah Jessica to bring this transformation to life."

Singing for the first time since a Broadway role in 1997, Sarah Jessica opens the 30-second spot in a quintessential "girly" bedroom as she primps for a day out on the town. The bedroom is filled with feminine frills including a vanity table and dressing room -- and everything from the carpet to the walls are pretty in pink. As Sarah Jessica gets ready to enjoy the first day of spring, she tries on an array of khaki outfits, finds the perfect look for the occasion and runs outside to greet the world.

Outside her apartment, there is a feeling of springtime celebration -- trees are blooming, people are enjoying the fresh air and an admirer hands Sarah Jessica a beautiful bouquet of pink flowers.
The commercial captures the energy of spring while showcasing Gap's new feminine khaki paired with spring's flirty tops. Set to Marc Shamain's rendition of the classic Rogers and Hammerstein song "Enjoy Being a Girl," Sarah Jessica sings and dances her way through the spot in everything from wide leg khaki pants paired with a flirty puff-sleeved shirt to a khaki trench coat and sexy silk cami.

"It was such fun shooting this commercial and capturing the energy and excitement of spring," said Sarah Jessica Parker. "Women will love the new clothes for the season," added Parker who describes her own personal style as having "no rules -- from thrift to vintage to off the rack to couture."

"Pretty Khaki" will air in the United States on all major networks and cable from March 3 through March 29. It will also run in Canada from March 3 through March 29 and London from March 1 through April 3. The campaign, which consists of TV, print, direct mail, online and in-store marketing, was developed by Laird+Partners, Gap's creative agency, and the TV spot was directed by acclaimed movie director Peyton Reed.

Source: Gap Inc.
SAN FRANCISCO, March 1, 2005 /PRNewswire-FirstCall/