Sarah Jessica Parker
Parker Makes Encore Appearance in Gap's
Spring Marketing Campaign
Actress and Fashion Icon Will Star in Latest Print and TV Ads
SAN FRANCISCO, Jan. 21, 2005 /PRNewswire-FirstCall/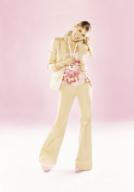 Gap today announced that Sarah Jessica Parker has signed on to represent the brand in its spring marketing campaign, marking the third consecutive season that Parker will represent Gap.

"Sarah Jessica Parker's unique personal style embodies the spirit and heritage of the Gap brand," said Jeff Jones, executive vice president of Gap Marketing. "We've had an amazing customer response to Sarah Jessica's iconic sense of individuality and style in our previous campaigns, and we're thrilled to team up with her again for our spring campaign."

Comprised of television, print, direct mail, online and in-store marketing elements, the campaign starring Ms. Parker breaks in mid-February with print ads in March issues of magazines including InStyle, Vanity Fair, Vogue, Elle and Lucky.
As part of the new campaign Parker will also be featured in a series of TV spots, the first of which will debut in early March. The spots will air in the United States on all major networks and cable. It will also air on networks in Canada and the UK. Creative details about the campaign, which is being developed by Laird+Partners, are not being disclosed at this time.

"I think the Gap is terrifically creative and inspired," said Sarah Jessica Parker. "Women will love the clothes for spring," added Parker, who describes her own personal style as having "no rules -- thrift to vintage to off the rack to couture."

Since its founding in 1969, Gap has provided its customers with clothes and accessories that enhance personal style. What began as one brand has now expanded to include Gap, GapKids, babyGap, GapBody and GapMaternity. In addition, customers in the U.S. can shop at gap.com. Gap.com offers a wide selection of products from the Gap brands as well as exclusive products not seen in Gap stores and extended sizes.

By providing great style and value and taking an innovative approach to all aspects of the shopping experience, Gap has evolved into one of the world's most recognized brands. With stores in the United States, Canada, the United Kingdom, Japan and France, Gap sells clothing, accessories, underwear, loungewear and personal care items for adults, kids, and baby.
Source: Gap Inc.

2007 EMOL.org. Celeberity Entertainment Magazine. All rights reserved.
Sarah Jessica Parker
Author: Marc Shapiro
from amazon.com

Visit our Gap section and links to Gap special offers online.
Sex and the City -
The Complete
First Five Seasons
(5-pack) DVD