Michael Uslan, Executive Producer of the film Batman Begins, recently returned to his alma mater, the place where he first envisioned a definitive film version of Batman.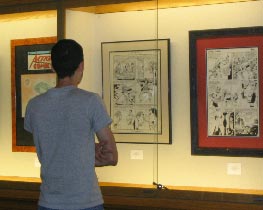 He spoke to students in lecture halls and classrooms, investing hours of his time. He told them that as a student he had found encouragement from faculty and administrators to pursue his dream. So he was back at I.U. (Indiana University) returning the favor, encouraging current students to pursue their own dreams.

Of course, encouragement alone couldn't take a New Jersey kid without connections to the top levels of Hollywood.
What fuels Uslan's passion?
What keeps him going through the countless set backs and frustrations of a creative career?

He didn't talk about the glamour of a box office hit. Rather he spoke of his heartfelt convictions – that comic books are an indigenous American art form. That comic books and their heroes are worthy of sustained attention. He's in love with his work and it's infectious. Typically bored and cynical students were supercharged. I was just as inspired and – ancient Bat history—I'm even more cynical than the students. I'm faculty.

But, enough about me and my students. Here's Michael Uslan's story:

* *
Uslan: "I loved Batman comics. I thought Batman was the greatest superhero and from the time I was 8-years-old all I really wanted to do was write Batman comics. And between you and me I probably thought I could be this guy. . . .

The reason I liked him so much is he had no superpowers. He was human. And I thought in my heart-of-hearts that if I studied read hard and I trained real hard and if my dad bought me a cool car, I could do what this guy does."
Long before Uslan made movies he bought, read and saved comic books. While he was growing up his tolerant parents gave Uslan storage space for his growing collection. There was never room for a car in their New Jersey garage.
In more recent years his wife, Nancy, says his comic books filled three rooms of their house. Now, he's donated most of his 30,000--no exaggeration--volumes to I.U.'s prestigious research library where pop culture scholars have access to his comic book collection.
(Visit http://www.indiana.edu/~liblilly/lilly/comics/index.html
and http://www.indiana.edu/%7Eliblilly/ for the complete listing.)
The centerpiece of Michael Uslan's week-long campus visit was a reception honoring his gift. The celebration took place on the first floor of the Lilly Library. Guests mingled in and around display cases of the special exhibit "Comics as Cultural Mythology." The exhibit, curated by Mike Cagle, features comics, graphic novels, original art and posters from Uslan's collection.

Batman comics are, of course, featured in the exhibit. What is most impressive is the variety on display. From the earliest comics of the 30's to the present, from the familiar to the obscure. Archie, Betty & Veronica, Zorro and Prince Valiant are there. So are Zero Girl, Ray Bradbury Comics and Beowulf.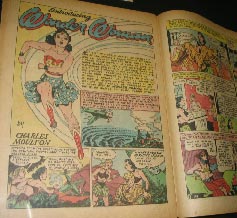 One entire case is devoted to Wonder Woman. If your fondest memories of the greatest female super hero are from the TV series with Lynda Carter–mine are—you might not know that in her first appearance, December 1941, in All Star Comics #8, she had some differences of opinion with Mars, the god of war.
The Amazon princess left Paradise Island to avert the war Mars was inciting along with his minions, the Nazis and the Fascists. That's right. Wonder Woman was an anti-war super hero!
Uslan says that comic book heroes have quite a tradition of social consciousness. In the late 60's and early 70's there was a trend called "relevance." Green Lantern and Green Arrow were the first superheroes to get a social conscience. An old, black man challenged them. He asked them why they were fighting for the purple aliens of Jupiter, but not doing anything for black citizens.
Uslan: "So the Green Lantern and Green Arrow gave up super heroing and got into a pick up truck and traveled across America. . . . and it began to change the course of comic book heroes who started to look inward. And the conflicts, rather that being from some external force, some external super-villain, started to look inward and the conflicts were coming from their own hearts and souls. . . .

Even Captain America. In an issue "Crisis on the Campus" --which came out after Kent State-- There's Captain America and the National Guard.
There's American forces and American college students. And Captain America is caught in the middle trying to figure out -- What do I represent? Is Captain America a figure who is supposed to follow whatever the current administration is? Is Captain America supposed to be tied directly to the Constitution? And if so, whose interpretation?
Or does Captain America change with the times? Who am I? How do I fit in? What do I represent? Some compelling, compelling stories."
Just as the early 70's were a time of experimentation in the world of comic book writers and artists, there was change afoot on college campuses.
IU offered its Experimental Curriculum Program, where energetic students could propose and teach new, innovative courses.
Uslan, then a junior, thought a course on comic books would be a perfect fit.
Comic books haven't always been considered worthy of serious artistic or literary consideration, but some scholars were starting to look at comic books as modern mythmaking and Uslan was inspired.

* *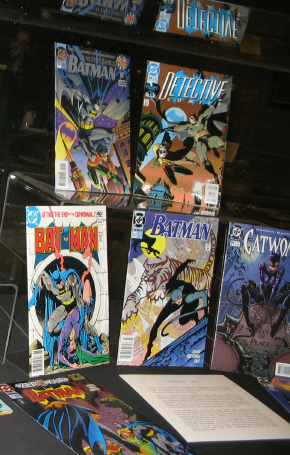 Uslan: "In the 60's early 70's, Dr. Jerry Bales, from Wayne State University, Michigan, was the pre-imminent scholar of the golden age of comics. . . . In one attempt to help legitimize comics as an art form and help it be more accepted in America-- it already was in Europe-- he coined the term "panelolgy" -- the study of comic books as an art form.
He put out a little fanzine called The Panelologist." The time was ripe. Uslan convinced a professor in the Department of Folklore to sponsor him, and a College of Arts and Sciences Dean to approve his course, "The Comic Book in Society."
He was able to get his non-traditional course on the books, because he made a clear case that Norse, Egyptian and Greek gods are still with us. That they have evolved into contemporary super heroes wearing spandex and masks. And that comic books are a form of cultural mythology. That's how Uslan developed and taught the first accredited college course in the study of comic books.

This course earned him lots of publicity—not all of it flattering. At the time many commentators thought the subject of comics was too frivolous, not worthy of academic study. Nevertheless, the publicity caught the attention of the folks running DC Comics.
Uslan earned a summer job and school year retainer in their marketing division. From the inside of DC Comics Uslan eventually got his chance to write comic book stories. First for The Shado, and when that went well he wrote more comic book stories for Batman He hadn't even finished college and he'd already met his life-long career goal.

How to top that? Uslan envisioned a Batman movie. A dark, definitive film adaptation of the mysterious crime fighter. But his goal was many years in the making. His DC Comics credentials didn't carry weight in Hollywood. Without contacts he couldn't get a decent job in the film industry.
So he earned his law degree, also at I.U., and landed an entertainment law job at United Artists in N.Y.C. For four more years he learned the business from the inside, taking care of copyright and other legal issues for pictures such as Raging Bull, Black Stallion, and Apocalypse Now. Then he secured the film rights to Batman from D.C. Comics and started pitching his dream.

The short story to this phase of Uslan's journey is: Getting his Batman movie made took longer than getting his comic book class accredited. But his single-minded vision and the support of family and friends kept Uslan's dream alive.
For ten, long years Michael Uslan tried to convince a major motion picture studio to back his idea for a film based on Batman. In the 1980's no one believed a serious film could be based on the same comic book hero that had spawned the campy TV series of the 1960's.

Uslan never gave up. When he finally got his chance, he and director Tim Burton proved they could create a box office hit, as well as a culturally relevant film, Batman. In 1989, not long after the film's release Uslan was glued to his television set watching historic, live coverage of the fall of the Berlin Wall.

Uslan: "I'm watching a team of humanity pouring through the broken wall into free West Berlin. A kid comes through wearing a Batman hat. I couldn't believe it. I couldn't believe what I was seeing. It was the first time I understood the impact of what we had done."

Batman had transcended its American roots to capture the pulse of a worldwide audience.

Part 2: – "From Batman, '89 to Batman Begins, 2005: the Evolution of a Comic Book Hero"