Entertainment Magazine: Paisley Yankolovich
Articles by
Paisley Yankolovich
It must have been nerve-wracking for Andrew Lloyd Webber to decide what he was going to do after his professional split form Tim Rice. Together they created "Jesus Christ Superstar" and "Evita."

Recognizing the need for a great lyricist, Webber went to a brilliant literary source, T.S. Elliot. Elliot's unusual book of poems, "Old Possums's Book Of Practical Cats," dealt with the distinct and bizarre personality of various breeds of Felinus Rex.

Webber took Elliot's abstract expressions and turned them into mini operettas dealing with such various topics as acceptance, disappointment, ageism, lost love and youthful sexual angst.

A current touring production of this mega-successful play (42 different productions world wide, many Tony Awards, a hit song etc.) arrives in town Decemeber 13th for a three night, five-performance run at the Aladdin Theatre For The Performing Arts in Las Vegas.

"Cats" touring productions have an ongoing history of bringing record sell-outs. It remains one of the most in-demand theatre productions in entertainment history. Even the fact that in June of 1977 "Cats" becomes the longest-running musical ever on Broadway (finally replacing "A Chorus Line") doesn't slow the crowds down!

Fans anxiously await their favorite classic "Cats" tunes such as "Jellicle Cats" (my favorite), "Mr. Mestopholes" and of course, the internationally acclaimed "Memory." In her recent tour, Barbra Streisand found that of all her recordings, "Memory" was her most well-received in concert.

Last month, I caught the touring production of "Andrew Lloyd Webber'sMusic Of The Night" at the Aladdin. I was surprised how effective the "Cats" songs were after all these years and here they were being performed merely as songs-no costumes or characters. It certainly whetted my appetite for seeing "Cats" again. Apparently, some wishes come true!

"CATS" APPEARED AT THE ALADDIN THEATRE IN LAS VEGAS December 13-15 AT 8PM NIGHTLY, WITH MATINEE PERFORMANCES ON SATURDAY AND SUNDAY.
Let me explain.

When I was ten years old, my parents brought me to Las Vegas. They wanted to gamble so they dropped me off at the movies. "Jesus Christ Superstar" had just opened and, after a big argument, was allowed to watch it.

After the movie was over, instead of calling my folks to have them come get me, I left them a message saying I was staying put. I watched that movie several times that day and hundreds of times since.

Since we never really know what makes us embrace our passions so passionately, I similarly cannot explain why I was convinced that if I scanned the casino at the Hard Rock Hotel in Las Vegas last Monday night, that I was destined to run into Ted Neeley-Jesus himself.

Mr. Neeley is currently performing "Jesus Christ Superstar's" coast-to-coast AD 1996-1997 tour which played The Joint at the Hard Rock for two nights. He also happened to enter the hotel at just the right moment for me to almost have to collide into him.

Much like his alter deity, he seemed to be expecting and (literally) welcomed me with open arms.
"And who might you be?" he whispered. In a matter of seconds, I told the poor guy my entire life story and my "Superstar" tales as well. As cool as Christ, Neeley quietly listened to my ramblings, only interrupting to say thank you or to let me know I was among friends.

"This happens a lot," says Neeley. "People are so moved by "Superstar," I cannot tell you how much it means to me that people still take the time to come see the show, all the more come to see and speak to me."

Being that that evening's performance marked his 1500th performance as the Son Of God, I asked Ted Neeley if he ever grows tired of the play.

"Never! Tonight makes it 1500 hundred trips for me and I can't wait to get out there and do this! The very same thing that has caused you to love "Jesus Christ Superstar" is the same thing that motivates me. I consider it an honor to be a part of something people can embrace. So many people have told me that seeing this show changed their lives. I couldn't be happier!"

He seemed almost apologetic when informing me that due to venue constraints, the show I would be seeing would be scaled down. "It's mainly a concert. We're in costume but there are no sets. Actually, this hearkens back to the original shows when "Superstar" was only a little more than a concert piece. The music is really the star."

The show was great! Carl Anderson was on hand reprising his classic performance as Judas. Both Anderson and Neeley still have two of the most compelling singing voices in musical theatre history.

While there were no cast list posted at The Joint, I managed to find out that it was magnificent vocalist Christina Rea who played Mary Magdalene. Rea put so much passion and love into her performance, she brought a powerful, "you are there" resonance to the entire production.
In a continuing effort to bring non-Vegas-like entertainment to Las Vegas, the Aladdin Hotel and Casino welcomes "West Side Story" as part of their 1996/1997 Broadway Series. First "Grease" with Joe Piscapo, Sheena Easton and Sally Struthers livened up The Theatre Of Performing Arts, followed by the phenomenal "Andrew Lloyd Webber's Music Of The Night" starring Melissa Manchester.

As with the previous productions, "West Side Story" is a Broadway calibre show currently scheduled for a two-year tour of more than 30 U.S. cities, Canada and Japan. It arrives at the Aladdin on November 5 for a six night engagement.

Based on Shakespeare's timeless love story, "Romeo and Juliet" (which is currently enjoying a new cinematic interpretation), "West Side Story" is set against the gritty backdrop of gang warfare on the streets of New York City. As two rival teenage gangs battle over their share of neighborhood turf, a boy and a girl from opposing sides, an different races meet and fall in love.

"West Side Story" took Broadway by storm in 1957 and has been performed ever since. This production features Jerome Robbins' original, classic choreography (recreated by Alan Johnson) and stars Jeremy Koch as "Tony". Koch has been seen in such regional productions as "Phantom Of The Opera", "Evita", "Into The Woods" and "Forever Plaid."

Sharon Cammille, who plays "Maria," acted in the films "Psycho IV" and "My Girl" and the plays "Evita," "Carousel," and "Cinderella" with the notorious Zsa Zsa Gabor.

With a book by Arther Laurents ("Gypsy") and a spectacular score by Stephen Sondheim, "West Side Story" boasts some of the most memorable tunes in musical history, including "Tonight," "Somewhere" and the show-stopping "America." If the previous Aladdin productions are any indication, this should be a great show.
Paisley's CD's Available from Amazon: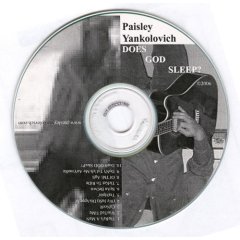 "Does God Sleep"
By Paisley Yankolovich
Christian singer /songwriter /performance artist Yankolovich pushes the envelope even more with this eclectic mix. This time out, Paisley's subject matter is wildly diverse. There are songs about child abuse, abortion, and (!) The Beatles. It's clear why this man is fast developing a devoted army of fans and new converts: he is absolutely fearless. release date: Jan 6 2006.