Entertainment Magazine: Arizona: Tombstone
Attractions in Tombstone
Walk the Streets of the Historic Old West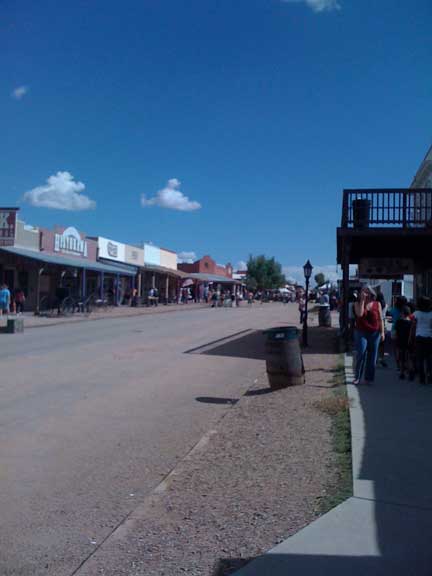 Many of Tombstone's historic buildings are in an area bounded by Fremont, 6th Street, Toughnut and 3rd Streets- along Allen Street.
Some of Tombstone's popular places to visit include St. Paul's Episcopal Church, built in 1882 and the Crystal Palace Saloon, one of the most luxurious saloons in the West on Allen Street. The Tombstone Epitaph building, where the oldest continuously published paper in Arizona, still prints today.
Walk the town's famed Allen Street where many of the shops, saloons and restaurants stand in their original buildings from the 1880s. Spend the entire day browsing quaint stores with western memorabillia, Tombstone souveniers and true Western food. Virtually walk with streets of Tombstone.
Occassionally, gun fight demonstrations are performed along Allen Street, especially during Helldorado Days, the annual celebration of Tombstone's wild days. There are daily reenactments at the OK Corral on Alan Street.
Tombstone History: Legends of Tombstone
At the OK Corral in 1881, the Earp brothers, Wyatt, Virgil and Morgan, along with their friend Doc Holliday, faced off against the Clanton and McLaury gang. Located on Allen between 3rd and 4th St. Phone: (520) 457-3456. Web site: http://www.cityoftombstone.com/tourism.html
Entertainment: O.K. Corral daily re-enactments
Google Map of Tombstone's famous O.K. Corral and walk down Allen Street. View Larger Map of the O.K. Corral

You never know who you might run into on the streets of Tombstone, AZ. This character portrays Abraham Lincoln. Cowboys and cowgirls also fills the streets to add to the Western feel. Photo by Robert Zucker.
The Old West lives in the Boot Hill Cemetary
Boot Hill Cemetary is the resting place of Tombstone's pioneers. The historic graveyard lies on the north west entrance to Tombstone. It interns early Tombstone residents and visitors from 1878 through 1884.
Boot Hill (or Boothill) is the name for cemeteries, chiefly in the American West. Photo: Boot Hill Cemetary, Tombstone, Arizona. Photographer Robert Zucker. Watch video of Tombstone's Boot Hill Cemetary.
Tombstone Resources Telephone Directory
Tombstone City Hall (520) 457-2202
Tombstone Police/Fire/Ambulance (520) 457-2244
Office of Tourism (800) 457-3423
Tombstone Visitor's Center (520) 457-3929
Doc Holliday: The Life and Legend
by Gary L. Roberts (Author), an authority on western history, takes on John Henry Holliday, legendary gunman, drinker, gambler and dentist (hence "Doc"), best known for some adroit shooting at the OK Corral on October 26, 1881. This is part biography, part debunking of myths and part archive of accounts of the lives of Holliday and the Earp Brothers written from the time they were alive up to the present. Roberts is effective in evoking the influences that formed his subject's character. Born in Georgia in 1851, Holliday absorbed the manliness and rebelliousness instilled in young men of his prosperous class in antebellum Southern culture. Holliday also acquired expertise in drinking, whoring and gambling, as well as a taste for violence.Paperback: 544 pages. Purchase on Amazon: Doc Holliday: The Life and Legend
.
Tombstone- the movie
A sizzling, star-studded cast brings to life the legendary battle to deliver justice to TOMBSTONE! Kurt Russell (MIRACLE, VANILLA SKY) turns in a gripping performance as U.S. Marshall Wyatt Earp and Val Kilmer (THE MISSING, BATMAN FOREVER) ignites the screen as the outrageous Doc Holliday. Together, they team up to bring law to the lawless in a notorious showdown with the ruthless outlaws at the O.K. Corral! The all-star ensemble also includes Sam Elliott, Bill Paxton, Dana Delany, Jason Priestley, Michael Biehn, and long-time Hollywood favorite Charlton Heston. DVD Release Date: December 2, 1997• Format: Closed-captioned, Color, Dolby, DVD-Video, Letterboxed, Widescreen, NTSC. Language: English, French. Studio: Walt Disney Video. Purchase on Amazon.com: Tombstone
.