The upcoming 2022 Tucson Gem, Mineral & Fossil Showcase in Tucson, Arizona is planned for January and February 2022.
The semi-annual Tucson gem, mineral and fossil shows are a collection of over 30 privately owned and operated public and wholesale gem, mineral and jewelry events hosting over exhibitors throughout Tucson, Arizona.
January 29-February 5, 2022:
The Winter Tucson Gem Shows
have returned! From January 29th through February 5th, Colors of the Stone, To Bead True Blue, and Tucson Artisan Workshops are back at the Casino Del Sol for eight days of shopping, workshops and fun!


January 30-February 14, 2022:
American Indian Arts Exposition at Gem Show.
An official event of the Tucson Gem Show, the world's largest rock & gem show. The finest collection of American Indian Art, arts and crafts directly from the Native American artist for the most discriminating collector. We reach over 5 million customers during the worlds largest gem, mineral and fossil shows. 21 BIG DAYS! Spaces available: 3-day, 7-day, 2-weekend & 21-day basis. 40 FEATURED ARTISTS CHANGING EVERY 3-7-21 DAYS THROUGHOUT THE 21 DAYS


February 4-6, 2022: Gem and Jam Festival 2022.
Psybient progenitor
Shpongle
joins the ranks of
STS9
,
Liquid Stranger
,
Claude Vonstroke
,
Lotus
, and
CharlestheFirst
as
Gem and Jam Festival
's final headliner, taking place at Pima County Fairgrounds in Tucson, Arizona on February 4 – 6, 2022. Shpongle's Simon Posford will make his highly-anticipated festival debut at the 14th annual Gem & Jam with a special live, mind-melding set. Known for his shape-shifting mix of psychedelic, trance, and world music, Shpongle promises to create an immersive experience replete with kaleidoscopic visuals, backed by the festival's scenic desert landscapes.
Read more
.

Jan 21 - Feb 14, 2022: MADAGASCAR MINERALS GEM
SHOW Main show location, Jan 21 - Feb 14, 2022, Norcross Madagascar Gallery & Warehouse, 201 & 208 West Lester Street, Tucson. Daily 9am - 6pm, final day 9am - 4pm. Second location: Jan 27 - Feb 13, 2022, Kino Gem & Mineral Show, Kino Sports Complex 2500 E. Ajo Way, Tucson. Show information line (520) 882-8884.
February 10-13, 2022:
The 67th
Annual Tucson Gem & Mineral Show
returns on at the Tucson Convention Center. This year's theme is "The Show That Glows" featuring the Apatite Supergroup and the Fluorescent Mineral Pavilion with over 80 displays by The Fluorescent Mineral Society.
Arizona Lapidary & Gem Rough
is all moved, unpacked, permitted, and open in their new brick-and-mortar shop, located at: 5817 E Speedway Blvd. Tucson, AZ, 85712. Hours: Mon.-Fri. 11am-5:30pm, Sat. 11am-4pmJoin us in person or on the web! (520) 399-6641
.
Shuttles & Downtown Street Car
Several shuttles to take visitors to more than 30 gem show sites will operate during the Winter Tucson Gem Shows throughout the city. Independent shuttles are sponsored by various carriers and shows and would run every 10 to 20 minutes. The Tucson Street Car, Sun Link, provides an alternate and convenient way to get around Downtown. Read more about Free Gem Show Shuttles.
---
Official Entertainment Book Offer:
Get a Tucson Entertainment Book for your stay during the Tucson Gem Shows. Discount coupons for restaurants, hotels, car rentals and shopping!
---
Gem exhibit downtown
A new gem exhibit hall for the 22nd Street Mineral, Fossil and Gem Show is being built near downtown at 22nd Street and Interstate 10. The 150,000 square foot, three story, hall should be open for the upcoming Tucson Gem Shows. The 22nd Street Show is among the largest event held. Eons Expo LLP plans to spend $12 million to construct the gem exhibit hall.
Promote your Gem Show Exhibit Displays
Free Gem Show Listings for vendors in the EMOL.org Tucson Gem Show Calendar. Or, Advertise your show with a display ad. Email listings and Inquiries: [email protected].
---
Click for Internet Coupon for new customers Expires 12/31/22.
6923 E. Broadway Blvd. Tucson, Arizona 85710.
Call for appointment: 520-298-HAIR (4247)
---
Travelocity Travel Deals

Travelocity Hotels
Low Rates GUARANTEED

72 hours only! Save on select hotels when you book with Travelocity!
Flight + Hotel Deals Under $400
---
Local Book on Tucson Mining, Legends & History:
"Treasures of the Santa Catalina Mountains"
DOWNLOAD FREE SAMPLE PDF and discover the legends and history of the Catalinas told in over 400 pages. Learn about the Iron Door Mine, Buffalo Bill Cody and the Tucson Gold Rush of the 1880s. Available on Amazon.com and in local Tucson bookstores.
Download free Tucson Chronicles newspaper and read more about the "Treasures of the Santa Catalinas.
---
Tucson Gem Features
---
More Tucson information
---
Official Tucson Gem & Mineral Show, 520-322-5773: www.tgms.com
Metropolitan Tucson Visitors & Convention Bureau: www.visittucson.org/gemshow/
Tucson Airport Parking promo rates offered, shuttles
Tucson Airport Car Rentals
---
---
Discover Tucson's long history
Tucson has a long history with mining. Minerals such as gold, silver, copper and tungsten have been successfully mined from the Santa Catalinas for hundreds of years. The famous Canyon of Gold- Ca�ada del Oro- has produced gold for early Tucson prospectors, including the famous entertainer William "Buffalo Bill" Cody.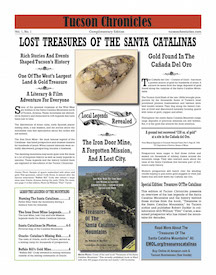 Download a free PDF copy of the the Tucson Chronicles and read about the history and mining development in Southern Arizona.
Learn about the history and legends of mining for gold in the Santa Catalina Mountains- from the Iron Door Mine legend to the discovery of the Canyon of Gold. Download a free sample PDF of the book Treasures of the Santa Catalina Mountains. Read chapters from this extensive historical book by Robert Zucker, see photos and videos about the mysteries and minerals near Tucson.
The Santa Catalina mountains has been experiencing a gold rush for hundreds of years. Explore the historical records that account for some of the gold extracted during Arizona's Gold Rush.
Get free reprints, public domain book downloads and old photos on Tucson's history archives.
This page is not part of the Tucson Gem and Mineral Show
only information provided as a courtesy of EMOL.org.
For information, submit listings and advertising email:

[email protected]

.
� 1995-2022 EMOL.org. Tucson Entertainment Magazine. All rights reserved.