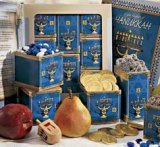 The Festival of Lights: Hanukkah History: In 165 b. c., the Festival of Lights originated with Judas Maccabæus, his brothers, and the congregation of Israel to commemorate the dedication of the new altar to replace the altar polluted by Antiochus Epiphanes of Syria (1 Maccabees i. 58, iv. 59).
The feast, mentioned in John x. 22, is held for eight days (beginning with the 25th day of Kislev, correspondes to December).
The above menorah is a facsimile of the menorah that stood in the Holy Temple in Jerusalem. The correct hanuka menora has 9 branches in all: one for each night, plus the Shamash. Hannukah is spelled many ways- Hanukah, Chanukah, Chanuka, or Hanukkah.
---
---
Hannukah in the News:
World's Largest Chanukah Menorah Lighting on Fifth Avenue Features Menorah Designed by World-Renowned Artist, Yaacov Agam
Hanukkah Gift Guides
Browse selections of unique Hanukkah gift ideas from Kosher gift baskets, jewelry, foods and other Judaic items. from our authorized affiliates.
Jewelry
Judaic Religious Items
Kosher