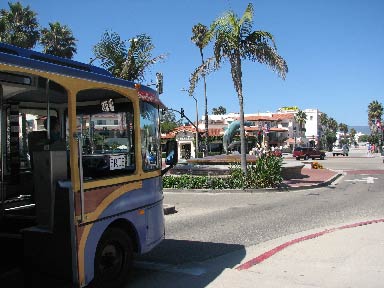 Santa Barbara, California is fantastic anytime of the year. The beauty of the beach and historic design, tucked between the ocean and the mountains, makes Santa Barbara a great vacation spot.
Santa Barbara entertainment, found mainly along State Street, and it proximity to the beaches is ideal for many tourists and local residents.
Santa Barbara is located 90 miles north of Los Angeles. The popular State Street corridor leads to the Santa Barbara Harbor and Stern's Warf.
Take a photo and video tour of the Santa Barbara beach, State Street, the Harbor and Stern's Wharf. Sit at the edge of the pier and enjoy the sounds of the ocean at the beach. Tour Santa Barbara beach and wharf.
Santa Barbara retains its simplicity with preserving its mid 20th Century culture and keeping alive the traditional Mission style of architecture and design.
Look for travel and dining coupons, special offers and information about the Santa Barbara, CA. community in the Santa Barbara Entertainment Magazine.
New video and photo tours sections have been added to get a virtual tour of the more popular tourism sites around Santa Barbara.
---
---
Visitors Delighted by Dinosaur Designed by Hollywood Create Shop
Summer visitors to the Santa Barbara Zoo are delighted with its newest resident: a life-sized, adolescent Tyrannosaurus Rex that runs, roars, snorts, blinks, growls and even poops in the show "How to Train Your Dinosaur" running three times daily. Continue reading about the dinosaur exhibit at the Santa Barbara Zoo.
Photo: Husband and wife actors Ed Harris and Amy Madigan enjoy their red carpet arrival for the world premiere of their latest film, That's What I Am, SBIFF's Centerpiece Film.
Meet filmmakers at the 2011 Santa Barbara International Film Festival
At the 26th annual Santa Barbara International Film Festival in 2011, there were 30 world premieres and 33 US premieres among the 170 films that screened during the 10-day fest Some filmmakers were there to support their films, and meeting the filmmakers is always a highlight of the festival. Annette Bening by bestowing her with the American Riviera Award. Read about this year's Santa Barbara International Film Festival.
Santa Barbara Points of Interest:
Airport/Transportation
Santa Barbara Municipal Airport 7.18 miles (SBA) http://www.flysba.com/
Museums
Santa Barbara Museum of Art 0.62 miles
Santa Barbara Museum of Art 0.29 miles
Santa Barbara Museum-History 1.15 miles
Santa Barbara Botanical Gardens 2.02 miles
Santa Barbara Carriage Museum 1.53 miles
Santa Barbara Musuem of Natural History 1.15 miles
Schools
Santa Barbara City College 1.43 miles
University of Santa Barbara 5.38 miles
Zoos
Santa Barbara Zoological Gardens 2.46 miles
Santa Barbara Web Links:
Community & News:
---

© 2009-2011 EMOL.org Santa Barbara Entertainment Magazine. All rights reserved.
Santa Barbara Weather
California Events
Santa Barbara Videos
Santa Barbara Entertainment
The Santa Barbara International Film Festival will honor Academy Award winner Nicole Kidman with the Cinema Vanguard Awarda. Continue reading about the 2011 SBIFF.
Santa Barbara Dining Guide
Discount Santa Barbara Restaurant Coupons Discount gift certificates to local Santa Barbara restaurants. Over 50% OFF to encourage you to visit their restaurant and hope that you will return as a regular customer. Stock up now and print your coupons online to eat out tonight!
Santa Barbara Accommodations
Hotels
Reserve a discount Santa Barbara hotel room rate through Entertainment Magazine's resources. Book a room with popular chains as Best Western, Days Inn, Holiday Inn, Holiday Inn Express, InnLink Inns, Lexington Services, Meristar Hotels and Resorts, Quality Inns, Ramada Inn and others, including many local hotels. Find hotels in Santa Barbara, CA.
Travel Arrangements to Santa Barbara
Visit Travelocity for
California Deals | Disney Vacations
Santa Barbara Real Estate
Coming Soon - homes for sale, condos.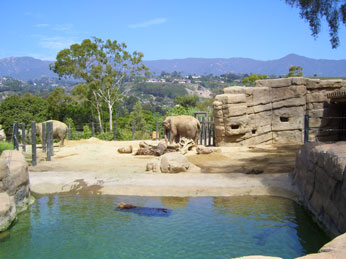 Santa Barbara Zoo coupons
Photos by Robert Zucker
Bird photo by Madelyn Ritrosky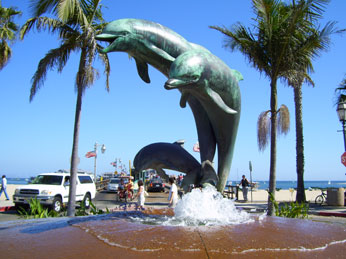 (Photo above) Statue of whales at the entrance to Stern's Wharf. (Photo left: Trolley from Stern's Wharf to State Street. (Photo below) The elephants ant the Santa Barbara Zoo. Watch more videos of Santa Barbara tourists spots.