HFF 2007 INDEX:
(Photo left) Heartland Truly Moving Pictures President and CEO Jeff Sparks (left) along with Laren Poole, Bobby Bailey and Jason Russell, the 2007 Heartland Pioneering Spirit Award honorees. More photos...

The Weekend Feel of a Festival— Heartland Style Photos and overview by Madelyn Ritrosky

Interview with Faith Filmworks Michael and Christine Swanson and "All About Us."

Heartland Festival Films: Of Kids and Courage. By Madelyn Ritrosky & Jared Winslow

Family Movie Event: A Plumm Summer and Opening Night: August Rush Madelyn Ritrosky & Jared Winslow

Heartland awards $200,000 in cash prizes and announces $100,000 Grand Prize winner, $25,000 Doc Winner, $10,000 Vision Award winner and Audience Choice Award winners Continue reading...

Jeff Sparks, President and CEO of Heartland Truly Moving Pictures with the three award-winning filmmakers, Irene Taylor Brodsky (Hear and Now), Kurt Kuenne (Validation), Judy Stewart (daughter of the late Jimmy Stewart) and Alejandro Monteverde (Bella); and Mark Zoradi, President of Walt Disney Studios Motion Pictures Group.

Heartland Film Festival Announces Top Winners
2007 Heartland Film Festival Schedule

Heartland Film Festival Overview
Opening night of Heartland Film Festival hosted by August Rush
Heartland Truly Moving Pictures Announces Film and Event Lineup for 16th Annual Film Festival
Heartland Film Festival Art Poster for 2007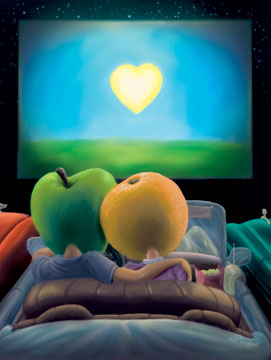 Indianapolis, IN – Heartland Truly Moving Pictures announced at the annual Crystal Heart Awards Announcement Celebration that a premiere event featuring Heartland's newest Truly Moving Picture Award winner, "August Rush" from Warner Bros. Pictures, will open the 2007 Heartland Film Festival® while "The Kite Runner" will close the 16th annual Festival.

Directed by Kirsten Sheridan, "August Rush" tells the story of a charismatic young Irish guitarist (Jonathan Rhys Meyers) and a sheltered young cellist (Keri Russell) who have a chance encounter one magical night above New York's Washington Square, but are soon torn apart, leaving in their wake an infant, August Rush, orphaned by circumstance. Now performing on the streets of New York and cared for by a mysterious stranger (Robin Williams), August (Freddie Highmore) uses his remarkable talent to seek the parents from whom he was separated at birth. Producer Richard Barton Lewis is scheduled to attend. Continue reading...
About Heartland Truly Moving Pictures
Heartland Truly Moving Pictures, a non-profit organization, seeks to recognize and honor filmmakers whose work explores the human journey by expressing hope and emphasizing the best of the human spirit. Its flagship event, the Heartland Film Festival, launched in 1991 and runs each October in Indianapolis, screening independent films from around the world.
Organization at a Glance
Sixteen years ago, a group of visionaries united to create a unique film festival to honor beautifully made films that emphasize the best of the human spirit and to give filmmakers the things most needed to continue making those films – cash prizes and opportunities to showcase their work. The non-profit organization has expanded far beyond its regional founding in 1991.
As a result of its growth, a new parent organization – Heartland Truly Moving Pictures TM – was created in 2007. The change highlighted the organization's industry award, the Truly Moving Picture Award, while at the same time redefining its commitment to filmmakers, studios and distributors whose projects address challenging subjects, yet provide meaningful storylines and resolution. Heartland also expanded its film festival programming, year-round marketing efforts and events and its rapidly growing "Finding Inspiration in Literature and Movies" project (F.I.L.M.) in association with the National Collaboration for Youth.

Each year, the Festival awards $200,000 in cash prizes and presents its Crystal Heart Awards to the top-judged submissions. Heartland has awarded more than $1.6 million to support filmmakers during the last 16 years. The organization's Truly Moving Picture Award was created to honor films released theatrically that align with Heartland's mission.
By bestowing a watermark to honored films, the award allows studios and distributors to inform audiences of a film's uplifting message and appeal. Heartland is also dedicated to its relationship with the National Collaboration for Youth and its expanding F.I.L.M., "Finding Inspiration in Literature and Movies," project.
For more information, visit www.TrulyMovingPictures.org.
Heartland Film Festival
The organization's flagship event, the Heartland Film Festival, invites independent filmmakers from around the world to submit feature length and short films in dramatic, documentary and animation categories. The Festival awards $200,000 in cash prizes and presents its Crystal Heart Awards to the top-judged submissions. This includes a $100,000 Grand Prize Award for Best Dramatic Feature, a $25,000 Award for Best Documentary Feature and a $10,000 Vision Award for Best Short Film. The annual nine-day film festival in
October offers moviegoers a rare glimpse at these independent films and special events for film enthusiasts of all ages, including a black tie awards gala, a special family movie event, an education seminar featuring industry experts and much more. Festival attendance has increased the past six years with a record of more than 21,000 attendees in 2006.

Official Heartland Film Festival Web site
www.HeartlandFilmFestival.org